NBA PM: Draft Prospects Respond to Critics
VIDEO OF THE DAY - Lorenzo Brown
In today's video of the day, HOOPSWORLD catches up with former N.C. State point guard Lorenzo Brown at the 2013 NBA Draft Combine.
Watch More Video Here
Draft Prospects Respond to Critics
The 2013 NBA Draft has been described as "historically weak" and "one of the worst of all-time." Scouts have joked that the draft should be postponed so that every prospect could return to school. Executives have joked that no team wanted to win the lottery and get stuck with the top pick this year.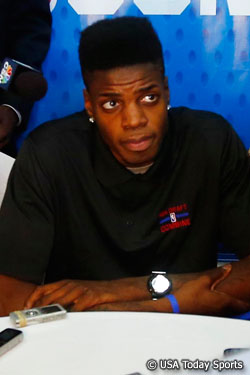 While this draft class may not go down as one of the best of all-time, the criticism has certainly been a bit harsh. There are a number of players who could go on to become All-Stars in the league and there are plenty of high-upside prospects who could become very productive players down the road.
In recent years, it seems like every draft class that isn't loaded with potential superstars is described as awful. However, these star-studded classes are the exception. Most drafts feature one or two stars and then a number of quality role players. But about once every decade, there's an outstanding draft that features multiple superstar players and that group sets the bar for every other class after it.
The 1984 NBA Draft produced Michael Jordan, Hakeem Olajuwon, Charles Barkley and John Stockton among others. The 1996 NBA Draft featured Kobe Bryant, Allen Iverson, Steve Nash, Ray Allen, Stephon Marbury and Jermaine O'Neal among others. The 2003 NBA Draft included LeBron James, Dwyane Wade, Carmelo Anthony, Chris Bosh and David West among others.
These are some of the greatest drafts of all-time and most classes can't stack up to that. There are obviously going to be some lesser years, but that doesn't mean those drafts are devoid of talent.
Many of the players in the 2013 NBA Draft have heard the criticism and are offended that they're being considered one of the worst classes of all-time.
"I don't think this is a weak draft class," Michael Carter-Williams said. "I think there are a lot of good players in it and I think it's only a matter of time until people see that it's not [weak]."
Nerlens Noel, who has been penciled in as the No. 1 pick for quite some time, believes that many of the players in this draft are going to do much better than expected once they get an opportunity in the NBA.
"Everybody has their own opinion, but I think this is a real solid class with a lot of players who are going to be great at this next level," Noel said. "There are always doubters, people always doubt, but I'm sure there are going to be a lot of surprises over the next couple of years from this draft."
Victor Oladipo, who is projected as a top-five pick, is using the criticism as motivation. He pointed out that people have doubted him for much of his life, but that those slights haven't stopped him from experiencing success at every level.
"I remember back a couple years ago, I wasn't getting any attention," Oladipo said with a smile. "It just drives me. I know what it feels like to be at the bottom of bottoms, to be overlooked and everything. I'm just going to use it as fuel. I'm just going to keep working hard and staying in the gym."
Some critics have said that this draft doesn't have any franchise players, but Trey Burke disagrees. He believes he has what it takes to fill that role, and he's setting the bar extremely high for himself as he enters the NBA.
"I'm going to try to be a franchise player, a guy that's going to come in and make an impact right away," Burke said. "You guys saw Damian Lillard come in and win Rookie of the Year. Guys were saying that he played in too small of a conference and things like that and they had their doubts about him too. I'm going to try to come in, make an impact and in five or six years hopefully I'll have a ring or two. That's the goal. Those are big goals, but I shoot for goals like that because anything is possible depending on the type of work you put in."
Mason Plumlee pointed out that nearly every draft class has been described weak since 2003, since no group of players can stack up favorably alongside James, Wade, Anthony and Bosh among others.
"I've followed it for so long, I think I've heard almost every draft class called weak since the one with LeBron [James], Carmelo [Anthony] and [Dwyane] Wade," Plumlee told the Detroit Free Press. "They were saying Kyrie's [Irving] draft class was weak during the lockout. They were saying last year's was weak after Anthony Davis. I don't know what people expect, but that doesn't bother me in the least."
Plumlee is right about Irving's 2011 class, which was somewhat similar to this 2013 class. The 2011 class was heavily criticized and forced to answer many of the same questions as this year's prospects. Is this a weak draft class? One of the worst of all-time? Are you determined to prove the critics wrong?
Irving, like Noel, had played well in his lone collegiate year, but his season at Duke was cut short due to injury and he was sidelined during the pre-draft process. Irving was a wildcard, but after him the 2011 class wasn't supposed to feature many starting-caliber players. However, players like Kawhi Leonard, Klay Thompson, Kenneth Faried, Iman Shumpert, Nikola Vucevic, Jimmy Butler and Chandler Parsons have already emerged as significant contributors and some of the best up-and-coming players in the league. Also, much like this year's group, there were a lot of big men with potential such as Enes Kanter, Tristan Thompson, Jonas Valanciunas, Bismack Biyombo and Donatas Motiejūnas, all of whom could develop into very good players in several years since the learning curve for NBA bigs is always steeper.
If we learned anything from the class of 2011, it's that drafts are usually stronger and deeper than initially expected, even the ones that are characterized as extremely weak.
The 2013 draft class has already taken a lot of heat, but they're determined to change the way that they're perceived through hard work and results once they arrive in the league.
Pacers Won't Back Down From HEAT
"Welcome to the Eastern Conference Finals."
That's how Miami HEAT head coach Erik Spoelstra opened his postgame press conference after his team just barely beat the Indiana Pacers, 103-102, in Game 1 of the series. It took overtime and a number of clutch shots, including a buzzer-beating layup from LeBron James, for Miami to put Indiana away.
If the first game was any indication, the Eastern Conference Finals will live up to the hype and the several days of trash talking that preceded it. The games will be back and forth, the play will be physical and neither team will back down.
"This is the Eastern Conference Finals," Dwyane Wade said. "We're the two best teams in the East… Any time it seemed like a team was about to pull away, the other team came back. We can expect this for seven games."
All season long, it seemed a foregone conclusion that Miami would represent the East in the NBA Finals for the third-straight year. While they're three wins away from doing so, it's clear that the Pacers pose some problems for the HEAT and believe they're talented enough to topple the defending champions, as evidenced by the fact that they were just one basket away from stealing Game 1 in Miami's arena.
"Our spirit is very high and very confident," Pacers head coach Frank Vogel said. "We know we can play with this basketball team."
There's no question that the Pacers dictated the style of play in Game 1. Rather than letting Miami get into their comfort zone, the Pacers set the tone and slowed the game down. They held the HEAT to just 37 points in the first half, which is their lowest-scoring half of the postseason. Indiana also limited Miami to just two transition points in the first half and 11 fastbreak points in the game.
David West won his match-up against Udonis Haslem, scoring 10 of the Pacers' first 16 points and finishing with 26 points on 11-17 from the field. Late in the game, Paul George showed that he can take over, scoring 18 of his 27 points in the fourth quarter and overtime. It was mainly turnovers (20) and second-chance points (24) that ended up killing Indiana.
But keep in mind that this is a Pacers team that usually struggles on the road, saving their best performances for the friendly confines of the Bankers Life Fieldhouse. It can be assumed that Indiana's best basketball in this series is still ahead of them, which is why it's unlikely that Miami will coast to the Finals as previously expected. After the Game 1 nail biter, Spoelstra echoed that sentiment.
"This game is not defined by this sheet at all," Spoelstra said of the box score sheet in his hand. "Back and forth the whole way, trying to manage, you know, playing well, playing inefficient, playing poorly, managing frustration.  But in the end it just came down to finding a way, even if it wasn't pretty, and it took an overtime to get it done. We're glad to get that one."
George was frustrated with the loss, but did see that positives that Indiana could take away.
"This one might be the toughest one to swallow," George said when asked to compare this loss to his other playoff losses. "Talking about having an opportunity to take the first game and kind of being in the lead of the series and then not being able to do it because of a last possession. That one hurts.  It hurts."
"I mean, we got to feel good about how we played, you know," George added. "At this point, every possession counts and that's what we've got to understand, myself included. A couple of turnovers that I wish we could take back – I could take back – but the margin of error is so small at this level, so going into Game 2, we just got to improve off that."
After the game, Spoelstra praised the Pacers and called them a great defensive team. In response to James' 30-point, 10-assist, 10-rebound performance, Spoelstra said, "He has an all‑everything role for us, and this is the norm. This may be what it takes to beat this team."
Game 2 between the HEAT and Pacers is Friday at 8:30 p.m. ET on TNT.
NBA Announces All-NBA Teams
Today, the NBA released the All-NBA First Team, Second Team and Third Team:
All-NBA First Team
Forward – LeBron James, Miami HEAT (595 points)
Forward – Kevin Durant, Oklahoma City Thunder (555 points)
Center – Tim Duncan, San Antonio Spurs (392 points)
Guard – Kobe Bryant, Los Angeles Lakers (521 points)
Guard – Chris Paul, Los Angeles Clippers (537 points)
All-NBA Second Team
Forward – Carmelo Anthony, New York Knicks (397 points)
Forward – Blake Griffin, Los Angeles Clippers (132 points)
Center – Marc Gasol, Memphis Grizzlies (295 points)
Guard – Tony Parker, San Antonio Spurs (273 points)
Guard – Russell Westbrook, Oklahoma City Thunder (306 points)
All-NBA Third Team
Forward – David Lee, Golden State Warriors (79 points)
Forward – Paul George, Indiana Pacers (73 points)
Center – Dwight Howard, Los Angeles Lakers (203 points)
Guard – Dwyane Wade, Miami HEAT (145 points)
Guard – James Harden, Houston Rockets (253 points)
Other players receiving votes, with point totals
Brook Lopez, Brooklyn, 132; Stephen Curry, Golden State, 72; LaMarcus Aldridge, Portland, 62; Chris Bosh, Miami, 59 (4); Joakim Noah, Chicago, 56 (3); Zach Randolph, Memphis, 45; Al Horford, Atlanta, 31 (2); Paul Pierce, Boston, 24; Al Jefferson, Utah, 20 (1); Tyson Chandler, New York, 19 (1); Roy Hibbert, Indiana, 9; Luol Deng, Chicago, 8; Kevin Garnett, Boston, 8; Ty Lawson, Denver, 8;  Josh Smith, Atlanta, 7; Deron Williams, Brooklyn, 6; Pau Gasol, LA Lakers, 4; Serge Ibaka, Oklahoma City, 4; Omer Asik, Houston, 3; Kenneth Faried, Denver, 3; Raymond Felton, New York, 3; Kyrie Irving, Cleveland, 3; Carlos Boozer, Chicago, 2; Mike Conley, Memphis, 2; David West, Indiana, 2; Rudy Gay, Toronto, 1; J.J. Hickson, Portland, 1; Andre Iguodala, Denver, 1; Dirk Nowitzki, Dallas, 1; Nikola Pekovic, Minnesota, 1; Rajon Rondo, Boston, 1; Nikola Vucevic, Orlando, 1.