NBA PM: Hammond Optimistic About Bucks' Core
VIDEO OF THE DAY
Orlando Magic second-year forward Kyle O'Quinn talks about the development of the team and what kind of individual goals he has this season.
Watch More Video Here
Hammond Optimistic About Bucks' Core
When the Milwaukee Bucks take the court for their season opener against the New York Knicks on Oct. 30, the team will be virtually unrecognizable. The majority of players in the Bucks' rotation joined the team over the summer, and veterans such as Brandon Jennings, Monta Ellis, Mike Dunleavy Jr. and J.J. Redick – such an important part of last year's postseason team – are gone.
Over the summer, Bucks general manager John Hammond decided to overhaul the roster and usher in a youth movement. Now, rather than being a mediocre team competing for the eighth seed in the Eastern Conference, the Bucks have a young core that consists of Larry Sanders, John Henson, Brandon Knight, Giannis Antetokounmpo and O.J. Mayo among others. The group has the potential to be one of the best up-and-coming teams in the NBA in the next several years if they develop as expected.
"Our approach was two-fold; we wanted to stay competitive and yet build with young players as we move forward," Hammond told HOOPSWORLD in a phone interview. "One of the most important things is that the young players continue to improve. Guys like Larry Sanders, John Henson, Giannis Antetokounmpo, Brandon Knight and all of our young players, that at the end of the season they're better than what they were at the start of the season."
Sanders, who started last season on the bench, has now emerged as the face of the franchise. After last season's breakout campaign in which he averaged 9.8 points, 9.5 rebounds and 2.8 blocks, he's widely regarded as the best interior defender in the NBA. Not only is he excellent at blocking shots, he alters countless shots at the rim and shuts down opposing big men. Milwaukee rewarded Sanders with a four-year extension worth $44 million over the offseason. Hammond believes Sanders will continue to make huge strides and emerge as Milwaukee's franchise player.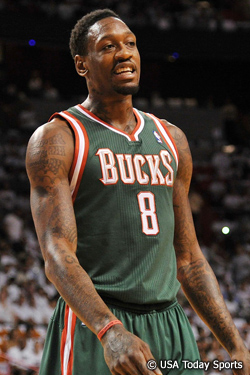 "He's a difference maker on the floor," Hammond said of Sanders. "He's a difference maker, a game changer, whatever you want to call it because of his defensive presence and his ability to block shots. Any time you can be identified as one of the best in the league at a particular aspect of the game, I think you do have a chance to be a [franchise] player. We're hoping that Larry can continue to be that. All he has to do is continue to be what he has been – someone who is a rim protector, runs the floor and rebounds on both ends of the floor. And his game is going to continue to grow, I feel very confident about that."
The Bucks have been known for their backcourt in recent years due the one-two punch of Jennings and Ellis. However, the Bucks chose to sign-and-trade Jennings to the Detroit Pistons in exchange for Knight and let Ellis walk to the Dallas Mavericks in free agency ("It was very difficult, but decisions have to be made and then you move forward," Hammond said). Now, Milwaukee is hoping that Knight and Mayo can produce at a high level and become a formidable backcourt for years to come.
"At the end of the day, from a roster standpoint, we felt like it was the right decision for us and we were happy to be able to acquire Brandon," Hammond said of the sign-and-trade deal with Detroit. "We've been very impressed with him. He's only 21 years old so he's another very young piece, but he has two years of experience under his belt. He's another guy who I feel is going to continue to improve and get better. We're looking forward to having him as a keeper piece in the backcourt.
"O.J. is still just 25 years old as the season starts so he can be [another player who's just scratching the surface]. The thing I really love about O.J. is that he loves the game. He's one of those gym rats, who loves to be in here and loves to work. He loves to play and loves to talk the game. You look at him at 25 years old at the start of the season and see another piece in the backcourt that we really like."
One of the most intriguing young players on the Bucks' roster is Giannis Antetokounmpo. The 18-year-old small forward from Greece was the 15th overall pick in this year's draft and he has all of the physical tools to be a very good player in the NBA. Antetokounmpo is 6'9 with a 7'3 wingspan and enormous hands. The teenager was the youngest player in the draft, and the scariest thing is he may still be growing. Throughout the preseason, he has shown flashes of brilliance despite being extremely raw. Bucks fans are exciting to see how good Antetokounmpo can be, and Hammond is optimistic that he'll develop into a very talented player at this level.
"We didn't know exactly how soon he was going to be able to get on floor or how soon we'd be able to play him when we drafted him and going into training camp, we still had no idea," Hammond admitted. "But through training camp and through the exhibition season thus far, I think we do feel confident that we can put him on the floor and that he can play. There's no greater experience than being on the floor and learning in live action. We're expecting that to happen for him. As far as what his ceiling his, I really don't know what his ceiling is. I think he has a chance to be – and I say this in a very guarded manner – he has a chance to be a special player. I do think he has a chance to be a special player in this league."
In addition to the young guys that the Bucks brought in over the summer, they also brought in a number of veteran players to fill out the roster including Caron Butler, Zaza Pachulia, Luke Ridnour, Gary Neal and Carlos Delfino. This was done to help Milwaukee compete, but also to put hard-working veterans around the young players so that their professionalism and work ethic would rub off on them.
"One thing we felt like we really needed to do was change the culture, so to speak, and I really feel like we were able to do that," Hammond said of adding the veterans. "The kind of people we brought in, guys like Zaza Pachulia, Luke Ridnour, Carlos Delfino and, of course, Caron Butler, those guys are great pieces to have on your roster. They're going to represent the organization well. They're going to represent the community well. We're excited about having them. We needed those veteran pieces to kind of help stabilize us, on the floor and off the floor."
The Bucks are clearly well positioned for the future, but how what are Hammond's expectations for the upcoming season?
"We hope to continue to improve as the season progresses and hope that our guys play unselfish, play hard every night and represent this organization and community," Hammond said. "With that being said, the wins and losses will take care of themselves. We're planning on winning and hopefully being a very competitive team throughout the season. But for us, as we move forward, we want to continue to build with the young pieces, continue to draft wisely and have good cap management."
Speaking of building through the draft, Hammond believes the 2014 draft class could feature a number of very talented players. However, he doesn't want to get ahead of himself. He wants to see how the prospects perform throughout the upcoming college season before judging this draft class.
"It seems like a great class, but I'm saying that today before the college season even starts," Hammond said of the 2014 draft class. "I'm kind of excited about this draft, but then again we always find out more and learn more throughout the season."
We'll certainly learn more about this Bucks team throughout the season, as the young players will get the chance to show what they can do and continue their development.
NBA Finals Officially Changes Format
At Wednesday's NBA Board of Governors meeting, the league's owners unanimously voted to change the NBA Finals format to 2-2-1-1-1, starting this season. The new format will replace the 2-3-2 format that had been in use since 1985.
Now, the team that has home-court advantage will get the first two games at home, the opponent the next two at home and the teams will alternate cities for Games 5, 6 and 7 if necessary.
In the old format, the team with home-court advantage would get Games 1, 2, 6 and 7 at home while the opponent would get Games 3, 4 and 5 in their building.
"There has been an abiding sense amongst our teams, and they've stated two things: One, in a 2-2 series, it's sort of not fair for the team with the better record to be away. And two, it's difficult for the team — the better team in terms of record to spend as many as eight days on the road away from home," NBA Commissioner David Stern said in his final BOG meeting with owners, according to Jeff Zillgitt of USA TODAY Sports. "So for all those considerations and many others, the Competition Committee voted, it was explained to the owners, and they voted to make the change."
Now, the Finals will match the 2-2-1-1-1 format used in every other round of the NBA playoffs.