NBA PM: Harris Emerges as Star in Orlando
A month and and a half ago, Tobias Harris was buried on the Milwaukee Bucks' depth chart and playing just a handful of minutes each night. The 20-year-old was only averaging 4.9 points, 2.0 rebounds, .3 steals and .3 blocks and there were questions about whether Harris would develop into a quality NBA player after Milwaukee used the 19th overall pick on him in the 2011 NBA Draft.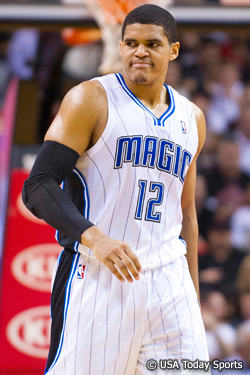 Since the Bucks didn't have a significant role for Harris, and because the organization wanted to bolster their roster heading into the playoffs, Milwaukee decided to part ways with the second-year forward. They sent him to the Orlando Magic in a six-player trade that netted J.J. Redick. The Bucks felt that Redick could help them during their playoff push and serve as insurance should Monta Ellis exercise his Early Termination Option and leave as free agent over the offseason.
Initially, the Magic were criticized for the deal. In the weeks leading up to the trade deadline, there were many reports that stated Orlando wanted a first-round pick in return for Redick, so when the Milwaukee package didn't include a draft pick, fans were understandably disappointed. Redick was a fan favorite and Magic fans had no idea who Harris was since he had such a small role with the Bucks.
It turns out all Harris needed to be effective was more playing time and shot attempts, which he has received in Orlando. Even though the Magic didn't get a first-round pick back in the Redick trade, they certainly received a first-round talent in Harris. He has been one of Orlando's most productive players since arriving in late February, averaging 16.9 points, 8.8 rebounds, 1.4 blocks and one steal. In April, Harris' averages are even more impressive: 19.4 points, 12 rebounds and 1.6 blocks. In two years with the Bucks, Harris scored in double-digits just 12 times. In less than two months with the Magic, he has achieved this feat 21 times in 24 games, and he has been the team's best player on most nights.
While he has been impressive in recent weeks, he saved his best performance for the Bucks on Wednesday night. Harris wanted to show Milwaukee what they're missing out on and he did exactly that, finishing the game with 30 points, 19 rebounds and five assists. He led Orlando's late comeback, hit the game-tying three to force overtime and closed out the win by throwing down a huge dunk in the final seconds. Harris was clearly pumped up, pounding his chest and screaming at the top of his lungs after putting the exclamation point on the win. After the game, Harris admitted that it felt good to have a dominant performance against the team that gave up on him. When asked if there was extra satisfaction in the win, he was honest.
"A little bit," Harris told HOOPSWORLD. "They know my game and they know how I play. With the circumstances over there, it was limited for me to see playing time. But I just kept working hard and now I'm in a situation where I can play my game and showcase what I can do. I'm really blessed for that situation."
Harris couldn't be happier in Orlando. He's extremely thankful that Magic general manager Rob Hennigan and his staff acquired him and view him as a long-term piece they could build around. Harris said that he has annoyed team officials because whenever he sees them in the hallway, he thanks them for putting him in this excellent situation. Eventually, Magic brass had to tell Harris to stop thanking them and instead show his appreciation by continuing to play well.
"I'm just playing my game and that's what Coach [Jacque Vaughn] allows me to do," Harris said. "He gives me freedom out there to make plays. He knows I'm going to make the right plays most times and he knows I'm going to score. My teammates have been doing a great job getting me the ball in the right spots so I just like to feed off of that and feed off of the defensive end, getting rebounds and pushing it. I just like to get hyped out there and get my teammates real anxious to play, just be an energy source out there on the floor."
Harris says he is "real excited" about the future in Orlando. He's surrounded by other talented young players such as Nikola Vucevic, Maurice Harkless and Andrew Nicholson among others. Even since he joined the Magic in February, he has seen a noticeable improvement in the team's young core.
"I think we've grown a lot," Harris said. "One thing is, as young guys, to be playing the minutes that we're playing and to be in the game at the end, that's important for us going in the future and for our development. I think that's real key, especially for the future of our team."
Harris has been a steal for Orlando. When the Magic acquired him, they knew that he had potential, but nobody thought he would be this good right away. Since arriving in Orlando, he has been making his presence felt and making Milwaukee wonder what could've been.
Doug Collins Out in Philadelphia?
It seems like the writing is on the wall for Philadelphia 76ers head coach Doug Collins, which shouldn't be a huge surprise to anyone who saw his highly critical postgame meltdown after a loss in late February.
In today's Philadelphia Inquirer, Bob Ford writes that the team is privately hoping that Collins will walk away after the season because they want to go in a new direction. Even if Collins decides to return, Ford makes it clear that the team will not extend Collins' contract, which would force him to be a lame duck coach since he has just one year remaining on his current deal.
"I'm entirely focused on trying to win the games we have left," Collins told the newspaper. "I'm not thinking at all about next season. I haven't gone there."
Collins may not be thinking about the future, but the organization is definitely thinking ahead. Ford talked to a number of sources who insisted that the team wants to "turn the page" and move ahead without Collins.
"I think he's gone at the end of the year. He'll be moving on," one NBA source with intimate knowledge of the situation told Ford. "He'll decide to leave, and they won't be upset about it. They would like to see it work out that he decides to move on."
"Whatever happens, there isn't going to be a contract extension," a second NBA source said. "They're looking to turn the page."
The 76ers would prefer if Collins chooses to leave because the team doesn't want to anger fans by firing the head coach.
"They really want to avoid a backlash if the fans sided with Doug," the first NBA source said. "They will be happy if Doug makes the call and it works out that he leaves."
However, Collins is owed $4.5 million and it's hard to imagine him walking away from that money. Don't be surprised if this ends with a mutual agreement to part ways and (at least) a partial buyout of Collins' contract.
Loading ...
Will Russ Smith Enter the 2013 NBA Draft?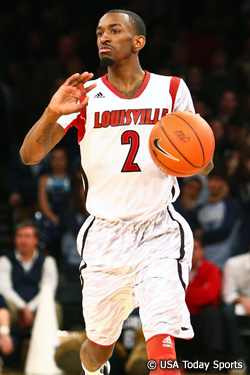 After the final buzzer sounded in the national championship game and the Louisville Cardinals celebrated their victory over the Michigan Wolverines, Russ Smith's emotional father told Sports Illustrated that his son would enter the 2013 NBA Draft and walk away from college basketball on top.
"I told him, 'Man, this is how you go out,'" Smith Sr. told SI.com. "All the people who doubted you since high school, you proved them wrong. You have back-to-back [Big East] championships, then you come back and win the national championship. All that hard work comes from working you out since you was three years old, running the beach, running the stairs, running with medicine balls, a boxing bag, it paid off. That's it. He's gone."
Initially, Smith backed his father's claim in interviews and said that it was time for him to go pro. However, in recent days, he has started to backpedal and reconsider. In an interview with a radio station this morning, Louisville head coach Rick Pitino said that Smith was uncertain about his future.
"Russ, I think, is 50-50," Pitino said on Sports Radio 790. "He's a very confused young man. He didn't want his dad to say that. He wanted time to think a bit."
Pitino said that Smith is still weighing his options. The guard has been in contact with the NBA advisory committee to receive feedback on where he would be selected should he enter the draft. The downside of winning the national championship is that the Louisville players have a much smaller window to make one of the most important decisions of their life. Smith is currently projected as an early second-round pick in most mock drafts, but he may be able to move into the late first-round with solid workouts.
Smith is incredibly fast and a great scorer, as he showed throughout the tournament. However, there are two things about Russ that concern NBA executives and scouts. First, he's very undersized. He's listed at 6'1 and 165 lbs. but we'll see just how accurate those numbers are when he's measured and weighed at the pre-draft camp in Chicago. Is he big and strong enough to play against NBA guards? Second, teams are worried about his point guard skills. He's more of a shooting guard in a point guard's body, and scouts believe he has questionable decision-making skills and poor shot selection. He also tends to be out of control at times and turn the ball over a lot. Is a team willing to hand the reins over to Smith and let him run their offense?
Smith may have a long, successful career in the NBA as a bench scorer. If he can come in and put up points on a team's second unit, he could stick around in the NBA. However, the odds of him starting and being a team's long-term answer at point guard are slim unless he's able to get stronger and really improve his decision-making, shot selection and recklessness.
Pitino was willing to put up with "Russdiculous" because he was able to put up points against college players and be successful. An NBA coach likely won't be as patient or accepting of his mistakes.
Smith should leave school because his stock isn't going to get any higher than it is right now, and the concerns surrounding him aren't things he can erase during one more season of college basketball. They're issues that relate to his size and style, which will take much longer to change. At the end of the day, whether Smith stays in school or enters the draft, he'll have to evolve if he wants to remain in the NBA and experience the same success he had at the college level.