NBA PM: Jarrett Jack Helping Young Cavs
Jrue Holiday - VIDEO OF THE DAY
Pelicans' guard Jrue Holiday talks about his new team; how its come together and what he expects this season.
Watch More Video Here
Jarrett Jack Helping Young Cavaliers
Last season, Jarrett Jack was a major reason for the Golden State Warriors' success. Jack emerged as one of the team's most important players in his lone year with the Warriors. He was one of the best sixth men in the league, finishing third in Sixth Man of the Year Award voting. He was a veteran leader and strong presence in the locker room. He was also a versatile piece who was able to play alongside both Stephen Curry and Klay Thompson in the backcourt, scoring the ball and setting up others.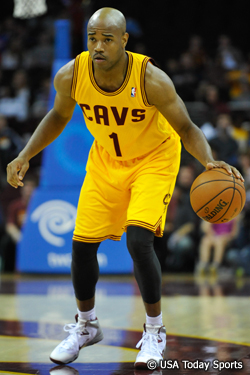 The veteran point guard helped Golden State's young core take their game to the next level. Not only did Golden State end their five-year playoff drought last season, they exceeded all expectations and advanced to the Western Conference Semifinals, where they lost to the San Antonio Spurs in six games. The Warriors wanted to re-sign Jack and Carl Landry last offseason, but when they were able to dump the contracts of Andris Biedrins, Richard Jefferson and Brandon Rush on the Utah Jazz and position themselves to sign Andre Iguodala, they couldn't pass on the opportunity to bring in the talented swingman.
That forced Jack to test free agency after one of the best years of his career, and he was able to cash in by signing a four-year, $25 million deal with the Cleveland Cavaliers. Now, the Cavaliers are hoping that the 30-year-old point guard can match his production from last season and have the same uplifting effect on their young team, which is trying to end a playoff drought of their own.
Cavaliers head coach Mike Brown believes his young team needs a player like Jack on the court with them to keep them composed and ensure everybody is doing their job.
"We have a tendency to get rattled because we're still a young team," Brown said. "We can get rattled on both ends of the floor and he's a guy that is capable of settling us down. We got an offensive rebound [at one point in the preseason] and you could just see Jack calm everybody down, get to the right spots and execute the next action. It's good to see a veteran out there with that type of presence that controls the game."
Jack's versatility allows him to play alongside both Kyrie Irving and Dion Waiters. Brown has played Jack and Irving together in the backcourt and liked what he saw. Jack was very effective playing alongside Curry in Golden State, and having two point guards on the floor has its advantages. It's definitely something the Cavs will continue to experiment with, and something that Irving is open to doing.
"For the first time in my first three years, I can play [both guard spots] comfortably now," Irving said. "I know all of the positions on the floor, especially the two spot. It allows me to not exert so much energy dribbling the ball, especially at the top of the key. I get to come off some screens. It's something that we go through every day at practice. Me being at the two spot opens up the lane for our bigs and our shooters in the corner.
"There will be times during the game where Jarrett will be in and I'll be the two-guard. In high school I played the two-guard. That's the last time I played two-guard. The ball ends up finding your hands once in a while and you get to make plays, but it's just exercising every opportunity that you have, whether it's setting a screen for your teammate or coming off a down screen. It's not that hard to move from the one to the two. Everybody tries to make a big deal out of it, but you just have to be a lot crisper, set better screens and just do a lot more things off the ball than you would do with the ball."
Irving and Jack love playing together. Both players have nothing but positive things to say when talking about the other.
"It's easy to play off somebody like [Jack]," Irving said. "I just get to my spot and I know he's going to find me. He's going to be aggressive. He's going to draw the defense and he's going to make the right play, whether it's for me or my teammates. He's a great point guard. He's shown that across the league. Being out there and kind of being his wingman, it makes the game easy for me. I come off screens, get easy shots, draw the defense in and get easy shots for everybody else."
"He's a smart kid, smart player as well," Jack said of Irving. "If you go back and look at film [from when Jack and Irving have played together], the thing I was telling him was that we didn't call any plays the whole time we were out there. We were just playing based of the situation. I know the old saying goes 'take what the defense gives you,' but that was just what we were doing. We didn't have any preconceived sets; we were kind of just flowing, playing off one other. I think when you're using that initial instinct, that's when it's the most fun."
That's exactly what Jack was able to do in Golden State last year, playing instinctively alongside Curry and Thompson, forming one of the best backcourts in the NBA.
Now, Jack looks around the Cavaliers locker room and believes the group has what it takes to be very special. Not only does he believe Cleveland can sneak into the playoffs in the Eastern Conference, he feels they may be able to make a run similar to the one the Warriors went on last year.
"I'm not one to put a cap on much," Jack told HOOPSWORLD in the offseason. "Why would I want to just say, 'We're just going to make the playoffs'? I don't want to limit what we can do, the possibilities are endless and we're just going to embrace it."
The top five seeds in the East will likely go to the Miami HEAT, Indiana Pacers, Chicago Bulls, Brooklyn Nets and New York Knicks, barring a surprise, but the final three seeds are up for grabs. Cleveland will be in the mix for one of those final seeds, along with teams like the Washington Wizards, Detroit Pistons, Atlanta Hawks and Toronto Raptors among others.
The addition of Jack – as well as other veterans like Andrew Bynum (the focus of yesterday's NBA PM) and Earl Clark – should help the Cavaliers achieve their goal of making the playoffs for the first time since LeBron James bolted as a free agent after the 2009-10 season.
Chauncey Billups Making Presence Felt in Detroit
Over the offseason, the Detroit Pistons brought in a number of new faces. Josh Smith was signed to a lucrative new contract, Brandon Jennings was acquired in a sign-and-trade with the Milwaukee Bucks, Maurice Cheeks was hired as the team's new head coach and Kentavious Caldwell-Pope was selected with the team's eighth pick in the draft.
However, the Pistons did sign one familiar face. Chauncey Billups decided to re-join the Pistons over the summer. His first stint in Detroit ended when he was traded to the Denver Nuggets in exchange for Allen Iverson back in the 2008-09 season. However, after his stints with the Nuggets, New York Knicks and Los Angeles Clippers, Billups decided he was ready to return to Detroit, where he'll likely finish his career since he's 37 years old and signed to a two-year, $5 million deal with the Pistons.
Billups was brought in because the Pistons are tired of being a lottery team. Detroit hasn't been anywhere close to contending since Billups' last stint with the franchise, and they're hoping he can help them get back to the postseason after four seasons of winning 30 games or less. Billups is joining a young cast that features Smith, Jennings, Caldwell-Pope, Andre Drummond and Greg Monroe among others. He's expected to teach the players how to be professionals, work with the guards to make sure they're playing to their full potential and be the veteran leader that this team needs.
"I suspect my experience will come in handy all year for this team and that's what I am here for," Billups said. "I'm here to teach these guys. Not only that, but I can still play too. That's exactly what I am here for though."
In Los Angeles, Billups took Eric Bledsoe under his wing and helped the young point guard develop. He would look over film with him before games and offer advice throughout the year, which helped Bledsoe improve significantly throughout the year. Billups has also worked with draft prospects at Impact Basketball in Las Vegas during the offseason, helping them train for the pre-draft process and the NBA.
In this year's GM Survey, Billups was voted as the active player who will make the best head coach someday. While Billups hasn't expressed interest in coaching (he's more interested in being a general manager), the Pistons love that he's able to help players better themselves and Cheeks views Billups as a coach on the floor during games.
"That's not unusual to see Chauncey do those kinds of things," Cheeks said. "He kind of runs the game, takes over the game late in the game and allows me not to have to necessarily call a timeout because I have him out on the floor. He can tell guys where to go and he can run certain plays for us. As long as we get the ball in his hands, we feel pretty confident in him running the play or making the shot.
"With him handling the ball, on the ball, off the ball, it gives us a couple dimensions. When you're older, the game kind of slows down for you, it slows down for all of us and he can pick a spot, get a shot, get to the rim and he kind of gives us a nice little pace."
Billups' teammates obviously respect him since he's had a successful 17-year career in the NBA, which has included five All-Star appearances and, most importantly, a championship.
"You don't get the nickname 'Mr. Big Shot' for nothing," Monroe said. "The poise, the composure he shows making those shots, that only comes from years of experience."
While Billups is happy to be donning a Pistons jersey again, he understands that he's no longer the team's focal point. A lot has changed since he hoisted the Finals MVP trophy back in the 2004 NBA Finals. Now, Billups feels the Pistons must rely heavily on their frontcourt players – Smith, Drummond and Monroe, who may form the best frontcourt trio in the NBA (and certainly the most athletic).
"That's where we feel like our advantage is, with those three big guys," Billups said of Smith, Drummond and Monroe. "We should have an advantage on 90 percent of the nights in this league. We have to go to that. The good thing about it is all those guys are really good passers and we have perimeter shooters as well so when they get in there, if they don't have something, they can kick it out to some of our shooters. It makes for a tough attack."
Billups started the Pistons' season opener against the Washington Wizards since Jennings is still out due to a fractured jaw and impacted wisdom tooth. The fans in Detroit went crazy for Billups when he was the last player announced during introductions. Billups played very well, contributing 16 points and five assists while hitting four of five shots from three-point range. At one point, after a three-pointer, the fans started chanting "M-V-P" for the veteran point guard.
"It felt good, but that was a little crazy," Billups said after the game. "It feels like old times. The energy in this building sounded familiar. I hadn't seen that in a while around here. It felt really good."