NBA PM: Knicks Take A New Direction
Kelly Olynyk - VIDEO OF THE DAY
Celtics' rookie Kelly Olynyk talks about playing Summer League, the NBA game and what he hopes to showcase.
Watch More Video Here
Knicks Take A New Direction
In a surprising development out of New York, the Knicks announced on Thursday afternoon that general manager Glen Grunwald has been demoted to an advisor, while former executive Steve Mills will take his place as GM. Mills was previously expected to take a position with the NBA Player's Union, but instead he returns to the franchise he was with for 10 years in a variety of roles.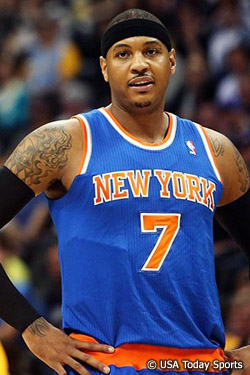 "I am pleased to welcome Steve back to the Knicks," team owner James Dolan said. "He is a well-respected sports executive with a strong background in basketball, as well as a familiarity with NBA operations and our company. We look forward to his leadership and believe he is the right person to help us reach our ultimate goal of winning an NBA championship.
"We are grateful for Glen's many years of valuable service and pleased that he will remain with the organization."
"I want to thank Jim for this opportunity to return to the Knicks in this important position," Mills said. "It is an honor and a privilege to work for such a storied franchise and I look forward to doing whatever it takes to make the Knicks a successful franchise and a team that fans can be proud of, both now and in the future."
Mills takes over the Knicks at a critical stage. His last tenure with the team turned into a miserable stretch that included a long playoff drought, severe overspending and a highly-publicized sexual harassment lawsuit that resulted in the Knicks having to pay $11.6 million to Anucha Browne Sanders. Prior to his hiring, the team was a consistent contender in the Eastern Conference and was just removed from a trip to the NBA Finals. In somewhat of a similar situation, Mills is now taking over a rebuilt team that has made three consecutive playoff appearances and is coming off of their first postseason series victory in 13 years.
This upcoming season is quite important to the Knicks as they approach an offseason full of uncertainty. Right now they have a solid squad that features Carmelo Anthony, Tyson Chandler, Andrea Bargnani, Amar'e Stoudemire, J.R. Smith, Raymond Felton, Metta World Peace and Iman Shumpert among others. However, Stoudemire, Anthony, Bargnani all have early termination options that will allow them to become unrestricted free agents at the end of the year if they desire.
Of course, keeping Anthony is the priority for the Knicks. Everything else they can worry about out later, but not losing Anthony, who could end up biggest star on the market if the big three in Miami pick up their options or opt against entertaining offers from other teams, matters more than anything.
It's important for Mills to start forming a strong relationship with Anthony now. Anthony recently commented on the record that he had no interest in playing for anyone but the Knicks, but we've seen how quickly things can change over the course of the season. If the Knicks don't meet expectations and improve from last year, Anthony could end up being a lot more open to other offers than he currently is right now.
The other interesting aspect to keep an eye on with Mills taking over is the job security of head coach Mike Woodson. Woodson and Grunwald were college teammates and had a tight bond. One of the first things new GMs typically look to do is bring in their own head coach. Woodson's body of work with the Knicks is good enough to where he doesn't have to worry right now, but his seat is definitely hotter with Mills calling the shots instead of Grunwald. Woodson's contract expires at the end of the year and there is a long list of experienced, quality head coaches without a job right now (you can read more about which head coaches are out there here.)
Mitch Kupchak Talks Kobe Bryant
With training camp about to kick off, Los Angeles Lakers general manager Mitch Kupchak held court with the local media and, as you would expect, the major topic of discussion was Kobe Bryant's injury status.
"No real expectations," Kupchak said to ESPN LA's David McMenamin. "I do believe that [Bryant will] get back and he'll play this season. You won't be able to look at him and say that he's hurt. In other words, some guys like myself when I hurt my knee, I always had a limp. You won't be able to tell [with Bryant].
"I don't have a timeline, I really don't."
All that is known about Bryant right now is that he is likely going to miss all of the preseason games and training camp. Bryant has run on up to 75 percent of his body weight on the Alter-G treadmill and has not had any setbacks, according to Kupchak.
This is a big season for Bryant, not only because he's coming off of the most serious injury of his career, but because he is going to be a free agent at season's end. Recently, a report surfaced that the Lakers had not opened up contract negotiations with Bryant yet, but that could change over the course of the season.
"There have been no contract extension talks," Kupchak confirmed. "I would suspect that at some point this season we'll sit down. Whether it's with Kobe and I or Kobe and his representative, Rob Pelinka, and talk about a road map for the future. But Kobe has made it clear that he intends to retire in a Laker uniform and I know as an organization we feel the same way.
"If you think for a second if Kobe can't play at a high level, or up to his expectations, that he wants to continue to play, I don't think that's in his DNA. So I think it makes sense for him and for us to get him back on the court and to get a feel or a gauge of how much longer he wants to play and at what level."
The Lakers are poised to have serious cap space this summer and have hopes of luring the next star player to take the torch from Bryant, but that won't be an easy task – especially if Bryant is looking for a sizeable extension.
"The rules as they've been created now in the new Collective Bargaining Agreement, it's going to be tough to get players to move," Kupchak said. "So, I don't know what next offseason holds. Certainly we're going to be active and if we can get what we want to get done, then great. If not, then we'll move to the next offseason and then we'll move to the next offseason. I know at some point we'll be able to put together a very competitive and attractive team here."
The Lakers' training camp officially starts on Saturday and while they will be without Bryant, they do have the good fortune of having a healthy Steve Nash and Pau Gasol in place to carry the load until he returns.