NBA PM: Latest Free Agency Rumblings
We're roughly two days into the NBA's 2013 free agency period and, so far, it has lived up to the hype.
We've already seen a number of verbal agreements between players and teams, and plenty of meetings and negotiations are taking place. Here are some of the latest free agency rumblings from around the league:
• The rumor that the Houston Rockets are shopping Jeremy Lin and Omer Asik is accurate, according to sources close to the situation. If the Rockets are able to sign unrestricted free agent Dwight Howard, they will try to add veteran contributors around Howard and James Harden. Howard reportedly asked the Rockets if they could acquire a third star during their meeting, and that's something Houston has explored with unrestricted free agents Andre Iguodala and Josh Smith being mentioned as options.
• There is no shortage of interest in unrestricted free agent Sebastian Telfair, according to sources close to the situation. The 28-year-old point guard has heard from the New York Knicks, Brooklyn Nets, Oklahoma City Thunder and Miami HEAT among other teams. Telfair, who has never played in the postseason in his nine-year career, wants to join a contender and be part of a deep playoff run. He's currently training at Impact Basketball in Las Vegas and weighing his free agency options.
• Greg Oden has received plenty of interest from NBA teams, according to sources close to the situation. At one point, it seemed inevitable that Oden was going to sign with the Miami HEAT since he wouldn't be expected to contribute much and could slowly get back into game shape (much like Eddy Curry did in Miami two years ago). However, now that other suitors are offering more lucrative, multi-year deals, Oden has to weigh his options. Miami is still in the mix for Oden along with the San Antonio Spurs and Cleveland Cavaliers.
• The Cleveland Cavaliers are interested in signing a reserve point guard, according to sources close to the situation. The Cavs have reached out to a large number of players as they search for Kyrie Irving's backup. All of the Cavaliers' reserve point guards from last year – Shaun Livingston, Chris Quinn and Daniel Gibson – have become unrestricted free agents.
• Entering the 2013 offseason, the Indiana Pacers had two goals. In order to remain a contender in the competitive Eastern Conference, the Pacers understood they had to re-sign David West and improve their bench. Less than 48 hours into free agency, Indiana has checked both items off of their to-do list. The Pacers have agreed to terms on a two-year deal with reserve point guard C.J. Watson and reached a verbal agreement with West on a three-year deal worth $36 million. Indiana moved quickly, making their biggest moves of the offseason before most teams had even made a single contract offer. West's return keeps the team among the East's elite and Watson improves their rotation significantly.
•Richard Hamilton will be joining the pool of free agents this offseason as the Chicago Bulls are going to waive the 35-year-old rather than guaranteeing the final year of his contract. Only $1 million of Hamilton's $5 million salary for the 2013-14 season was guaranteed. Hamilton will become an unrestricted free agent.
Portland's Scary One-Two Punch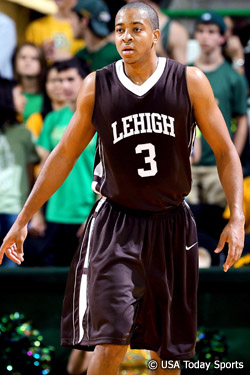 Last season, Damian Lillard was drafted sixth overall by the Portland Trail Blazers and the former mid-major star took the NBA by storm to become the unanimous Rookie of the Year. Now, one year later, the Blazers have added a second high-scoring guard from a mid-major school in 10th overall pick C.J. McCollum, and the duo has the potential to become one of the best backcourts in the league.
Lillard and McCollum are both dominant scorers who can shoot lights out and put the ball in the basket from anywhere on the floor. They are also good friends, as they got to know each other several years ago when Lillard was at Weber State and McCollum was at Lehigh. If all goes as planned, Portland's guards could eventually be an elite one-two punch in the league.
"I think it's a great opportunity obviously," McCollum said in an interview with Jim Rome. "You've got a guy coming back, Rookie of the Year, he [is] the seasoned veteran being 22 years old, having gone through four years of college and having a successful first year in the NBA. I think his ability to score and create for others is going to be a problem, honestly, his ability to knock down shots, use the pick-and-roll. But at the same time, now I'm going to be involved in the mix in terms of knocking down shots and allowing him to play to his strengths. When I'm on the court, he can score more. I can distribute to him but at the same time, I can make his load easier, knock down shots, kind of spread the defense where they're not helping off me because I'm going to knock it down and I want the team to know that I'm going to be able to knock down shots. … Then you've got Wes [Matthews], you've got [Nic] Batum, [LaMarcus] Aldridge. I think our lineup is going to be terrific. I think the coach is going to have a great, great rotation in terms of mixing up players. And we've got [Thomas Robinson] coming in, so I just look forward to the opportunity to play in the NBA with elite players."
After McCollum broke his foot in January of his senior season, one of the first people that he reached out to was Lillard, who had sustained a similar injury during his third season at Weber State. Lillard talked McCollum through his recovery, not realizing that they would be teammates months later.
"One of the biggest things he said was you can come back from it but it's going to take a lot of work," McCollum said. "You kind of have to dedicate yourself and make the best of this opportunity and I think I did just that. Taking advantage of your time is one of the biggest things. You can't necessarily walk but you can work on your ball-handling, you can work on shooting in a chair, pool workouts tightening up your upper body. He was great in terms of giving me feedback, letting me know his timetable in terms of what to expect after four weeks, what to expect after eight weeks, when he started doing drills, when he started doing live action. It was good to kind of reach out to him and he was great in terms of giving me good feedback."
Now, McCollum is healthy and determined to duplicate the success that Lillard had during his rookie year.
"I'm not happy with just being drafted 10th overall," McCollum said. "I want more. I want to be successful in the NBA."