NBA PM: LeBron James' Historic Season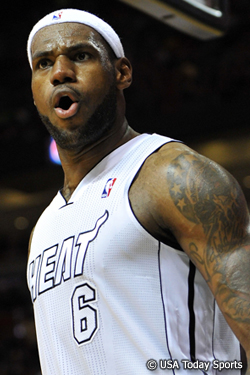 For the last decade, we've wondered what LeBron James would look like when he reached his prime. Once his potential and upside were distant memories and James peaked, how good would he be? At 28 years old, we're finally finding out. Not only is James the best player of his generation, he may go down as one of the greatest players to ever step onto a basketball court. This isn't hyperbole. This is fact.
After leading the Miami HEAT to an NBA championship, winning a gold medal and taking home regular season and Finals MVP honors last year, James still found a way to take his game to another level this season. He has an incredible arsenal of weapons that allows him to pick and choose how he's going to dominate each opponent he faces. He scores, passes, rebounds, defends, leads and, ultimately, wins. James may not be very good at announcing free agency decisions, but good luck finding many other weaknesses.
This season, James is averaging 27.3 points, 8.1 rebounds and 7.3 assists. He is shooting 56.8 percent from the field and 41.1 percent from three-point range. He shot 64.1 percent in February, becoming the first player since Kareem Abdul-Jabbar in March of 1983 to shoot at least 64 percent from the field for an entire month with a minimum of 200 field goal attempts. He also became the first player in NBA history to record six consecutive games with 30 or more points and 60 percent shooting from the field.
James is currently having the most productive season of any player in NBA history, according to Player Efficiency Rating, a stat that measures a player's per-minute performance by weighing their positive and negative contributions. Michael Jordan holds the highest single-season PER after recording a rating of 31.89 in 1987-88. Wilt Chamberlain's highest PER was approximately 31.84 in 1962-63, but it's difficult to calculate since the league didn't keep track of turnovers, blocks, steals or offensive rebounds. Legends like Abdul-Jabbar, Magic Johnson and Larry Bird never had a single-season PER higher than 30.
This season, James' PER is 31.94. If he can continue to play at this level in Miami's 27 remaining games, this will go down as a historically great year for James. This has become an annual dance for James. In 2008-09, he was on pace to break Jordan's single-season record for much of the year, but finished at 31.69. Last year, James had a PER of nearly 35.0 at one point in the season, but eventually came down to earth and topped out at 30.80.
However, James has been seemingly unstoppable this season. After winning back many of the fans that turned on him as well as his first NBA title last season, James has had the weight of the world lifted off of his shoulders. For the first time since being labeled a phenom out of high school, James isn't feeling the crippling pressure that comes with being the next big thing or a ring-less superstar. As a result, he has delivered an unforgettable season.
"LeBron, he's so big and strong and powerful," said Philadelphia 76ers head coach Doug Collins after a recent loss to the HEAT. "I mean, he decides whether he wants to be a passer or a scorer. The plays he makes are incredible. He's an amazing player. … That team, when they go to LeBron at the four, is impossible to guard. You can't guard him."
His stat lines seem unreal, but these are not typos. Take last night's double overtime win against the Sacramento Kings, for example. James recorded 40 points, 16 assists and 8 rebounds. Few players can impact one aspect of a game the way that James can impact all of them. He truly is a triple-double threat each and every night.
"He has simply made all of his weakness into strengths," said one NBA scout. "He's Magic and Jordan in body and mind right now. What impresses me most about James, and this is going back to last year, is that he's no longer afraid of greatness. He's comfortable with himself and his decisions. I credit Pat Riley for that exponentially. On the court, his game continues to expand, but it's his jump shooting ability from all angles that has improved dramatically, especially in fourth quarters."
James has received heaps of praise this season, to the point that his accomplishments blur together and his greatness is somewhat taken for granted. However, down the road, we'll likely look back on these years as the LeBron James era and relive many of the spectacular moments throughout his career. James is to this generation what Jordan and Chamberlain were to theirs, and the numbers back that up.
Even if James isn't considered the best NBA player of all-time when all is said and done, he'll still belong in the conversation of once-in-a-generation legends that changed the game, dominated on a nightly basis and helped redefine greatness.
Looking Ahead to the 2013 Free Agent Class
The 2013 NBA trade deadline didn't live up to the hype. There weren't any blockbuster deals and, unlike in previous years, there weren't even that many intriguing rumors on the day of the deadline. While this made for an anticlimactic Thursday afternoon in February, it should make for a very interesting free agency period when the calendar turns to July 1.
There are a number of notable players who can test free agency this summer. All-Stars Chris Paul and Dwight Howard headline the class, and could make things very interesting if one, or both, decides to leave Los Angeles. However, Paul and Howard aren't the only stars who will be available in July.
Andrew Bynum, Josh Smith, David West, Manu Ginobili, Monta Ellis, Andre Iguodala, Paul Millsap and Al Jefferson will become unrestricted free agents. Brandon Jennings, Tyreke Evans, Jeff Teague and Nikola Pekovic are among the players who are expected to become restricted free agents. Many of the players who were under the microscope before the deadline will once again have all eyes on them this summer.
This group may not have the star power to match next year's free agent class, which could include stars such as LeBron James, Kobe Bryant, Carmelo Anthony, Dwyane Wade, Dirk Nowitzki, Chris Bosh, Rudy Gay, Amar'e Stoudemire, Pau Gasol, Paul Pierce, Danny Granger, Luol Deng and Zach Randolph among others. However, the 2013 free agent class is talented and deep enough to alter the league's landscape.
There is a long list of franchises that will have significant money to offer a notable free agent this summer. The teams that failed to land a premier talent at the trade deadline (all of them) are now shifting their focus to free agency. Make sure to check out tomorrow's NBA PM for a ranking of the top free agents in the class of 2013.
Biyombo Learning Despite Bobcats' Struggles
This hasn't been a memorable year for the Charlotte Bobcats. Sure, it's not as awful as last year's historically bad campaign, but they're still the worst team in the Eastern Conference with a 13-44 record. In the beginning of the season, the Bobcats managed to win five of their first nine games, but it has been downhill from there.
Now, the team is focusing solely on developing their young players, such as big man Bismack Biyombo, who was selected with the seventh overall pick in the 2011 NBA Draft.
The 20-year-old Biyombo is extremely raw, but he has made significant progress this season. He's currently averaging 4.5 points, 7.3 rebounds and 1.8 blocks in 40 starts for the Bobcats. He has improved Charlotte's interior defense, but is the first to admit that he still has a long way to go in his development.
"I have improved a lot and I have learned a lot," Biyombo said. "Just like always, I'm working so hard. Every single day, I'm working hard and trying to get better. It's every single day. There's still a long way to go, but I have come a long way. I just have to keep going.
"It's hard for everybody, the way that this season is going, but I think guys are trying to get better every day and guys are trying to get the best out of themselves. This situation isn't a good situation for nobody, but I think we're working hard and trying to make it better every day."
Biyombo believes the Bobcats have created an environment that promotes growth and development for the team's young core. New head coach Mike Dunlap was hired because he's a teacher, and his presence has helped Charlotte immensely, even though it hasn't translated into wins. When asked about the difference between this year and last year, Biyombo points to the coaching staff and the extra help that players receive.
"We have better coaches," Biyombo said. "Well, I won't say better coaches, but we have a lot of coaches who are there and ready to work with you any time you want to get some work in. That's kind of what we were missing last year. I had somebody that I was working with, but I don't know if it was the same for other players. I just think everybody is trying to work hard. That's all."
As far as Biyombo's individual development goes, he understands that he's going to have a long career if he focuses on rebounding and defending. These are his two strengths, but also the areas that he continues to work on the most.
"I just have to be a better rebounder and better shot blocker," Biyombo said. "That's what I do best. I'm just going to keep doing what I do best, but trying to do it better every single day."
NBA Chats: You can always find upcoming NBA chats by clicking here. If you are looking for previous chats, click here.