NBA PM: LeBron Not Making Same Mistake Again
John Wall - VIDEO OF THE DAY
Wizards' guard John Wall talks being a leader, building chemistry and helping his teammates get better.
Watch More Video Here
From 2008 to 2010, LeBron James' pending free agency was not just the biggest story with the Cleveland Cavaliers, his team at the time, but the NBA as a whole. Two years worth of speculation and distractions culminated in an hour-long TV special in which James broke the heart of every Cavalier fan and announced that he would be taking his talents to Miami, where he would join fellow All-Stars and close friends Chris Bosh and Dwyane Wade on the HEAT.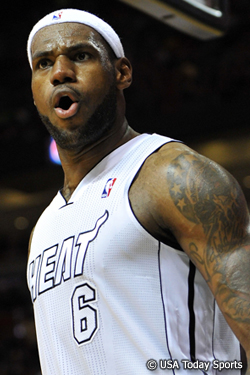 Three years later nobody, not even Cavaliers fans, can argue that James made the right choice. He's been to the Finals every year since and now has two championships under his belt along with two Finals MVPs and two more regular season MVPs.
However, James himself has admitted that the manner in which he handled his move from Cleveland to Miami was regrettable. That's why as he gets ready to potentially hit the free agent market again this summer if he decides to decline his early termination option worth $20.5 million, he plans to have a completely different approach.
"I owe it to myself, I owe it my teammates and I owe it to the Miami HEAT to stay focused," James said to ESPN. "As a leader, I'm not even going to let that side of the business get me unfocused on what I'm trying to do and that's trying to win another championship.
"I'm going to try to [stop the discussion about free agency], but you always have reporters who are going to always bring it up. They're going to change the question and make it sound like something else. But it will get to a point, if I continue to hear it, where I will say, 'Hey guys, I've answered the question and out of respect, let's talk about this after the season."'
James does have an ideal way he'd like for things to work out, but he's learned better than to speak in certainties.
"I would love to spend the rest of my career in Miami with this great team and great organization as we continue to compete for championships," James said. "That's ideal. But we don't know what may happen from now to the end of the season. That's the nature of the business. It's the nature of not knowing what tomorrow brings.
"I mean, as a kid, I never thought the Bulls would break up. Never. If you'd of told me as a kid that [Michael] Jordan and [Scottie] Pippen wouldn't play together for the rest of their lives, I'd have looked at you crazy. And Phil Jackson wouldn't be the coach? I'd have looked at you crazy. But sometimes the nature of the business doesn't allow things to happen like you want them to. But we'll see."
Miami HEAT president Pat Riley, the architect behind the team's back-to-back championship runs, has yet to talk James about free agency, but he too hopes it will be a non-story throughout the year.
"Our stance is the same we had with Wade in 2010, that we're just going to play the season and not let that hang over our heads and become a distraction just because the media wants to get an answer on it every day," Riley said. "I don't know LeBron's stance. He'll probably say one time, 'I'll talk about it next year.' We haven't discussed it yet, but we will. I'll tell him the main thing is to make sure the main thing remains the main thing. And the main thing is to win the championship."
Wade and Bosh can also become free agents this offseason. James' status takes precedence over everyone else's, though, so if he sets the standard of silence the distraction will be minimal.
The road to a third straight championship is going to be tough enough already. This isn't a situation where the only team that can beat the HEAT is themselves. There are plenty of teams in the Eastern Conference alone capable of dethroning them, so the HEAT have to stay focused on the task at hand.
Loading ...
Pelicans Introduce Morrow, Stiemsma: The New Orleans Pelicans had an introductory press conference for Anthony Morrow and Greg Stiemsma, both of whom should help bolster their second unit as the franchise looks to open up a new era with a playoff berth, today.
Morrow is joining a backcourt that features two quality playmakers in Jrue Holiday and Tyreke Evans. His sharpshooting will be invaluable in helping keep the floor spaced and creating driving lanes for them to take advantage of.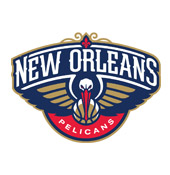 "We've got a lot of guys that can get to the rim, a lot of guys that can penetrate: Jrue [Holiday], Eric [Gordon], Tyreke [Evans] and Austin [Rivers]," Morrow said. "Also, we have a three point threat in Ryan Anderson who can knock down shots. I'm seeing ways I can get shots now in pick up and it's going to get even easier when we starting throws sets in this season.
"Really just continue doing what I've been doing the first four or five years in the league. I want to fit in and play my role.  Whether it's off the bench, whatever they ask me to do scoring the ball, really challenging myself as a professional in Monty Williams' system.  I talked to Jarrett Jack who was here, and everybody loves him, he is one of my closest friends and he told me that I would really enjoy it here.  He told me a lot about what Monty will expect from me defensively. First and foremost, I want to do that and continue to work my way in offensively.  They know what I can do, so I want to continue to do that as I challenge myself defensively."
Defensively is where Stiemsma will likely make his presence felt the most. The Wisconsin product has really carved out a role for himself on that side of the floor, earning a spot in the NBA over the last two seasons after going undrafted in 2008.
"I'm definitely looking for big things this year for myself personally," Stiemsma said. "This is a good opportunity to be a part of a young team that is building and trying to turn around a franchise. I think we have the right pieces to do that and I think I can fit in with that pretty well. We have guys that can score and guys that can get up and down the floor, so I'll just do what I do. I'll rebound and block shots and help out however I can.
"Obviously, Anthony [Davis] can block shots too. That's what it means to be a physical presence inside, not let [the opponent] get anything easy. I kind of take it personally to own the paint. You have to do the small things that don't always show up on the stat sheet, but the little things that guys do to help their team win. Dive on the floor, be in the right spot, be in the right position and hopefully I do all of those things."
While the Holiday and Evans acquisitions rightfully gained the most amount of attention this summer, guys like Morrow and Stiemsma should not be overlooked. Depth is vital over the course of an 82-game season, especially when it's followed by a playoff run like the one the Pelicans are hoping to make.