NBA PM: NBA Learning From MLB's PED Scandal
Russ Smith - VIDEO OF THE DAY
br> br>
Louisville's Russ Smith was the darling of the 2013 NCAA National Championship game, and while he could have entered the draft this year. Russ is locked into the 2014 NBA draft class and is looking for another big year as a Cardinal.
Watch More Video Here
The Biogenesis scandal is currently the biggest issue in all of sports, so big that it has now become a concern of all major sports including the NBA.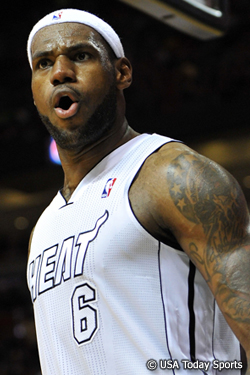 As one of the most popular and decorated professional athletes in the world, Miami HEAT forward LeBron James is often asked to weigh in on controversial sports-related topics. Most recently, James was asked to share his thoughts on the players being suspended for the use of performance enhancing drugs – most notably Alex Rodriguez of the New York Yankees.
"It sends a bad message," James said on Good Morning America of the latest controversy involving steroids. "It's unfortunate that we have a story like Alex Rodriguez [being suspended]. You never want to see controversy because it's a direct effect to the kids that's coming after us. So many kids look up to us [athletes] as role models and as leaders and as inspiration to do what's right."
Rodriguez received a 211-game suspension from MLB, but he's appealing the punishment that was handed down from Commissioner Bud Selig.
The Biogenesis scandal has only affected baseball so far, but NBA players could be linked to the case as well.
Porter Fischer, who worked at the Miami clinic and turned over boxes of documents to the Miami New Times, has said that founder Tony Bosch also had clients in the NBA as well as in NCAA, professional boxing, tennis and MMA, according to ESPN's Outside The Lines.
"In just the four years that I know, it's got to be well over a hundred, easy," Porter told ESPN when asked about the number of clients that received PEDs from Bosch. "It's almost scary to think about how many people have gone through and how long he's gotten away with this."
Fisher refused to name specific athletes, and no NBA player has been linked to Biogenesis yet.
"We've been actively working to understand the situation and to the extent possible to learn what is being uncovered by MLB's investigation," NBA deputy commissioner Adam Silver said to the New York Post. "We are not aware of any involvement by NBA players."
It has long been a goal of both the NBA and its players to expand their current drug testing, but in light of the Biogenesis scandal we could see that process expedited a bit.
"One of the changes that we know we'll be making to our current drug testing is the addition of HGH testing, which requires taking blood from the players," Silver said. "We want to make sure, on behalf of our players, as well, that's it's done in the proper way, and that we understand what are the appropriate baselines for a natural substance, like HGH, so we can detect where there are aberrations. That is something we're very focused on.
"It's why, even in the Collective Bargaining Agreement, this was not a point of contention," Silver continued. "Both for the player representatives and the owners who participated, this is an issue where it is in everybody's interest to have state-of-the-art drug testing, and to have a level playing field for all players, because we recognize it's not fair for a player to believe that in order to compete, and in order to keep his job, he has to do something that one could potentially harm his body and number two could potentially get him in trouble."
Brown Endorsed Around The League: According to multiple reports, the Philadelphia 76ers have found their new head coach in San Antonio Spurs assistant coach Brett Brown. Brown has an unquestionable resume that includes over seven years on the bench working under one of the greatest coaches ever in Gregg Popovich along with head coaching experience with the Australian National Team. However, from a mainstream perspective, Brown's body of work relatively flew under the radar. But, those who have worked with him gave him a ringing endorsement as he gets set to become a head coach in the NBA for the first time.
"He's going to be a great coach, he's really knowledgeable, has great energy, great vision at both ends of the court and a great way with players," said Atlanta Hawks head coach Mike Budenholzer, who coached with Brown in San Antonio, to Bob Cooney of Philly.com. "Players respect him. He's demanding but they love him. He's got a great sense of humor but he's a great competitor, too. The competitive nature for Brett may be with his good nature, but he's a tough, competitive dude and that's more important to him than anything. In that city he's a fit, because he's blue-collar and he's a tough dude. He's a competitive person in every way, shape and form at every moment. At this level everyone is a competitor, but Brett has that extra level of competitiveness."
Former Spurs big man Malik Rose, who now serves as a part of Comcast SportsNet's coverage of the 76ers, also gave his stamp of approval for the hire.
"I think this is a great hire for the Sixers," Rose said. "During a time when the fans of the team feel alienated, Brett is the kind of guy Sixers fans will love. He shoots from the hip, is a gym rat, energetic and the type of coach players really respond to. He doesn't sugarcoat things. He tells players what he wants and how he wants it. He knows how to motivate and he's a great teacher of the game.
"Brett was the good guy to Coach Pop's [Popovich] bad guy a lot of times," Rose continued. "He was great at getting players to do what Pop wanted them to do, but delivered the message in a different way. He's such a good guy. Manu [Ginobili] is a very intense guy, and Brett talked him off the ledge many times. He has a great way with players and with everybody. This is probably going to be a really good fit."
Brown is clearly walking into a rebuilding situation, so there will be some trying times early on. But, for many coaches this is a dream job for more reasons than just being at the helm of a NBA team. Brown is going to have a lot of young talent to mold and teach how to play the right way. The team is also positioned nicely financially to have plenty of flexibility moving forward, meaning more help could be added in short order. In the short-term, his coaching record probably won't impress, but down the line Brown could be looked at as one of the saviors of 76ers basketball.
Kobe Bryant Out For 2014 FIBA World Cup: When Team USA competes in the 2014 FIBA World Cup next summer, they will be without one of their leaders from their last two Olympic gold medal runs: Los Angeles Lakers guard Kobe Bryant.
"I love competing but I will let the young guys play and represent the country," Bryant said to BusinessMirror.com. "I had my fun playing, just leave the NBA championships to me."
This does not come as much of a surprise, given that Bryant will turn 35 in 10 days and is currently rehabbing from an Achilles tear, the worst injury of his career. Bryant has reportedly "shattered" the timetable for recovery and is already walking without a limp and doing weight training, but no timetable has been set yet for his return. Lakers executives have speculated that he could be back by the start of the season, but an Achilles tear typically takes a minimum of eight months to heal. January would be eight months since the injury, which may be the most realistic return date for Bryant until a doctor officially tells him otherwise.