NBA PM: Parsons Confident Houston Can Contend
VIDEO OF THE DAY – Chandler Parsons
HOOPSWORLD catches up with Houston Rockets small forward Chandler Parsons at the Team USA mini camp in Las Vegas.
Watch More Video Here
Chandler Parsons certainly isn't lacking for confidence these days. Quite frankly, coming off a personal breakout season in 2012-13 and arguably the biggest offseason in Houston Rockets history with the acquisition of Dwight Howard, Parsons has every reason to be so comfortable.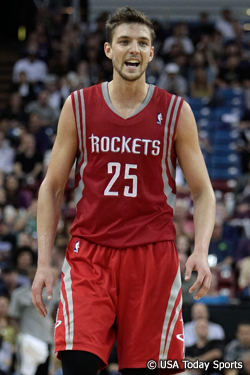 The 24-year-old small forward believes that Howard will make a huge impact in Houston, and describes the Rockets as "immediate contenders."
Parsons, one of 29 players currently participating in the 2013 Team USA mini camp in Las Vegas, was very candid in his interview with HOOPSWORLD. He described the communication between himself and James Harden as "constant" and acknowledged that he went out of his way to assure Howard that Houston was the best fit for him.
"Houston is the perfect place for Dwight to come and get a fresh start," Parsons said, adding that Houston's young roster, head coach Kevin McHale and excited fanbase are welcoming Howard with open arms.
Parsons does, however, realize that compiling a bunch of talent doesn't automatically translate into success on the court.  He understands that not only are they are just names on paper at this point, but in order to truly make it to the next step, they'll still need to work hard, stay together and remain focused on team goals. Howard, of all people, can attest to "team goals" being more important than individual agendas, as he most recently played a large role in a failed attempt at this very formula with the Los Angeles Lakers.
"Nothing is going to be given to us," Parsons said. "We'll have a bulls-eye on our back now."
The key to Houston's success, aside from health, will likely be McHale's ability to integrate Howard's desire to play a pivotal post role on offense with his preferred uptempo style, a fact Lakers head coach Mike D'Antoni made light of as recently as last week. The 2012-13 Rockets had the second-ranked offense in the NBA with 105 points per night, but were only ranked 28th defensively as they surrendered an average of 102.5 points per night. When fully healthy, Howard is an absolute terror on the defensive end. Not only does he protect the rim as well as anyone, but he also defends the pick-and-roll and provides excellent weakside support.
The Rockets and New York Knicks tied to lead the league in three-point attempts in 2012-13 with 28.9 long-range attempts per game. Even with Carlos Delfino's 6.3 nightly attempts from deep leaving via free agency to the Milwaukee Bucks, the Rockets still have plenty of three-point shooters to surround Howard with in Harden, Parsons, Francisco Garcia, Omri Casspi and Jeremy Lin among others.
Howard reportedly asked if the Rockets would be able to go out and acquire a third superstar player to place alongside himself and Harden. If Parsons continues to progress individually and finds a way to capitalize on the added offensive space naturally created by Howard, then the Rockets may very well find themselves already possessing the bona fide third star. The added competition of tournaments like the Team USA mini camp can only help, as the 24-year-old heads into his third season.
With increased minutes last year, he experienced improvements in nearly every statistical category. As Parsons heads into the final two years of his rookie contract, he may be the player that benefits from Howard's presence the most. Newly signed Casspi, the 6'9 versatile small forward can offset some of the productivity lost with Delfino's absence and provide quality backup minutes for Parsons.
One thing is certain, while both cautiously confident and naturally eager to get back on the floor, Parsons openly acknowledges what Howard's addition means in the long-run for the organization.
"He's the best center in the NBA, so he's going to help our defense greatly," Parsons said of Howard. "And on the other end, just being able to throw the ball into the post to a guy that can create double-teams and get to the line, it's huge for our offense."
Sixers Must Spend Some More Money
The Philadelphia 76ers have had a busy offseason, trading away All-Star Jrue Holiday and acquiring building blocks such as lottery picks Nerlens Noel and Michael Carter-Williams.
However, even after all of Philadelphia's moves, the team still needs to make another transaction or two in order to reach the league's minimum team salary of $52.8 million.
Currently, the 76ers are at $39.6 million in salaries on their books, a number that will increase to $45 million once Noel and Carter-Williams are signed to their rookie deals. HOOPSWORLD's Eric Pincus recently broke down Philadelphia's cap situation:
The Sixers would still find themselves about $8 million short.  If they don't spend it, that shortfall will be given to the players on the Philadelphia roster as a bonus.

The Sixers may still look to sign second-rounders Arsalan Kazemi (54th) and recently acquired Furkan Aldemir (53rd pick from 2012).  Aldemir joined the Sixers as part of the Royce White trade with the Houston Rockets.

Philadelphia has seemingly embraced the rebuilding process, trading Holiday while staying out of the summer's free agent chase.  The team should be awful enough this season to compete for a top lottery pick in 2014 when players like Andrew Wiggins, Julius Randle, Aaron Gordon, Jabari Parker, Marcus Smart and Dante Exum are expected to join the NBA.

The Sixers wouldn't want veterans to help win games.  Instead, they might be a candidate to make a Jazz-type deal that landed Andris Biedrins and Richards Jefferson in Utah, along with draft picks to help the Golden State Warriors improve their cap situation.  Utah's prize was the picks.  Biedrins and Jefferson were an afterthought.

Ultimately the Sixers are going to have to spend that $8 million — be it through trade or free agency.  Acquiring future considerations may make a lot more sense than overpaying a free agent.
Check out Pincus' full article here and view all of HOOPSWORLD's detailed salary information here.
Why Brandon Jennings is Still a Free Agent
Milwaukee Bucks point guard Brandon Jennings is the most notable free agent remaining on the market, but he has yet to get an offer sheet from a team.
While it's common for restricted free agents to take a little bit longer to be signed, the fact that Jennings hasn't received much interest is more about his game than his free agency status. General managers aren't lining up to pay the 23-year-old because he's not the most efficient player and there are a lot of issues with his playing style.
Coach Nick from BBallBreakdown.com put together a great video showing why Jennings is still waiting for an offer.
[youtube_sc url="http://youtu.be/KnHndbNPYi0"]