NBA PM: The Best NBA Team Ever?
The world of a professional sports is a strange one, to be sure. On the one hand, we love to talk about the great players and the great teams of old, but on the other hand we are quick to completely forget that our favorite sport has ever been played before the current season. What's happening right now is always the most amazing thing ever, regardless of those amazing feats of the past.
Retired NBA player-turned announcer Bill Walton made a career out of this phenomenon, using constant hyperbole to take it to extremes. He once, for example, observed that Los Angeles Clippers center Keith Closs was "clearly the next Hakeem Olajuwon," though Closs (with career averages of 3.9 points and 2.9 rebounds) couldn't even spell Hakeem Olajuwon.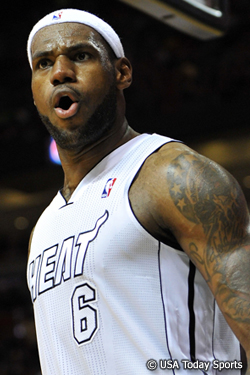 It's hard to watch much NBA these days without hearing people talk about how amazing the Miami HEAT are right now; I've even heard them compared to the Chicago Bulls team that won 72 games in 1995-96, which seems absolutely absurd. Michael Jordan's 72-win squad ran off winning streaks as a matter of course, but regular-season winning streaks are not that uncommon. The Houston Rockets put 22 wins in a row under Rick Adelman a couple of years ago, but that team never got close to winning a championship. It's important to keep in mind that in today's watered down NBA, a contending team can go weeks without facing another contender. Indeed, the HEAT have seen just one during their current streak – the Oklahoma City Thunder.
Give the Thunder a steady diet of Philadelphia, Atlanta, Orlando, Sacramento and Minnesota and they'll hang a nice streak on the board, as well.
To put things in a historical perspective, the record for consecutive games won is 33, held by the 1971-72 Los Angeles Lakers. Then there's Houston's 22-game streak in 2007-08. Milwaukee and Washington have each had 20-game streaks, the 1999-2000 Lakers and the 2008-09 Celtics each had 19-game streaks, and five other teams besides the HEAT have won 18 straight.
It's an impressive streak, but does it make Miami the best ever? No. They need 15 more consecutive wins to tie the best ever.
What about LeBron's recent streak of seven consecutive games with 30 or more points? I don't know how many radio shows I did that week where people asked me if LeBron was now the greatest player of all time, but it was more than a couple.
Again, let's lend some historical perspective here. Michael Jordan and Kobe Bryant have each scored 40 or more points in nine consecutive games, while Wilt Chamberlain scored 40 or more in 14 consecutive games, and he did that twice. As for 30-point games, it's unlikely anyone will ever match Wilt's 65-game stretch from November 4, 1961 to February 22, 1962.
Needless to say, LeBron has a ways to go to be the "best ever," and he will likely never be if the rubric is going to be consecutive 30-point games, even if he was shooting a high percentage from the field in those games.
The HEAT are on an impressive run, and there is no question that James is a legit phenomenon in the world of professional sports. On a given night there are simply no opposing players with the physical tools to stop him. It takes a team to stop LeBron, and then Dwyane Wade, Ray Allen, Shane Batter, Chris Bosh and the rest of the incredibly deep roster around him is just waiting to cash in on open looks.
But before we get carried away trying to put this HEAT team into some kind of amazing historical perspective, let's make sure we understand the rich history of the NBA. Wilt Chamberlain scored 100 points in a game (heck, Kobe scored 81), Oscar Robertson averaged a triple-double with 30.8 points, 12.5 rebounds, and 11.4 assists per game in 1961-61, Bill Russell has 11 championship rings and even coached while playing for the last one. There have been some truly awe-inspiring players in the storied history of the NBA.
LeBron is really something to see, and this year's HEAT team looks unbeatable. But historic?
Only in the words of Bill Walton.
Donatas Motiejunas' Long Road
When the Houston Rockets traded Patrick Patterson to the Sacramento Kings at the NBA trade deadline, it opened up a starting spot for the player affectionately known as "D-Mo." For Donatas Motiejunas, it marked the next significant step in a journey that started when he began playing professionally at 15, worked his way through the NBA D-League and finally found a seat on the bench with the Rockets. He talks with HOOPSWORLD about the important of perseverance and patience as he kept his focus on the big picture in this exclusive interview:
McMillan Waiting In The Wings
One former NBA head coach who is currently out of work but whom we expect to see on the sidelines again soon is former Portland Trail Blazers head coach Nate McMillan. He recently did an interview with 710 ESPN in Seattle in which he said he is doing his homework and preparing for his next opportunity.
"Well, I'm looking forward to getting back into the league," said McMillan. "Right now I'm just taking some time off and going around watching a lot of basketball. The last few months I've basically just been going around to practices and watching some of these coaches — NBA, high school, college coaches — and seeing what they're doing. I want to stay close to the game so that when that opportunity comes again, if there's something out here to pick up, I want to have it in my pocket."
McMillan, who made a name for himself as a player for the Seattle Super Sonics, also said he has been closely following the city's efforts to land the Sacramento Kings.
"I have, and I think it's going to happen," said McMillan. "I know the NBA wants a professional team in Seattle. It's a great fan base. That fan base is showing what type of group they are by what they've done here over the last few years, keeping hope alive. Seattle was one of the best cities in the country as far as sports teams. At that time, when I was playing, the Mariners were hot, the Seahawks were hot, the Sonics were hot – it was a great place for the sports fan. I know the NBA wants a team in Seattle, and hopefully that will get done here soon."
If the NBA does return to Seattle and that team finds itself in need of a head coach, McMillan would enjoy having that discussion.
"I will say this: I'm not retired," said McMillan. "I'm definitely looking to get back into coaching, and Seattle is a city I absolutely love, so there you go."
Overall, McMillan has been working to turn the negative of being fired into a long-term positive.
"Really, it's been an opportunity for me to really look at the league and look at what is going on with the players and the NBA and basketball in general," said McMillan. "I think it's really been somewhat of a blessing for me this year to sit back and be able to look at game after game, every night. … It's been somewhat of a blessing in the sense that I've taken this time to better look at myself and what I was doing as a coach and my philosophy, my system, my style of play. Now I'm a fan of the game and I'm looking at what fans are seeing on television and in the arenas. And I've gotten a good feel for what needs to be done. So it was not a shock, with the way we were playing last year, that the organization was going to be possibly looking in a new direction."
The Portland chapter of McMillan's life is behind him, and he has also decided not to return to Team USA, where he was a valued member of Coach Mike Krzyzewski's staff.
"No, that was a decision we all really came to right after winning the gold this summer," said McMillan. "We talked about it in 2008 and on our plane ride back to the States, we were presented with the opportunity to coach the team for 2012. We decided to basically give it one more shot, one more run at it. After we won the gold in London this year, I think we all kind of said that after seven years, we won three gold medals, we want to give some time to our families and to our programs, because it's a huge commitment. It's even a bigger commitment for the head coach, and Coach K did a great job of basically giving the team a vision and accomplishing the gold medals in 2008, 2010 and 2012."
Two significant chapters of Nate McMillan's life have closed over the last year, but it will be interesting to see where his career takes him next. It's clear that McMillan still has plenty to offer to a team in need of a coach, and his chance to prove it will likely come sooner rather than later.
Listen to Nate McMillan on 710 ESPN in Seattle by clicking here!
Dunkuary
March Madness is just around the corner and we want your vote on the best dunk in college basketball history. Checkout the dunks, and tweet out your vote.


Twitter:  Make sure you are following all of our guys on Twitter to ensure you are getting the very latest from our team: @stevekylerNBA, @AlexKennedyNBA, @TheRocketGuy, @EricPincus, @joelbrigham, @alexraskinNYC, @SusanBible, @DPageHoopsWorld , @stevesraptors, @TommyBeer and @YannisHW.
NBA Chats: You can always find upcoming NBA chats by clicking here. If you are looking for previous chats, click here.