NBA PM: The Golden Age of Point Guards
VIDEO OF THE DAY - Arron Afflalo
Orlando Magic shooting guard Arron Afflalo talks about his offseason training, the improvement of his young teammates and much more in this interview from the team's media day.
Watch More Video Here
It's often said that this is the golden age of passing in the NFL. Stars such as Peyton Manning, Drew Brees, Aaron Rodgers and Tom Brady have put up monster numbers in recent years. Up-and-coming quarterbacks such as Andrew Luck, Robert Griffin III, Russell Wilson and Colin Kaepernick are experiencing success quicker than ever and leading teams to the postseason. NFL offenses are passing the ball more frequently and when they are running, the ball is increasingly in the quarterback's hand thanks to the implementation of the read option.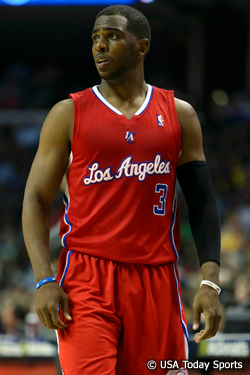 A similar golden age of passing is occurring in the NBA, where teams are relying more heavily on point guards and the position is deep with talent. Stars such as Chris Paul, Tony Parker, Rajon Rondo and Deron Williams are in their primes and very important to their respective teams. There is also a wealth of talented young point guards throughout the league such as Derrick Rose, Russell Westbrook, Kyrie Irving, Stephen Curry, Jrue Holiday, John Wall and Damian Lillard among others. Point guards are no longer expected to just dribble the ball up the court and distribute the ball to their teammates; more and more point guards are not only their team's facilitator, but also one of their best scorers. Shoot-first point guards like Allen Iverson and Stephon Marbury changed the position and now the league is full of point guards who are elite offensive weapons in addition to being excellent at running an offense.
The point guard is essentially the quarterback of a basketball team – running the offense, setting up teammates, leading the troops and knowing where everyone should be at all times.
"Those are the two toughest positions in sports because, no matter what, you have to be the leader of your team," Sacramento Kings point guard Isaiah Thomas said. "It's not just how you play, it's your work ethic, how you are off the court, everything. You have to be that leader. You have to know each player and how to put them in the best position to be successful. Every player has a different area where they're at their best, and you have to know how to bring out the best in your teammates. You have to know the game within the game. You just can't go out there and play. Sometimes a guy like a shooting guard or a wide receiver can just be out there and play the game, but as a point guard, you can't take a single play off so you're exposed if you aren't prepared or playing well. You have to watch tape on the other team and you have to watch film of your players to see where you can have them at their best position. I feel like they are the hardest positions in sports."
However, the difference between a point guard and a quarterback is that the floor general must play both sides of the ball and often has the most difficult individual match-up on the basketball court. After the point guard beats a defense and scores, he doesn't head to the sideline for a breather. He heads to the other end of the floor, trying to prevent his opponent from matching his offensive success and this is becoming more and more difficult due to the amount of talented players at the position.
"It's kind of an interesting time in the league," Boston Celtics assistant coach Ron Adams said last year. "There are so many good point guards in the league right now."
"I think the talent is just crazy at the point guard spot," Chicago Bulls point guard Marquis Teague said. "Every team has a top point guard; there aren't too many bad point guards in the league. The talent [level] is pretty high."
"It's the deepest position in the NBA," Thomas said. "There's not a whole lot of nights where you can go, 'Ah man, I can take it easy tonight.' There are so many talented guys, so each and every night you have to be up for the challenge. I love the competition. I look up to some of the guys, the All-Stars, but at the same time, I'm trying to out-play them, out-compete them. Not only do I want to get my team the win that night, I want to out-play the opposing point guard too. It's definitely the toughest position in the NBA. You have a lot of talented and up-and-coming guys right now at the point guard position. It's something that you have to be ready for night in and night out."
For years, the NBA was dominated by big men. Franchises were built around titans like Wilt Chamberlain, Bill Russell, Kareem Abdul-Jabbar, Willis Reed, Hakeem Olajuwon, Shaquille O'Neal, David Robinson, Patrick Ewing and Alonzo Mourning. Now, the center position is so depleted that it was recently removed from the All-Star ballot, and point guards have become the star-studded position.
"It's a perimeter league and that's just the way it is," former head coach Stan Van Gundy said two years ago. "I don't think that there's a matchup for [centers] that creates the excitement, if you know what I mean. If you go back to when the centers were the kings, you would have [Wilt] Chamberlain and [Bill] Russell and say, 'Wow, that's a matchup I look forward to.' Now, people look forward to Chris Paul against Derrick Rose or Deron Williams against Rajon Rondo – the point guard matchups."
"I think it's a beautiful thing," Atlanta Hawks point guard Jeff Teague said. "If you're a starter in the league right now, I feel like you're a really good player. It's almost a compliment, I would say. Every night you're going against someone that has the ability to put up 30 points and 10 assists. It's going to be a challenge, but I think all of the guys in the NBA, we're all competitors, so I think we all look forward to it. We just cherish the moment, relish the moment, and just try to get the best of each other."
Trey Burke, who was selected as the ninth overall pick in the 2013 NBA Draft by the Utah Jazz several months ago, is about to join the fraternity of star-studded point guards and learn just how competitive the league can be. As he's preparing for this first season in the NBA, he's trying to adjust to a new league, city, team, system and lifestyle. On top of all that, here are some of the point guards that he'll have to match up against in his first few months in the NBA: Chris Paul, Derrick Rose, Russell Westbrook, Rajon Rondo, Deron Williams, Tony Parker, Kyrie Irving, Stephen Curry, Jrue Holiday, Ty Lawson, Damian Lillard, John Wall, Ricky Rubio, Mike Conley Jr., Steve Nash and Brandon Jennings among others.
However, Burke isn't backing down from any of these stars.
"They have to guard me just like I have to guard them," Burke said with confidence. "There are so many talented point guards – young ones and ones that are in their prime right now – so I definitely think it's the most challenging position, but I'm willing to embrace that challenge. I'm definitely ready to embrace it. I've been ready my whole life, from the top level of AAU to high school to college to now, here in the NBA. It's my dream to be here, so it's nothing that I'm concerned about. I just have to go in there and be confident. I'm ready to embrace my opponent every night."
Last year, Lillard played at extremely high level as a rookie, but even he found the nightly match-ups to be tough. When asked about the most difficult aspect of his transition from college to the NBA, he singled out the competition level of opposing point guards.
"The toughest thing for me is the position that I play," Lillard said last season. "My position is probably the toughest, night in and night out. Point guard is probably the toughest position to play against, because there are so many great ones. It's tough because guys are constantly trying to reach that next level; they're coming after you. People have been talking about me and saying my name a lot, and the same goes for the top point guards in the league, whether it's Chris Paul, Russell Westbrook or you name it. Guys want to go after them because those are the top point guards. I'm just taking it in stride."
The Miami HEAT have been able to win the last two titles without a star point guard, but that's because they have the best player in the world and so much talent on their roster. It's no coincidence that many of the NBA's other contenders are led by an elite point guard – Rose in Chicago, Paul in Los Angeles, Parker in San Antonio, Westbrook in Oklahoma City and Williams in Brooklyn among others.
"I think in the NBA, and just the sport period, the point guard is the coach on the floor," Rose said. "They are the general on the floor. Everything is run through the point guard. If you don't have a point guard, you almost don't have a team. The point guard is supposed to get everyone in position, make sure everyone is in the right places, handle time management and improve players' individual skills while also allowing them to play the way that they play. That's what I try to do when I go out there. Of course, I'm not going to take away from play – playing aggressive – but I have to realize that I'm out there to make people better."
"Point guard is obviously a little different than when I was playing," Detroit Pistons head coach Maurice Cheeks said last year. "Point guards are a little bit able to do more things. They can score, they can rebound, they can pass; they do a little bit of everything. In my golden age, we pretty much did one thing. We had the ability to score, but our job was pretty much to set up our team. These guys' abilities go far beyond that now, and I think that's the difference. It's a change in the game. I think they're better athletes, from the smallest guy to the tallest guy, [they] dunk the basketball, rebound the basketball very well.  So I think it's just the athletes are a little bit better than they were when I was playing."
"They have the ball the most, they're the coaches on the floor and also the point guard has the ability to take over games," Atlanta's Teague said. "Every point guard now can score the basketball. It used to be where the guys set up everyone and run the offense, but now point guards have the ability to take over games and get 40 points without hesitation, so I think the game has changed a lot. At one time, the league was about dominant centers and post players, but now I think it's a guard's game."
At one time, the tallest players on the court towered over their peers and made the biggest impact. Now, the smallest players on the court are dominating the ball and taking over the league.
Ainge Insists Celtics Won't Tank
After the Boston Celtics traded Kevin Garnett and Paul Pierce to rebuild the franchise, many people assumed that the team would be in the Andrew Wiggins sweepstakes, focused more on accumulating ping pong balls than wins during the 2013-14 season. However, Danny Ainge, the team's president of basketball operations, continues to insist that the team won't approach the campaign that way.
"As I walk around town, more than anything else there are those that say, 'Hey, don't win too many games,"' Ainge told Sports Illustrated. "There are so many fans that want us to play for the draft.
"That's harder than people recognize. It's a really easy thing to conceptualize, and an easy thing to talk about and philosophize about. But it's a hard thing to live through — for fans, for coaches, for owners, for sponsors, for our TV partners. … It's a really hard thing to do."
While Wiggins has been hyped up as the league's next superstar, Ainge clearly doesn't think he's a franchise-changing talent.
"If Kareem Abdul-Jabbar was out there to change your franchise forever, or Tim Duncan was going to change your franchise for 15 years? That might be a different story," Ainge said. "I don't see that player out there."
Ainge isn't sure what to expect from his team, but he doesn't think they'll lose enough games to be a top lottery team.
"I could see our team playing better than what some people think," Ainge said. "But I could also see us having some struggles because we don't really have that star. With the exception of Rondo, of course; but we don't know when he'll be back. There [are] just so many questions to be answered with our personnel. It's sort of exciting to go into a year and not really know what to expect."