NBA PM: The Spurs Are Now Parker's Team
Last August, Gregg Popovich traveled to London to watch Tony Parker play in an exhibition game for the French national team. Popovich watched as his point guard barked orders at teammates, attacked the basket and played with an aggressiveness that he hadn't seen before. Popovich was impressed, but also irritated. Why hadn't Parker played with that same intensity for the San Antonio Spurs?
While the two men couldn't talk after the exhibition game due to a league-imposed gag order that took effect during the lockout, Popovich voiced his frustrations when training camp began in December.
"Pop was mad at me when he came to London and saw me playing with the national team," Parker said. "He thought I played harder for the national team so I told him that I'd have a good year and play with a different attitude."
Parker has lived up to his promise, having the best season of his 11-year career. The 29-year-old averaged 18.3 points and 7.7 assists and emerged as a leader for the top-seeded Spurs.
For years, Parker has been a significant contributor in San Antonio, but he also knew his role. He was seven years younger than future Hall of Famer Tim Duncan and five years younger than elite scorer Manu Ginobili. It wasn't until this year, with Duncan on the decline and Ginobili injured, that Parker took the reins and became the face of the Spurs. For the first time, he was the man among boys, leading a team that relied on young players like Kawhi Leonard, Danny Green, DeJuan Blair and Tiago Splitter.
"When Manu went down, it accelerated the process because I had to be aggressive and go into attack mode," Parker said. "It became my team."
That was evident on Sunday afternoon, when Parker dominated the Utah Jazz in Game 1 of their first-round series. He ran circles around the opposition all afternoon, finishing with 28 points and 8 assists. After the game, Popovich praised his point guard.
"He's the reason we've been successful this season," Popovich said. "He's had a wonderful year. He's been very focused and did another good job (in Game 1), as you saw."
Stephen Jackson, who re-joined the Spurs this season after playing in San Antonio from 2001 to 2003, played alongside Parker during the point guard's first two years in the league. Parker was just a teenager during his rookie season, and Jackson has been impressed with his development over the years.
"There's a reason that everyone was chanting 'M-V-P,' for him," Jackson said after Game 1. "He's been great and he's definitely the reason we've been successful. Tony has been our leader. A lot of point guards just say that they are the leader, but Tony has been a leader. He got us going at the beginning of the game and when he goes, we go. When he plays the way he played, nine out of ten times we are going to come out with a win."
This season has been Parker's coming out party. While the NBA's Most Valuable Player award will likely go to LeBron James or Kevin Durant, Parker is someone who deserves mention in the MVP conversation. He has elevated his game and made it clear that the Spurs are his team going forward.
Weems Excited for Free Agency: Sonny Weems can't wait to return to the NBA in July. Weems was the first player to sign overseas during the NBA lockout, inking a one-year deal with Zalgiris Kaunas in Lithuania. While the stint in Europe was a great learning experience for the 25-year-old, he's excited to test free agency and sign with an NBA team.

"The experience was great, going over there and being able to play European basketball," Weems told HOOPSWORLD. "The way that they play is much more aggressive and lot more half-court oriented. It was a great experience for me, getting to travel to a bunch of different countries around the world. It was good for me as a basketball player and as a man."
"It was great for my game," Weems continued. "A lot of NBA teams, a lot of general managers, know me just as a transition guy. Playing overseas, I was able to improve a lot of aspects of my game. I improved my ball handling, my ability to create my own shot and my three-point shooting. I shot more threes over there than I ever have in the NBA. My team really relied on me to create for myself and my teammates. Managing and running my own team was a big step for me and I think it helped me improve a lot."
Now, Weems will be able to bring his expanded game back to the United States.
"I was able to improve my game overseas and now I can't wait to come back," Weems said. "I'm really excited about getting back to the league. That's all I've been thinking about every day. I keep thinking, 'July 1, July 1, July 1.' I'm looking forward to that free agency period so that I can find myself a new home in the NBA. I'm very excited."
Weems will be a restricted free agent in July, but the Toronto Raptors haven't indicated that the swingman is part of their plan going forward. A number of teams have already started to express interest. The Boston Celtics are among the teams expected to pursue Weems this summer.
"I haven't heard anything (from the Raptors)," Weems said. "It doesn't matter to me either way. My agent, Roger Montgomery, has been talking to many different teams and a lot of them are very interested. I'm just very excited for free agency. If I don't go back to Toronto, it wouldn't be a heart breaker for me because it gives me a chance to start over and join another team."
In Lithuania, Weems averaged 10.3 points and 4.1 rebounds while shooting 52.6 percent from the field. During his last season in Toronto, he averaged 9.2 points and started 28 games. Weems has shown steady improvement every year he's been in the league and he's proven that he can be a significant contributor if given the opportunity.
Rondo Will Likely Be Suspended: Today, David Stern went on ESPN Radio's "The Herd with Colin Cowherd" and hinted that Rajon Rondo will be suspended for bumping into referee Marc Davis in Game 1 between the Boston Celtics and Atlanta Hawks.
"I don't want to pre-judge on what the recommendation is going to be, but as a fan, he obviously bumped him," Stern said. "And you know what happens with respect to that."
"We have a hard and fast rule," Stern continued. "Unless somebody trips you and sends you into him, nobody touches a referee. That's the proposition."
There's no question that Rondo made contact with Davis, which means he likely won't be available for Game 2 on Tuesday.
Brooklyn Nets Release Logo, Color Scheme: The Brooklyn Nets today introduced their black and white color scheme and logos as the team prepares for its move to the Barclays Center next season.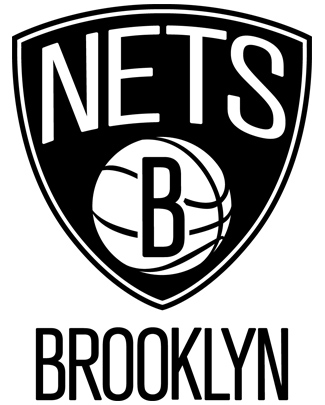 Created by Jay-Z, the Brooklyn Nets' brand identity incorporates a timeless black and white color palette of the old New York subway signage system, including its clean "Roll Sign" typeface. The treatment celebrates the history and heritage of the city by drawing upon the familiar signage from when Brooklyn last had its own major professional team in 1957.
The Nets have two primary logos. One features a shield to symbolically identify the team with the strength and character of Brooklyn, and serves as a salute to the shield in the Nets' past logo. The circular portion of the logo incorporates a prominent 'B' inside a basketball to proudly express the team's new home borough, and includes the word Brooklyn below the shield. The other logo features a basketball with an iconic 'B' inside, along with a 'Brooklyn New York' mark surrounding a basketball.
"The Brooklyn Nets logos are another step we've made to usher the organization into a new era," Jay-Z said. "The boldness of the designs demonstrates the confidence we have in our new direction. Along with our move to Brooklyn and a state-of-the-art arena, the new colors and logos are examples of our commitment to update and refine all aspects of the team."
"Our black and white colors speak to Brooklyn's strong traditions and grittiness and convey an uncompromising confidence," Nets CEO Brett Yormark said. "With its daring color display, the Brooklyn Nets logos are the new badges for Brooklyn and who better to design them than one of the world's top tastemakers and Brooklyn's own JAY Z. We are thrilled to launch our brand and to introduce the Brooklyn community to its new team. It's an honor to bring major professional sports back to Brooklyn and to become part of the fabric of this great borough."
The Brooklyn Nets also introduced a secondary logo, which is a basketball that contains the iconic 'B.'
As part of their identity launch, the Brooklyn Nets have introduced its 'Hello Brooklyn' multifaceted marketing campaign with the goal of building a connection between the borough and its new home team and to capture the attitude, pride and history of Brooklyn. The campaign includes billboards in select locations such as by the Manhattan Bridge, the Williamsburg Bridge, the Brooklyn-Queens Expressway and on Atlantic Avenue, which all include the hashtag #hellobrooklyn. In addition, the campaign features activation across all team digital and social media platforms including Facebook, Twitter, Instagram, Pinterest, and Google+ with opportunities for fans to win Brooklyn Nets apparel.
Merchandise featuring the Brooklyn Nets' new identity is available at www.BrooklynNets.com, Modell's Sporting Goods in all of its New York metropolitan area stores and the NBA Store on Fifth Avenue.
NBA Chats: There are three NBA Chats scheduled for today. HOOPSWORLD's Bill Ingram kicked things off at 11 a.m. ET. HOOPSWORLD's Stephen Brotherston held down his weekly chat at 3 p.m. ET. HOOPSWORLD's editor Jason Fleming rounds out the day with his weekly NBA chat at 8 p.m. EST. You can always find the next NBA Chat here. If you're looking for previous chats, click here.