NBA PM: Tobias Harris Hopes to Be All-Star
VIDEO OF THE DAY - Rob Hennigan
Orlando Magic general manager Rob Hennigan talks about the team's direction, the improvement of his young players and much more in this interview from media day.
Watch More Video Here
Tobias Harris Hopes to Be All-Star
In the second half of last season, Tobias Harris transformed from a seldom-used reserve with the Milwaukee Bucks to the primary option with the Orlando Magic. After being dealt to the Magic at last year's trade deadline, Harris averaged 17.3 points and 8.5 rebounds per game. In April, once Harris was more comfortable in Orlando, he averaged 19.8 points, 9.8 rebounds and 1.4 blocks per game.
Harris has shown that he can be a special player, perhaps even a franchise cornerstone for the rebuilding Magic. At 21 years old, his best basketball is certainly ahead of him and he still has a lot of growing to do as a player. He believes that he can become an All-Star as early as the 2013-14 season after spending countless hours in the gym and expanding his game this summer.
"Going into the season, being an All-Star is one of my top individual goals," Harris said. "I think I have the ability, and the team and the coaching staff have embraced me as a player. I think it's important to go into the season with those types of goals, but at the same time, to push myself as a player and push our team to be the best team that we can be."
When asked how good he can ultimately be as a player, Harris reiterated his goal.
"An All-Star," Harris said. "I can be an All-Star in this league and then just go from there. I have the ability. I'm in the right situation with the right teammates and the right coaches. I have a lot of confidence in my game. I've put a lot of hours in the gym this summer and I'm ready so I'm just ready for this season to start … I've been working on my game so much this summer whether it be my shooting, post-up game, dribbling, ball handling, I've just really been putting a lot of effort in so I'm expecting a lot out of me."
It remains to be seen if Harris will be spending most of his time at power forward or small forward. The coaching staff has told Maurice Harkless that he'll be playing more shooting guard this season, which could suggest a move back to the three for Harris after he spent most of his time at the four last year. Either way, Harris is comfortable and confident that he can be effective.
"I'll play whatever position Coach [Jacque] Vaughn wants me to play," Harris said. "Whatever position that's going to help us as a team get better. I can play the three, I can play the four, whichever position. I'm comfortable playing both positions, and I can excel at both positions on the basketball court. … I feel like in the NBA now, it kind of depends on what other teams are doing. If another team is playing a power four and then they bring in a stretch four, you have to adjust to what they're doing."
Harris has emerged as a leader in Orlando, which is somewhat strange considering that he was on the end of the bench at this time last year. However, he thinks he's ready for a leadership role.
"I've always been a guy to speak up and say what's on my mind so being a leader is something that I was born with, those leadership qualities," Harris said. "Coming into this year, I just look to lead by example, coming in first place in any drill we do, knowing that guys are watching and keying into what I'm doing."
This offseason, Harris wasn't the only Magic player working out for long periods of time in Orlando's practice facility. Every member of the team's young nucleus stayed in town to train together. Harris believes their work over the summer will help the team as they try to jell and grow together.
"It's real important, especially being a young team, to come in here this whole summer, work out, get better as a team and hang out with each other to build chemistry," Harris said. "I think that's the key to the game in the NBA: chemistry with the team and with the players. We all like each other and we're all having fun out there on the basketball court, so it makes the game a lot easier."
Orlando finished the 2012-13 season with a 20-62 record, the worst record in the entire league. Now, entering this season, Harris and his Magic teammates are determined to improve on that mark. Harris mentioned that he's hoping to make the playoffs, but the more realistic goal that every player has talked about at some point or another is just making progress this year.
"Twenty wins is not where we want to be," Harris said. "We're coming together as a team and doing all we can to get better as a unit and build chemistry. I think it's going to help us out a lot. It's going to help us build chemistry as a team, but at the same time it's going to improve our basketball game so I think a lot of us improved whether it be in the weight room or on the basketball court. We've gotten better and that's all you can ask for. … It's definitely a motivation when you're going into the season and you only won 20 games. As a team, we know we have to get better, we have to progress so going into this year, that's our goal – to get better and keep building as a team and as a unit."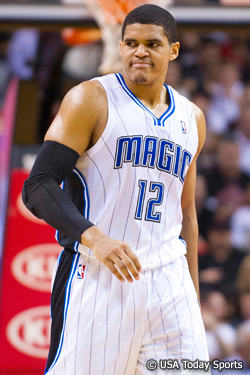 Many people are expecting the Magic to have another season with plenty of losses, especially because the 2014 draft class will likely be loaded with franchise-changing players like Andrew Wiggins, Jabari Parker and Julius Randle among others. However, Harris believes people are underestimating the Magic and he doesn't like all of the talk about losing or tanking.
"It doesn't sit [well] with me," Harris said. "As a player, I know what our goal is, as a team, I know each and every game we got to progress and we got to get better. We kind of have a jump start with our young guys being here and working out. We know going into the season, everybody has us written us off, but we got to prove people wrong. That's just the bottom line."
Alongside Harris, the Magic have other young players who are extremely talented. Harkless is entering his second year in the league and he was really impressive in the second half of last season, averaging 13.4 points, 5.3 rebounds and 1.6 steals after the All-Star break. Victor Oladipo, the second overall pick in this year's draft, has won over his teammates and seems poised to be a key contributor for the Magic this season and for many years to come.
"I love their games," Harris said. "Oladipo is a great player, he's going to bring a lot to the table for us. Whatever position he plays – the one or the two – he's a guy that can do a lot of things on the court. Moe's ceiling is very high as a basketball player. He's worked on his game a lot this summer, so he's going to be real exciting to see this season."
It seems ridiculous now, but the Magic were actually criticized when they first acquired Harris from Milwaukee. There were many reports that stated Orlando wanted a first-round pick in return for fan-favorite J.J. Redick so when the Bucks' package didn't include a draft pick, fans were understandably disappointed and media members were underwhelmed. It didn't help that most people had no idea who Harris was since he had such a small role with the Bucks.
Now, it's obvious that Harris was a steal for the Magic. It's incredible how far the 21-year-old has come as a player. In two years with the Bucks, Harris scored in double-digits just 12 times. In less than two months with the Magic, he achieved that feat 24 times in 27 games, and he was team's best player on most nights.
He's setting the bar high for himself this year, setting very lofty individual goals. However, nobody predicted Harris breaking out the moment he put on a Magic jersey last season so who knows what the future holds for him?
Roy Hibbert Continues to Make Huge Strides
At 7'2, Roy Hibbert was already one of the biggest players in the NBA. However, after spending the summer bulking up, he's now even bigger.
"At 290 [pounds], I'm moving a little better than I was at 275," Hibbert told USA TODAY Sports.
"After the Finals, I didn't really see him until the week we spent in San Antonio," teammate Ian Mahinmi said. "So when he came back, for me, I was like, 'Wow! You put on quite a few pounds. You look good, you look in shape, you look strong.' … It's definitely hard for me to guard [Hibbert]. He has been putting a lot of work in the weight room this summer and you could see the way he plays. He plays stronger, he's lower. Right now, he's a beast."
The center's new body was on display in the Indiana Pacers' first preseason game against the Chicago Bulls. Hibbert only played 27 minutes, but he was impressive in that short span, finishing with 11 points, nine rebounds, two blocks and two steals.
Hibbert has been working with new Pacers assistant coach Popeye Jones. The two have worked specifically on catching the ball in the post, pivoting to create space defenders and shooting jump shots.
"I worked all summer on my pick-and-pop and turn-and-face," Hibbert said. "I didn't use the pick-and-pop that much [against Chicago]. I made some bad decisions, but I think the turn-and-face [toward the basket] opened up a lot for me. So I think the first half, I tried to utilize that. It was the first game and I wish I could've done more, but everybody has a second chance.
"I feel a lot stronger when I back people down. I've just got to be able to finish in the paint. There were a couple of chippies that I missed. Wish I could have those plays back, but it felt good. As long as I'm moving up and down the court pretty good, I'm happy."
The Pacers' next preseason game is Thursday at home against the Houston Rockets.
Gal Mekel Gets His First Start
Not only will Gal Mekel be making his NBA debut with the Dallas Mavericks tonight, he'll making the first start of his NBA career as well. The 25-year-old point guard from Israel has played professionally overseas since 2008, but this is his first season in the NBA. Mekel signed a three-year guaranteed contract with the Mavericks this summer and tonight he'll start against the New Orleans Pelicans in their preseason opener.
"We've worked hard the last week and, for me, the whole summer I prepared myself," Mekel said. "Now, it's time to have fun. Of course, it's big for me to play with [the starters] and learn from them. It's exciting, especially coming in my first game."
Mavericks head coach Rick Carlisle is confident that Mekel is ready to start and he's looking forward to seeing Mekel take advantage of the big opportunity.
"I expect him to play well, to play a solid game," Carlisle said. "He's an experienced professional player. This is a different league and different players and those kinds of things, but he's had a good week and should be fine…. We've worked on some specific things that he needs to do and tonight is a good chance for him to test it and see where we're at. It's a great opportunity for him. With our situation with point guards being down at the present time, it's a wonderful opportunity for him to step in and get minutes.
"He's been playing multiple years professionally in other countries and in very good leagues. For Mekel, this is a great opportunity. He's stepping out there with four guys who have played a lot of games in this league. We'll see what happens."
Mekel is the first to admit that the NBA is on a different level than any of the overseas leagues he played in, but he believes those experiences abroad have helped him as he makes the transition to the NBA.
"It's hard to say," Mekel said when asked to compare his overseas experience to the NBA. "The talent level in the European leagues is high, but the pace, intensity and athleticism here is one, two or three levels above that. The size and quickness of guys is different from Europe, but I'm getting used to it. You have to think and react faster, but it's still basketball."
It'll be interesting to see what Mekel is able to do in his first NBA appearance, even though it's only an exhibition game. Mekel said he's going into tonight's game hoping to "control the pace, get everybody involved, be aggressive, play good defense and help the team."