NBA PM: Who Wins 2013-14 Scoring Title?
Tobias Harris - VIDEO OF THE DAY
Magic forward Tobias Harris talks about his team, what he expects this season and his role as a leader in Orlando.
Watch More Video Here
Who Wins the 2013-14 Scoring Title?
Basketball fans have been treated to a number of intriguing battles for the scoring title recently. In the last two seasons, the race for the scoring crown came down to the final game of the regular season.
Last year, Carmelo Anthony won the scoring title after Kevin Durant sat out the regular season finale. It was the first time that Anthony led the league in scoring, averaging 28.7 points to Durant's 28.1 points.
Two years ago, Durant and Kobe Bryant were in a similar battle for the scoring lead. With one game remaining on the schedule for both players, Durant was averaging just .107 points more than Bryant. Durant would keep his slim lead, winning the scoring title by averaging 28 points to Bryant's 27.9 points.
This year's race for the scoring title should be just as competitive, as there are a number of elite offensive players who will make the race interesting. Here's a look at who will likely be in the running, with some help from Los Angeles Clippers forward Jared Dudley and Houston Rockets guard Ronnie Brewer, who have plenty of experience guarding these players.
5. Kobe Bryant
It's hard to say if Bryant will be healthy enough to win his third scoring title, as he'll likely miss at least the season opener while he recovers from his torn Achilles tendon. Once he does return, there's no guarantee that he'll still be the dominant scorer who has averaged over 25 points for the last nine seasons. Achilles injuries tend to limit players and cause other nagging injuries. Just ask Chauncey Billups, who was sidelined for all but 22 games last year as he battled a variety of injuries long after his Achilles tendon was healed. With that said, if anyone can make a full comeback, it's Bryant. He's determined to overcome this injury and return to elite form. If we've learned anything in recent years, it's that there is nothing scarier than a motivated Bryant who wants to prove his doubters wrong. It wouldn't surprise anyone if Bryant bounced back and finished near the top of the scoring title race. If he's able to play at a high level when he returns, he'll get plenty of shots in the Lakers' offense. He took 20.4 shots per game last season and that number may increase after the departure of Dwight Howard.
"Obviously when you think of scorers, you think of Kobe," Dudley said. "When he gets to that elbow, he's very difficult to stop. He knocks down jump shots. He knows how to get the foul call. Even at this age, he's still hard to guard. I think he shot one of his highest percentages in awhile last year (.463)."
4. James Harden
Harden was one of the NBA's pleasant surprises last season, emerging as an elite scorer in Houston after years of coming off the bench in Oklahoma City. The young shooting guard averaged 25.9 points per game, which was nearly 10 points higher than his previous career-high. Perhaps most impressive about Harden's scoring is that he was able to average that many points while only attempting 17.1 shots per night. That's significantly lower than every other player who was in the race for the scoring title. Harden had a green light to shoot in Houston, but he prefers to take smart shots and play efficient basketball. This low number of shot attempts is also because Harden is terrific at drawing contact and getting to the free throw line. Last season, he led the league in free throw attempts with 792 and he shot 85.1 percent from the charity stripe. It remains to be seen if the addition of Dwight Howard will help or hurt Harden's scoring average. Howard will take some shot attempts away from the guard, but he'll also attract double-teams and create opportunities for Harden.
"Last year, James Harden was one of the toughest [players to guard]," Dudley said. "He's tough, with his pick-and-rolls, with his Euro-step and with his ability to get out in transition and score on you."
3. LeBron James
James could probably lead the league in scoring if he wanted to, but that's not how he approaches the game at this point in his career. Instead, James prefers to get his teammates involved as a facilitator and make the right basketball play. When he does try to score, he tries to make the most of his limited shots and play efficient basketball, as opposed to putting up 20 or more shots and focusing on his scoring average. Last season, James attempted just 17.8 shots per game, nearly five shots less than Carmelo Anthony averaged. While James was able to win the scoring title back in the 2007-08 season when he averaged 30 points per game, that was when he was carrying a Cleveland Cavaliers squad that started players like Ben Wallace, Sasha Pavlovic, Zydrunas Ilgauskas, Larry Hughes and Drew Gooden. Now, with plenty of talent around him on the Miami HEAT, James is much more likely to lead the league in efficiency rating and triple-doubles than points per game.
"He can score from anywhere – inside, midrange, three-point range," Brewer said. "You just try to double-team and shade him toward your help defenders. You have to game plan against him."
"LeBron James may be the hardest player to guard in transition," Dudley added. "He can go left, he can go right and he can Euro-step. It's hard to stop him."
2. Carmelo Anthony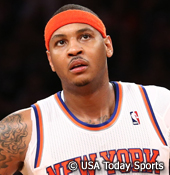 Anthony was able to capture his first scoring title last year after playing some of the best basketball of his career in the last few weeks of the season. In April, Anthony averaged 36.9 points while shooting 53.8 percent from the field and 46.7 percent from three-point range, which helped the Knicks win 16 of their final 18 games. It was this outstanding stretch that allowed Anthony to surpass Kevin Durant, preventing him from joining Michael Jordan and Wilt Chamberlain as the only players in NBA history to win four straight scoring titles. Anthony will have every opportunity to defend his title this year because he'll continue to have the green light to shoot in New York's offense. Last year, Anthony attempted 22.2 shots per game, which was by far the most of any player. If Anthony can pick up where he left off last year – shooting such high percentages and playing more efficient basketball – he'll definitely be in the running for the scoring crown once again.
"He's one of those players who can do it all, which makes him very tough to guard," Brewer said. "There are some players who can only score from certain areas, but guys like Carmelo Anthony, LeBron James and Kevin Durant can really score from anywhere."
1. Kevin Durant
Durant has won three of the last four scoring titles so he's the clear favorite, even though he isn't the reigning scoring champ. Every year, Durant seems to improve his game and somehow become even more efficient, and he's just about to reach the prime of his career. Also, with Russell Westbrook sidelined for a significant span of games early in the season, the 25-year-old small forward should get more shots than usual. Last year, Westbrook led the Thunder in shot attempts per game with 18.7 (third-most in the league behind only Kobe Bryant and Carmelo Anthony), while Durant took just 17.7 shots on average. During last year's playoffs Durant showed what he could do as Oklahoma City's main offensive weapon, averaging 31.8 points in the nine games that Westbrook missed. If that performance was any indication, Durant could be poised for the best season of his career and a fourth scoring title.
"I think Durant is probably our best scorer overall," Dudley said. "You can't really stop him. If he has 27 points against you, you did a good job. People don't realize how hard it is to shoot 50 percent from the field, 40 percent from three and 90 percent from the free throw line. I played with Steve Nash when he did it and it's tough. Durant did it last year, and only five other players have done it. It's just unheard of, especially for a scorer like Durant to do it. That's how efficient he is."
"As slim as Kevin Durant is, he still warrants a double-team in the post," Ronnie Brewer said. "He can knock down one or two dribble pull-ups, he can shoot over most defenders, he shoots a high percentage from everywhere and he can finish at the basket with contact."
Who will win the 2013-14 scoring title? Leave your thoughts in the comment section!
Collins Wonders Why He's Still Unsigned
Jason Collins, who announced that he's gay last spring, remains unsigned. Several teams expressed interest in the 34-year-old center, but he didn't sign a contract or make a training camp roster. Now, he's wondering if his career is over.
One of the teams that reached out to him over the offseason was the Detroit Pistons. However, the team opted to sign Josh Harrellson, a third-year player who cost $500,000 less than Collins' veteran minimum salary of $1.4 million. Because Collins has been in the league for 12 years, there are many other cheaper options. Collins hates that teams are passing on experienced vets just because they cost more money.
"In my mind it shouldn't be about that," Collins told The New York Times. "The NBA is for the best players, not for the most affordable players. There isn't a professional athlete that doesn't want to play 12, 13 years. What I did when I was younger was look up to the guys like Dikembe Mutombo and Alonzo Mourning who played over a decade. What did they do to last that long? A lot of it is keeping your body in shape, keeping your mind sharp, staying hungry. You should always want guys around like that to set that example, in my mind."
When asked if his sexuality is preventing him from finding a job, Collins didn't want to make any assumptions.
"You don't want to speculate — I don't go there," Collins said before adding, "I feel there are players in the league right now that, quite frankly, I'm better than."
David Stern and Adam Silver have been communicating with Collins' agent Arn Tellem and they believe that teams are making "only basketball-related decisions." However, one NBA general manager admitted that "some teams just might not want to deal with it because of the media implications."
Many people around the league supported Collins when he made his announcement. Richard Lapchick, a human-rights activist and sports industry watchdog, believes the center should be signed.
"I do think it's important for him to be in the league as a visible symbol," Lapchick said. "If he makes this courageous stand but then disappears from the locker room, it would not do it justice."
Los Angeles Clippers head coach Doc Rivers, who previously coached Collins, has said that he would have no problem signing Collins if he needs an additional center this season.
"Let me put it this way, if one of my bigs goes down and he's not signed, I'm signing him," Rivers said. "I'm not signing him because he's gay. I'm not signing him because it's a story and it brings us attention. I'm signing him because he has a value to help us win. I do have the advantage that I coached him and I know what type of guy he is, how tough he is."
Collins continues to work out six times a week, determined to make an NBA roster.
"I love puzzles, challenges, the feeling that you get when you have an obstacle and go through adversity, finding the strength to go on," Collins said. "As an athlete, that all makes sense to me. I do have that feeling now that I'm not alone in this and I have that mind-set, you know, of bring it on.
"I'm an NBA player. I want to play in the NBA. I just have to stay in this mode of handling this test, of having patience. You know, I have faced worse in my life."