NBA Saturday: 5 Surprise Playoff Teams
VIDEO OF THE DAY - Romero Osby
Orlando Magic forward Romero Osby talks about his first NBA training camp, his offseason workouts and much more in this interview from the team's media day.
Watch More Video Here
5 Surprising Playoff Contenders for the 2013-14 Season
We all know the teams that are going to be vying for the NBA championship this year. It's no secret that Miami, Chicago, Indiana, Brooklyn and New York will be scrapping it out for an opportunity to represent the Eastern Conference in the NBA Finals this spring, while the Western Conference is most likely to be represented by one of Oklahoma City, San Antonio, Houston, Memphis, Golden State or the L.A. Clippers.
Every year, however, there are teams that present themselves as serious playoff threats when no one expected them to be so threatening before the season began. No one took Atlanta seriously last year without Joe Johnson, but they ended up with one of the better records in their conference despite his absence. People knew Golden State could be good, but not that good.
This year, it's very likely that one of the following five teams will present themselves as a playoff team and a much bigger threat than anyone gave them credit for. Not of all them will, granted, but sleeper teams always come out of nowhere, and these are the best candidates for that in 2013-14:
L.A. Lakers – Without question, this will be an uphill climb, and things won't even start to get easier until Kobe Bryant returns from his Achilles injury. That return date is nowhere near set in stone, but if L.A. gets their superstar back closer to sooner than later, there's a real chance that he could help lead his team back into the postseason, even with significantly less talent than last year's team that also just barely squeaked in there.
Steve Nash is pushing 40, and players like Pau Gasol and Chris Kaman certainly aren't getting any younger, either, but if everyone stays healthy and Kobe is back early enough in the season, this is a team that could very realistically win 45-48 games and nab themselves a seven or eight seed in the West.
Toronto Raptors – There's something fresh about this team now that Andrea Bargnani is gone, and every basketball fan in Canada is excited about the potential coming-out party we could bear witness to this year for Jonas Valanciunas. Of course, a lot depends on how Dwane Casey deals with Rudy Gay and DeMar DeRozan, the team's duet of ball-stopping wings, but optimism is high for the Raps, particularly with Kyle Lowry healthy.
They've got a decent bench, a formidable starting five and more than enough all-around talent to win their fair share of games this year. Hitting .500 is plenty reasonable for Toronto, but it will take a few more wins than that to crack the Eastern Conference's playoff scene. If Toronto can be five to eight wins better than expected, they'll be right in the thick of it come season's end.
Sacramento Kings – After amassing young talent for the better part of the last half decade, the Kings may finally have enough to make an interesting run at things this season, especially with new head coach Mike Malone at the helm. DeMarcus Cousins could be on the cusp of a breakout campaign, Ben McLemore looks like a legitimate Rookie of the Year candidate and Isaiah Thomas is still shocking the NBA world with his scoring ability. In other words, there are some real ball players on this team.
They haven't been over .500 since 2005-06, but the mediocrity streak has to break sometime, right? Malone will get these kids to play defense, which is what they need more than anything. It wouldn't be a shock for them to hit 41-41 and sniff at the bottom portion of that Western Conference playoff picture.
Milwaukee Bucks – With 11 new players on the roster and a new head coach to boot, there's little doubt that Milwaukee will experience some growing pains, particularly early on in the season, but Larry Drew did more with last year's Hawks than anyone thought possible, and the same could be said about his ragtag collection of talent assembled by the Milwaukee front office this offseason.
O.J. Mayo could be a breakout star this year, and in a lot of ways Larry Sanders has already broken out. John Henson was one of the stars of the Vegas Summer League, Giannis Antetokounmpo already has shown flashes of brilliance, and certain offseason acquisitions like Brandon Knight, Gary Neal and Zaza Pachulia are better than people realize. Once they jell, there's a real chance for Milwaukee to be better than advertised.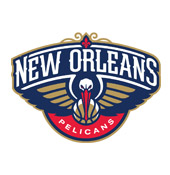 New Orleans Pelicans – If you haven't been watching, it's important to note that Anthony Davis looks like he's on his way to making his first All-Star team this coming February. In under 28 minutes per game in the preseason, last year's No. 1 overall pick has averaged 24.5 points, seven rebounds, two blocks and 1.8 steals, making it hard to imagine what he might be capable of doing with bigger minutes during the regular season.
His emergence combined with the backcourt additions of Jrue Holiday and Tyreke Evans make this a much more respectable team than they were a year ago. Eric Gordon, when healthy, is also one of the league's best young two guards, so there absolutely is promise here. Well-coached by Monty Williams, the Pelicans could shock the league and steal away a five, six or seven seed in the West this spring.
There's not a prayer that all of these teams exceed expectations, but at least one or two of them will. Part of the fun of the new season, now only 10 days away, is discovering which up-and-coming organization will be the one to break free of mediocrity.
Loading ...
Solomon Hill Hopes to Prove His First-Round Value
When Indiana Pacers rookie Solomon Hill was taken with the 23rd overall selection in this past June's NBA draft, experts were almost as surprised as when Anthony Bennett was taken No. 1 overall. This was a young man from Arizona who had a respectable four-year college career, but never really stood out as an NBA star in the making.
Despite that fact, his experience and maturity combined with an all-around skill set that has proven to be valuable on both ends of the floor has made him an intriguing rookie for a team that should contend for Eastern Conference supremacy this season.
"[My all-around skills] allow me to be put in multiple spots, guard multiple positions and do things to help the team," Hill told HOOPSWORLD. "We want to play a little bit faster, get the rebound, push it, create shots, if you're open, take it. It allows me to do a little bit of everything and hopefully I can continue to work on that and improve."
And if he improves enough, Pacers head coach Frank Vogel believes Hill could end up a regular part of the rotation.
"I think that he's capable," Vogel said. "I don't know if I'll use him that way to start. He's got to earn his keep, and he's got to do it over a period of time, but he's shown me that he's capable."
Hill believes he's ready to come in and contribute immediately because he's an admitted hard worker, which makes him an ideal fit for the Pacers' locker room.
"Talent can only get you so far unless you put it with a great work ethic and an ability to get better," Hill said. "Especially with a team like this where they want to win now and they have the team to win now, so it's just my job to come in and contribute, keep helping and have the same work ethic that I had in college."
Hill hasn't seen much offensive success this preseason, but he has played over 17 minutes per game in four preseason games, suggesting that he will, in fact, see a reasonable amount of playing time over the course of the year.
That's not necessarily what one would expect from a late first-round pick, but Hill's good friend Derrick Williams, a fellow Arizona alum and a former No. 2 overall draft pick, has told him how to deal with the heavy expectations of playing in the NBA.
"He just told me it's going to be fun," Hill said. "It's the best time, so enjoy it. It goes by fast. He just told me to keep working. It's not about what people say, it's what you do. He just told me to always work on my craft, always be the first one and last one out of the gym and take care of your body."
That's what Hill, as a rookie, will hear from his veteran friends and teammates all season long. There are plenty of lessons that he'll have to learn before he finds himself trusted with significant minutes for a top-tier Eastern Conference playoff team.
Still, Hill seems very mature and very prepared for the opportunity, and the team seems confident that he'll prove worthy of his first-round selection.
50 NBA Preseason Predictions
In case you missed it, here are Part 1 and Part 2 of Joel Brigham's annual 50 NBA Predictions, which we'll revisit in the spring to see how many he got right.  Check them out!