NBA Saturday: Cavs After Marion, Pierce?
VIDEO OF THE DAY – Khalif Wyatt
HOOPSWORLD catches up with former Temple star Khalif Wyatt, who's training for the 2013 NBA Draft.
Watch More Video Here
Over the course of the last 48 hours, NBA fans have been overloaded with talk about LeBron James's legacy, San Antonio's closing (closed?) championship window, and of course the Doc Rivers saga, but as all of that kind of glosses over we can focus on one really, really important thing that seems to have been neglected in the meantime: the 2013 NBA Draft.
With only five days left before this year's big event, rumors are really starting to churn, so here are a collection of the most recent rumblings as we close in on June 27:
Cavaliers Considering Acquiring Shawn Marion, Another Lottery Pick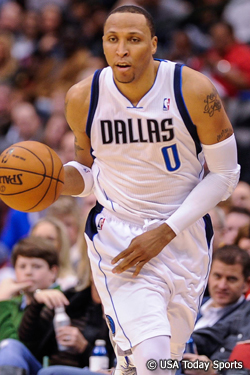 If there's one thing draft day is good for, it's a blockbuster trade or two, and who better to partake in such a blockbuster than the Cleveland Cavaliers? While they've been shopping their myriad draft picks for weeks at this point, the most stunning rumor of late, courtesty of Joe Kotoch of SheridanHoops.com, has them holding onto their #1 overall selection and instead doing something creative with their #19 pick: trading it to Dallas for Shawn Marion and the #13 selection.
Marion has a $9.3 million Early Termination Option that he's not likely to exercise, which means he'll once again be the team's second-highest paid player next season. Dallas has plenty of cap space to work with this summer so that they can chase the long-coveted Dwight Howard and other free agents, but dumping off that salary and drafting six picks later would put them in a great situation financially, giving them just a shade over $20 million in salary commitments for 2013-2014.
So Dallas definitely has the desire to make a deal exactly like this one, which would send back the #19 pick and pretty hefty traded player exception. Cleveland, meanwhile, has a glaring need for help at small forward, with which Marion could assist, and they'd move up six spots in the draft for their troubles, giving them two lottery selections.
Kotoch suggests that Cleveland would likely select Alex Len with the first overall pick—a concept that continues to gain traction by more and more outlets—and then grab Sergey Karasev with the #13 pick as a long-term solution at the three.
Whether or not that exact scenario actually happens, the Cavaliers are being very active in pursuing some trade possibilities on or before draft night. They've been having conversations for two months and certainly aren't going to stop having those conversations less than a week away from the draft. Expect this hubbub to continue.
Or Maybe Paul Pierce Instead?
And continue it does. According to Sam Amico of Fox Sports Ohio, Cleveland has also had some conversations with the Boston Celtics about Paul Pierce. The report is unconfirmed, but it has Cleveland shipping off their two high second-round picks (31 and 33) to Boston in exchange for Pierce, who may still end up just getting released anyway. Since only $5 million of his $15.3 million contract is guaranteed for next year if he's released before June 30th, it's certainly an option Boston will consider.
But it would be even better if they could get a few assets in exchange for Pierce rather than just give him $5 million to play for someone else next season, which is why it would make sense if Boston really picked up the pace in shopping him.
While two second-round picks don't sound like much for one of the most beloved Celtics in the history of the game, if Doc Rivers walks away from the last three years of his contract and Kevin Garnett decides to hang 'em up, Pierce really won't have much of a purpose on a Boston roster that will be in tremendous need of some retooling. Again, it's better than paying him $5 million for nothing.
And honestly, there are a lot of really interesting players that should be available in that 31-33 range of the draft, and getting two inexpensive, non-guaranteed assets in exchange for a guy Boston was probably going to just let go anyway would have to be considered a win. Like in the Marion rumor, if only picks are going back to Boston for Pierce's $15.3 million 2013-2014 contract, a traded player exception worth most of that would come back to the Celtics, as well.
According to the same report, the Milwaukee Bucks have also shown interest in Pierce.
Loading ...
Rockets Shopping Thomas Robinson Aggressively
Almost immediately after the Houston Rockets were eliminated in the first round of the 2013 NBA playoffs, they made it known that they hoped to make a serious run at Dwight Howard this summer, and they'd practically give Thomas Robinson away in order to make sure they had enough cap space to offer the man a max contract.
Well, ESPN.com's Marc Stein tweeted on Friday that Houston was revving up potential interest in Robinson ahead of Thursday's draft, since that would appear to be their best opportunity to make some kind of deal.
According to Stein, the Rockets would ideally swap Robinson for a draft pick to be used on an international player that they could stash overseas for a year, though of the names he mentioned (Giannis Adetokunbo, Rudy Gobert, Dennis Schroeder, Sergey Karasev, and Lucas Nogueira), Schroeder at least seems pretty set on playing in the NBA this year. The rest really could use a little more seasoning and may not immediately come to the League, and for teams like Houston, that could be a blessing in disguise.
For teams looking to haul in Robinson for the low, low price of a late first-round pick, the blessing is quite a bit less disguised. He had a disappointing rookie year, but he still hasn't really gotten his opportunity. In the right situation, he's still much better than anyone that would be selected in the 20s of this particular draft.
Portland Planning to Go Big
Blazers GM Neil Olshey is telling everybody that he'll select the most talented player available to him at pick #10 this Thursday, but according to Candace Buckner of The Columbian, the team appears to be leaning towards a big man, considering the workouts they've held over the course of the last week.
Seven-footers Rudy Gobert, Steven Adams, Mason Plumlee, Alex Len, Cody Zeller, and Kelly Olynyk all have had solid workouts with the Blazers leading up to the draft, and outside of Len, who will be long gone by the time Portland picks tenth overall, any of those guys look as though they could be the pick. A lot of mock drafts have them selecting Zeller, but Olshey was reportedly very impressed with Gobert, who is both the tallest player in the draft pool and the player with the longest wingspan.
More than anything, the Blazers need depth next season, and that's what this draft pick will provide. Considering who will be available to them at their section of the lottery, there's a very strong possibility that they'll pick a big guy. More likely than not, a big man will be the best player available, too, which means Olshey doesn't have to feel bad if someone like Zeller or Gobert actually is the pick.
With only five days to go until the draft, stay plugged into HOOPSWORLD for all the latest news and rumors. We'll have it all right here, as well as some of the best draft coverage in the world come Thursday. It's all mere days away, so get ready to celebrate the one of the most wheelingest and dealingest weeks of the year.