NBA Saturday: "Pure" Point Guards Extinct?
Russ Smith - VIDEO OF THE DAY
br> br>
Louisville's Russ Smith was the darling of the 2013 NCAA National Championship game, and while he could have entered the draft this year. Russ is locked into the 2014 NBA draft class and is looking for another big year as a Cardinal.
Watch More Video Here
The Death of the "Pure" Point Guard?
Four of the last five NBA Rookies of the Year have been point guards, a list that includes Derrick Rose, Tyreke Evans, Kyrie Irving, and most recently Damian Lillard. Because of rule changes over the course of the last half a decade, point guards have seen more offensive success than ever before, so much so that it's almost impossible to look at the impressive list of NBA point guards and pick only two or three per conference for an All-Star roster.
So why does recent Basketball Hall of Fame inductee Gary Payton, one of the best all-around point guards of all time, think that the position is dying?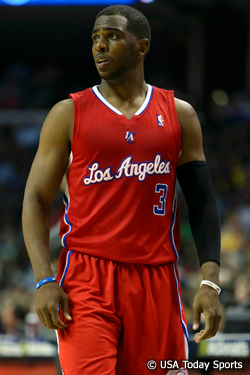 "We don't really have point guards in the NBA now. We really have (shooting) guards – and that's a fact," Payton recently told Tom King of The Republican. "I think there's only three true point guards that play like point guards. I think Chris Paul is one, I think (Rajon) Rondo is one, and I think Tony Parker is the other."
What, exactly, does he mean by that? Presumably he's referring to the fact that many of today's point guards are really more like shoot-first combo guards than the sort of unselfish floor generals Payton played with in his heyday. Too few of today's points, according to Payton's logic, are concerned enough about doling out assists, getting their teammates involved, and thriving on defense. Rather, they're keeping the basketball in their own hands and unapologetically doing the overwhelming majority of their team's scoring.
Rose is a pretty typical example of this, as are Irving and Lillard, though Oklahoma City's Russell Westbrook, Detroit's Brandon Jennings, Washington's John Wall, Golden State's Stephen Curry, Houston's Jeremy Lin, Phoenix's Goran Dragic and Charlotte's Kemba Walker should also be included on the list of scoring point guards. And no doubt about it, there are several more just like them currently employed on NBA teams.
But to say that only Paul, Rondo, and Parker are true, traditional point guards would be unfair to players like Steve Nash and Ricky Rubio. Those two players clearly care more about getting other people involved than scoring themselves, probably even more so than someone like Tony Parker.
If Payton feels like point guards also need to act as premier defenders, then someone like Mike Conley, Jr. should also be given his fair share of credit. Rose and Westbrook are also respectable defenders and typically put up top-ten assist numbers, even though they are technically "score-first" point guards.
Payton's point is a reasonable one, though, as today's point guard is more of a hybrid 1-2 guard than has historically been typical at the position. That's not necessarily a bad thing, though, despite what Payton seems to imply. They call this the Golden Age of Point Guards for a reason; teams are getting more production out of that spot than ever before. There is still room for players like Rondo and Rubio, but if a team can find someone like that who can also score at will, they'll prefer that player every single time.
That player, for the record, is Chris Paul, who can either get his teammates going or score as he pleases, depending on what the situation calls for. It's no coincidence that his team will be among the league's best this season, and should even contend for a championship.
But if Payton means to suggest that a top-tier, "pure" point guard is a key ingredient in the recipe for championship success, he needs to take a look at who played that position for the two-time reigning NBA champion Miami HEAT. They didn't need one to win a ring, and neither did the Chicago Bulls, to whom Payton lost in the 1996 NBA Finals.
LeBron James and Michael Jordan could both score at will, and that's what got those guys each multiple rings.
So if dominant scoring is what sets the great teams apart from the good ones, why shouldn't that be a skill that a point guard possesses?
Loading ...
Victor Oladipo "Really Didn't Want To Go to Cleveland"
A lot was made on Friday about Orlando Magic rookie Victor Oladipo telling a group of season tickets holders, "I really didn't want to go to Cleveland," mostly because there were apparently enough angry Cavs fans that the official Orlando Magic Twitter page felt motivated to remove the quote from its feed.
Cleveland, as we know, doesn't take well to opposing players putting down their city in any way. Chicago Bulls center Joakim Noah, remember, completely lambasted the city back in 2010, saying, "Cleveland really sucks," and later adding, "I never heard anybody say I'm going to Cleveland on vacation. What's so good about Cleveland?"
He'll be booed in the state of Ohio for the rest of his life, but does Oladipo deserve the same treatment for what on the surface looks like a much tamer comment?
The quick answer: absolutely not.
Unlike Noah, who at the time genuinely seemed to enjoy his role as a heel for Cavs fans everywhere, Oladipo wasn't explicitly saying that the city or the team was no good. Rather, he was trying to say how happy he knew he'd be playing for Orlando.
Also unlike Noah, Oladipo immediately apologized for his comments, because he didn't mean for them to be offensive:
"Sorry to all the cavs fan [sic] if I offended them in anyway making the comment I made," Oladipo said via Twitter. "I didn't mean it the way you all took it."
How did he mean it? Well, as a high lottery pick looking at the list of teams that could potentially draft him, Oladipo saw opportunity in Orlando, with only Jameer Nelson and Arron Afflalo to contend with for minutes. Cleveland, meanwhile, has Kyrie Irving and Dion Waiters in the starting frontcourt for the foreseeable future, which means Oladipo's career as a Cavalier would've meant nothing but reserve minutes, at best. The Magic will eventually make him an important piece of their core moving forward, and he is understandably excited to be given that opportunity.
Put simply, Orlando was the best fit for him, and Cleveland might not have been. That made the kid happy, to end up in the best situation possible. It's not like he pulled a Noah and purposefully (and continually) offended the city. He just likes the team he plays for. His comment meant nothing more than that.
Beasley Not the First to Play For Same Team Twice
Over the course of the last few days, media has had a ton of fun pointing out that Michael Beasley will be returning to the Miami HEAT this season, but he is by no means the first person in NBA history to undergo a second stint with an NBA team.
In fact, he wasn't the first player this offseason to re-sign with a team he played for previously. Mike Miller, for example, is headed for his second stint in Memphis next season, while Chauncey Billups will get a second go-round in Detroit. That, for the record, is the second instance of Billups returning to a former team. He also put in two separate tours with the Denver Nuggets.
For a list of several more NBA players that have played two stints with the same team, check out this oldie-but-goodie from 2011. It's pretty comprehensive, and it puts Beasley, Billups, and Miller is some pretty interesting company.