NBA Saturday: So What Free Agents Are Left?
The Best of the Rest in Free Agency
Believe it or not, we're almost a week into free agency already, and that being the case there have been a ton of verbal agreements over the course of the last six days, including a lot of the more intriguing names in the field. With Dwight Howard now reportedly set to join to the Houston Rockets (and here's how that happened, according to our own wunderkind Alex Kennedy), and Al Jefferson, Paul Millsap, Andre Iguodala, Manu Ginobili, Tyreke Evans, David West, Kevin Martin, Kyle Korver, O.J. Mayo, J.J. Redick, Tiago Splitter, Jose Calderon, and J.R. Smith headlining the list of players that have already agreed to terms with various teams, it's time for free agency to really get rolling.
That's an excellent start, but now that Howard has made his decision there are going to be teams with cap space that will have to spend it elsewhere. Atlanta and Dallas still have quite a few roster spots to fill out, Cleveland, Utah, and Detroit have plenty of money to spend, and even Phoenix and Portland have sizeable enough chunks of cash to grab hold of a respectable name, too.
And at this point, there are still plenty of respectable names still hanging around. Yesterday, HOOPSWORLD's Tommy Beer touched on the latest with Josh Smith, easily the most desirable free agent left on the market, but here are some updates on the rest of the top free agents that are still available:
Andrew Bynum
On July 1, the first day that teams could reach out to free agents, the Dallas Mavericks reportedly called Bynum's camp and put out feelers, according to Tim McMahon of ESPNDallas.com. Obviously, the Mavs wanted to plant the seeds for potentially signing a player that was the West's best center two years ago, but didn't play a single game in 2012-2013.
Bynum's agent, David Lee, said that Dallas and "several other teams" reached out back on the 1st, but things have been really, really quiet on the Bynum front since then. Nobody seems to know if he'll be the All-Star or the man in the street clothes, which may seriously affect how much guaranteed money he ends up getting, but he'll get rostered somewhere. Dallas is one team that will have need for a center and could be ready to talk more seriously now that Howard has chosen another team.
Monta Ellis
Updates on Ellis have been slow to come, too, with the only real mumbles about the Milwaukee free agent being that he probably won't play for Milwaukee again next season. A lot of the teams that were reported to have been interested earlier in the process have since gone in other directions. New York will re-sign J.R. Smith, the Spurs agreed to terms with Manu Ginobili and Marco Belinelli, the Suns swung that trade for Eric Bledsoe, and Chicago could only afford Mike Dunleavy, Jr. The only team that was mentioned to have interest in Ellis that actually still has interest in Ellis would be the Denver Nuggets, who according to Marc J. Spears of Yahoo! Sports have ratcheted up interest in the shooter now that Andre Iguodala has officially agreed to sign with the Golden State Warriors.
Brandon Jennings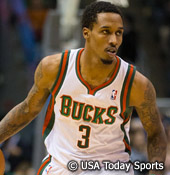 Milwaukee has said that they'll match any offer sheet Brandon Jennings may sign with another team, which hasn't exactly sent other teams in a tizzy to put in work for a free agent that's never going to leave his current team. According to Adrian Wojnarowski of Yahoo! Sports, Jennings' reps slid a little piece of paper across a table with a dollar amount on it, and the Bucks didn't flinch. They'd rather just sign Jennings themselves than match an offer sheet, but they don't want to out-bid themselves. They're taking their time, presumably to let the market dictate his value, but there's little reason to believe Jennings will play for anyone but the Bucks next season.
Andre Kirilenko
Since the Timberwolves signed Kevin Martin, there's virtually zero chance that they bring Kirilenko back, but Kirilenko told Russian website Sport Express that he's "99 percent certain" he'll return to the NBA next season rather than return to Russia (translation courtesy of HoopsHype.com). There hasn't been much leaking out in terms of teams that are interested in him, but considering he turned down $10 million guaranteed next season, his camp must have felt as though there would be some reasonable multi-year deals on the table at some point. At age 32, this is likely the last opportunity he'll have for a long-term contract, so while he probably won't get $10 million a season, whatever he gets over the life of this next deal will probably have been worth the gamble.
Nikola Pekovic
More so than for players at other positions, top-tier centers like Minnesota's Nikola Pekovic have had to wait until after "The Dwecision" was made before getting the opportunity to max out their own free agency value. Just like with Bynum, Pek will get his shot at big bucks now that Howard is off the table, but Flip Saunders has said that Minnesota is pretty serious about holding onto him.
Since he is a restricted free agent, the Wolves can match any deal, but as John Canzano of The Oregonian points out, Blazers GM Neil Olshey is reticent to throw a max deal at a restricted free agent center because the team did that last year and it didn't end well for them. If other teams feel the same way, max offer sheets may be slow to come. That said, it wouldn't be at all surprising if Pekovic, probably free agency's second-best center, got a max offer. If Roy Hibbert and Brook Lopez were worth of max deals last year, Pekovic could justifiably be offered the same this summer.
And finally, here are some of the other names that won't command quite as much money but could still be difference-makers next season: Jeff Teague, Jarrett Jack, Chris Andersen, Matt Barnes, Tyler Hansbrough, Gerald Henderson, J.J. Hickson, and Nate Robinson.
A lot has gotten done so far, but Dwight Howard is a big domino that will get a whole lot more moving in the coming several days. Expect a lot of the names mentioned above to come off the market first.
Loading ...
What Happens to Omer Asik With Dwight In Houston?
There's a lot to like about a team built around Dwight Howard and James Harden, but there's no question that the Rockets still have work to do if they want to be considered serious contenders for the NBA championship over the course of the next few years.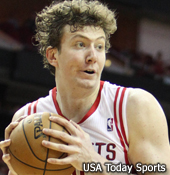 One of the first orders of business is going to be deciding what to do with now-backup center Omer Asik, who was signed a year ago and finished last season as one of the league's top rebounders. He is, however, an undeniably one-sided player (that side being the defensive side), and since his salary now makes him the third highest-paid player on the team, Houston is going to have to do something with his contract, and maybe Jeremy Lin's, as well.
The question now, of course, is who might be interested in taking on Asik at about $16.7 million over the next two seasons. The first, most obvious option is the Atlanta Hawks, who could possibly be interested in pulling off a sign-and-trade for free agent Josh Smith. Since they may lose Smith for nothing anyway, getting a starting-quality point guard and center could help them save a little face in what is not looking to be a particularly successful free agency for them. Granted, Paul Millsap and Al Horford are the likely starters there next year, but Asik would be a valuable part of a really nice-looking frontcourt rotation if he ended up there, and would definitely get more playing time than if he stayed in Houston.
Another option, according to Adrian Wojnarowski of Yahoo! Sports, is the New Orleans Pelicans, who could be interested in flipping Ryan Anderson for Asik. Wojnarowski also suggested that Tom Thibodeau and the Chicago Bulls would relish the idea of bringing back their former backup center, and that Asik himself might welcome a return, but the financial roadblocks of making that happen are pretty challenging since Chicago doesn't have much in terms of assets to offer the Rockets.
Wherever Asik ends up, it'll be something of a surprise if he starts the season still on Houston's roster. At this point, a trade seems inevitable, especially because the Rockets really need to start building a rotation with a little more experience, especially at positions other than shooting guard and center, where Harden and Howard are likely to play more than their fair share of minutes. Asik and Lin are likely the way they acquire those experienced players.