NBA Sunday: The Best Backcourt in the NBA?
The NBA's Best Backcourt?
In the modern NBA, nothing is more important than having a deep and talented backcourt. The league rules have evolved to favor quick, penetrating guards, and the plethora of outstanding point guards around the league make it imperative for a team with playoff aspirations to have great point guard play. The New Orleans Pelicans may still be a player away from being in the Western Conference playoff mix, but they might just have the deepest, most talented backcourt in the league.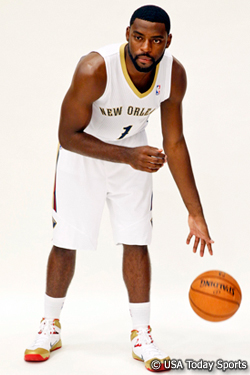 "We have, our backcourt just as far as just the strength wise, I mean we have all big guards," Austin Rivers told HOOPSWORLD recently. "If you look at our guards – Eric (Gordon), Me, Tyreke (Evans), and Jrue (Holiday) – that's some strong guards, and then B-Rob (Brian Roberts), he's a quick, low-to-the ground strong guard, we just have some quick, fast strong guards, which is a good thing because that's the way we want to play is getting up and down. Still play defense, that's most important, but Jrue definitely helps everything. He's helped me get a lot better just being here, playing against him the past couple of weeks, training camp, stuff like that. It's just got me a lot better."
The question mark in that mix, of course, is Gordon. His inability to shake a nagging knee injury has been the cause of a lot of questions among Pelicans fans, including (unfounded) rumors that he was just sandbagging because he didn't want to be in New Orleans. The Pelicans are 3-0 in preseason without him, but Rivers says he looks like he's almost ready to go.
"Watching him out here right now playing 2-on-2, he looks good," said Rivers. "It's just up to him and when he feels like his body is ready. It's hard for fans and people to be patient, but you have to understand it's his career and he, only the person who is hurt, knows his own body. He's the only one out there risking everything, so when he feels right, he'll come back, and when he comes back, that just is another player, people forget in our first pre-season game, we didn't have Eric Gordon or Ryan Anderson and we still were able to pull off what we did (beating Houston), so just when we have all of our weapons out there and when our chemistry gets set, a lot of good things can happen."
Another important part of the Pelicans' improvement this season will be having players like Rivers take a big step forward individually. Rivers has looked very good at times in preseason and insists that he expects to be a strong candidate for Most Improved Player when the dust settles this season.
"I just have a better understanding of the game," said Rivers of his improvement. "I think we're just more mature, we have a better team, and I think I'm just going out there and playing now, whereas last year I was thinking and going 100 miles per hour trying to do everything worrying about making mistakes. Now, (I understand) mistakes are going to happen; it's an imperfect game. I've just got to go out there and, if I just concentrate on making an impact, whatever that is, then just things naturally come out. I'm not worried about what I did on my first preseason game, I'm not worried about what I do tonight when I play in Jacksonville. Every night is a new night. There's 82 games, so every night presents something different, so I'm just focused on going out there and playing as hard as I can, and I know if I do that, things will naturally come out."
Assuming Gordon can get healthy and return to All-Star form, Rivers takes the next step and is an impact player, the Pelicans are in great shape in the backcourt. Rivers isn't convinced that their lack of size in the front court will prevent them from making the playoffs.
"I don't know if we're big enough, but I don't think that means anything," says Rivers. "I think we're talented enough. We have the best fours you could possibly have. We have Anthony Davis and Ryan Anderson, Jason Smith who plays bigger than what he is, I mean he plays, he rebounds and boxes out and does everything he needs to do. We have Ryan and Anthony, who are almost un-guardable at the four spot, so for what we lack in size, we make up for in ability. We might not be able to rebound as much, but people are going to have trouble running the floor with those guys so we'll be alright."
The Western Conference is as tough as it has been in quite some time, and the Pelicans' division promises to be a gauntlet. Still, with arguably the deepest backcourt in the NBA and with a front court that offers up some unique challenges for opposing defense, the New Orleans Pelicans just might be the West's best dark horse. They're certainly a team that shouldn't be underestimated.
Loading ...
Can Royce White Make An Impact?
When the Houston Rockets traded Royce White to the Philadelphia 76ers as part of their cap clearance sale to make room for Dwight Howard, Sixers GM Sam Hinkie was not particularly optimistic that White would actually play. The move was more about acquiring the rights to Turkish forward Furkhan Aldemir, whom Hinkie had scouted extensively as a member of the Rockets' front office team. On Friday, however, White did indeed suit up for the Sixers, and had a reasonably good showing for his new team.
"It's fantastic to see him on the floor," Sixers coach Brett Brown told USA Today Sports. "That was my thrill. … Just to let him get out and be with his teammates and play an NBA game is exciting for him and for us. We want to help him in any way we can. Like I said before, he's a talent."
White collected five points, three rebounds and a steal in 10 minutes of action in Philly's 97-85 win over the Boston Celtics in a game played in Delaware.
"I was happy to be out there," said White, who was not with the team in Europe earlier this week due to a disorder that make it hard for him to fly. "I didn't think I played well. I'm still not making plays that are routine for me … but it's just a feel thing, getting a feel back."
There has never been a question that White could play basketball. His all-around game was what got the attention of Hinkie and the Houston Rockets in the first place. As a sophomore at Iowa State University, White was the only player in the nation to lead his team in the five major statistical categories: points (13.4), rebounding (9.3), assists (5.0), steals (1.1) and blocks (0.9). When he played summer league ball for the Rockets two summers ago he was talking about potentially playing all five positions for the Rockets, and then went out and showed he could probably do it.
Unfortunately, multiple issues between the Rockets and White prevented him from ever actually playing for the team. He spent some time with the Rio Grande Valley Vipers, Houston's D-League team, but he spent most of the season in somewhat of a stalemate with the Rockets, who wanted to dictate which health care professionals White should see to deal with his anxiety disorder.
It's still something of a long shot that White can make the Sixers squad and work through his issues to the point that he could travel with and be a productive part of the team. Still, there's no denying his talent, and if there has ever been a year when the Sixers could take a flier on a long shot, this is it. The team's record will almost be beside that point as they start over with a long-term rebuilding project.
NBA Chat with Bill Ingram
In case you missed my last chat, be sure and check that out here! I make a real effort to answer every question submitted, provided it is not a duplicate.
You can also go ahead and submit a question for my next chat, which will be next Tuesday at 8 p.m. Eastern, by linking here!
Twitter Follows:  Make sure you are following all of our guys on Twitter to ensure you are getting the very latest from our team: @stevekylerNBA, @AlexKennedyNBA, @TheRocketGuy, @LangGreene, @EricPincus, @joelbrigham, @SusanBible @TommyBeer, @JabariDavisNBA , @NateDuncanNBA , @MokeHamilton and @YannisHW.