NBA Sunday: The NBA's Hot New Rivalry?
Andre Drummond - VIDEO OF THE DAY
Detroit Pistons center Andre Drummond talks about his new teammates, expectations for the season and much more in this exclusive interview.
Watch More Video Here
The NBA's Hot New Rivalry
Almost since its inception, the NBA has been defined by its rivalries, whether they were rivalries between two players or rivalries between two teams. There was Wilt Chamberlain versus Bill Russell, Magic Johnson versus Larry Bird, Hakeem Olajuwon versus David Robinson, and more recently Kevin Durant versus LeBron James, just to name a few. The greatest rivalry of all-time might be the Los Angeles Lakers versus the Boston Celtics, a rivalry that can lie dormant for years and then rise again with new ferocity when the two teams eventually clash in the NBA Finals once again. Many of the classic rivalries, however, are currently at least dormant, if not completely forgotten, but there is also a new situation arising that could turn out the be the next great NBA rivalry.
First of all, the strongest rivalry has to involve two teams with iconic players who go head-to-head whenever their two teams clash. Second, there should be great players at other positions who also square off in secondary battles that often determine the outcomes of games and even series. Finally, if the two teams in question are in the same division it's a bonus of sorts. They won't ever meet in the Finals, but they will play each other more often than under any other circumstance, increasing the stakes of winning the season series.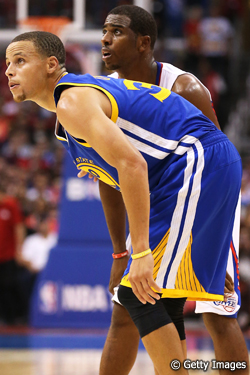 There is a rivalry forming in the Western Conference and, while it is in its infancy stages, it meets every one of the criteria listed above. If you were watching the NBA on Thursday night, you saw exactly why the Los Angeles Clippers and the Golden State Warriors look prepared to be one of the must-see games on the schedule.
This rivalry has the superstar match-up in Chris Paul versus Stephen Curry, two of the best point guards in the league.
Paul has been slowed by injuries over the last couple of seasons, but he's fully healthy now and he's prepared to lead his Clippers to new heights. A true leader on and off the court, Paul promises to be the reason why the Clippers are now the best team in Los Angeles for the first time ever. Meanwhile, Curry has a special quality about him, as well. Far more than the shooter he was known to be coming out of Davidson, Curry has taken on more and more responsibilities and pushed himself to expand his game far beyond the spot-up three.
On Thursday night these two young men put on a show, looking to one-up each other every time down the floor. Paul wound up with 42 points, 15 assists and six steals, leading the Clippers to a 126-115 win, but Curry was almost as good. Despite struggling through an 11-turnover night, Curry racked up 38 points and dished out nine assists while dropping nine of his 14 three-points attempts and forcing Paul into six turnovers of his own. As much as the previous era of the NBA was defined by dominant centers, the current era of the league is defined by quicker, pace-pushing point guards, and there are few in the game better than Paul and Curry. That match-up alone with worth the price of admission.
There are, of course, several other intriguing match-ups when the Clippers and Warriors do battle, starting at the power forward position. David Lee is coming off of an All-Star season, and is one of the more versatile players in the league at his position. He can hit the mid-range, back his man down and score in the paint, and he is also a force to be reckoned with on the glass. That same description could, of course, be used to describe Blake Griffin, whom Paul has challenged to be the best player on  the team this season. Griffin got the better of Lee on Thursday night, scoring 23 points to go with 10 rebounds and getting Lee into foul trouble. Still, even in limited minutes Lee tallied 22 points and five rebounds, holding up his side of the battle reasonably well.
At center we have Andrew Bogut versus DeAndre Jordan, which is even more intriguing now since the two exchanged words and shoves on Thursday evening. At shooting guard the up-and-coming Klay Thompson takes on the savvy veteran J.J. Redick. Hot young small forward Harrison Barnes will usually match-up with the tested and true Andre Iguodala. Everywhere you look these two teams have intriguing match-ups that promise to make their games dramatic and hotly-contested.
NBA rivalries come and go, and they lie dormant for years when one or the other team in a rivalry goes through rebuilding. Once in a while, however, a fresh, new rivalry emerges, and the Los Angeles Clippers and Golden State Warriors show all the signs of becoming just that.
Loading ...
Free Agency Frantic for Kevin Martin
When Kevin Martin landed in Oklahoma City last season, he felt like he had come home to a place he'd never lived before. The team-first culture suited him just fine, as did the opportunity to compete for a championship for the first time in his career. Unfortunately, an untimely injury to Russell Westbrook prevented the Thunder from getting back to the NBA Finals, and then the financial situation in OKC prevented Martin from returning long-term, as he once hoped to do. Instead he wound up signing a long-term deal to play for the Minnesota Timberwolves, a deal that also reunited him with long-time head coach Rick Adelman.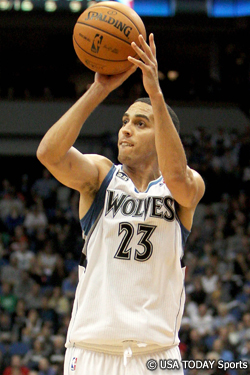 "Everybody says free agency is fun. It wasn't fun for me," Martin told The Oklahoman's Darnell Mayberry before the Timberwolves hosted the Thunder on Friday night. "That's a big decision to make for yourself and for your family. I thought it was going to be fun. It was stressful."
Still missing Westbrook, the Thunder were no match for the healthy and improved Timberwolves. Not only did they add Martin, the shooting guard they have been missing for years, they also brought back Corey Brewer (now an NBA champion), re-inked coveted big man Nikola Pekovic and also added some interesting young pieces to the second unit. Minnesota opened with a 34-19 first quarter and never let the Thunder back in the game.
"A lot of times the NBA is about the business," Martin said of his decision to move to Minnesota. "You saw that firsthand with James Harden. Sometimes both sides have to make tough decisions."
The decision for Martin, who also reportedly had interest from New Orleans, Milwaukee and Memphis, was all about taking care of his family for the foreseeable future. He inked a four-year, $28 million contract with the Timberwolves in what turned out to be a sign-and-trade deal, likely the last big contract of his career. The Thunder would have loved to have had him back, but the bottom line was that they couldn't afford to pay him and also stay under the luxury tax threshold, which is a concrete ceiling for the small market Thunder.
"It was a pretty hectic first 24 hours," Martin said of July 1, the first day teams could negotiate with free agents. "Besides leaving school, that's the biggest decision of my career; especially at the age of 30, that could be your last free agent [contract]. I did my research. I did it wisely with teams, and I felt like this was the perfect spot, ideal. Just what they need."
Indeed, the Timberwolves have been after a starting shooting guard for several years, and the fact that they found one who understands Adelman's system implicitly is a bonus. For those keeping track at home, however, the loss of Martin only worsens the deal OKC got from Houston for Harden, who has proven to be one of the best shooting guards in the NBA over the last 12 months. Barring a mammoth leap from Jeremy Lamb this season, the Thunder will be hard pressed to get past the second round of the playoffs any time soon.
The Timberwolves, on the other hand, could be headed much deeper into the playoffs if they can just stay healthy.
NBA Chat with Bill Ingram
In case you missed my last chat, be sure to check that out here! I make a real effort to answer every question submitted, provided it is not a duplicate.
You can also go ahead and submit a question for my next chat, which will be next Tuesday at 8 p.m. Eastern, by clicking here!
Twitter Follows:  Make sure you are following all of our guys on Twitter to ensure you are getting the very latest from our team: @stevekylerNBA, @AlexKennedyNBA, @TheRocketGuy, @LangGreene, @EricPincus, @joelbrigham, @SusanBible @TommyBeer, @JabariDavisNBA , @NateDuncanNBA , @MokeHamilton and @YannisHW.