NBA Sunday: Top-Five Free Agent PF's
VIDEO OF THE DAY
Former Kansas guard Travis Releford discusses his pro potential and the 2013 NBA Draft from the 2013 ASM Sports' Pro Day.
Watch More Video Here
Ranking the Top-5 Free Agent Power Forwards.
The NBA Finals are currently in a dead-heat at 2-2 heading into Game Five tonight, which means 28 other teams and fan bases are on the outside looking in. This is why free agency, trade chatter and the 2013 NBA Draft are especially crucial at this point of the year considering most teams are looking to upgrade heading into the 2013-14 season.
Looking at the power forward position, there are plenty of options for teams in need of a presence in the frontcourt. From grizzled vets to young players ripe with potential; the 2013 free agent class for power forwards has just about everything a team in need could hope for.
That being said, let's take a look at the top free agent power forwards heading in the summer of 2013:
Top Five:
5. Antawn Jamison, Los Angeles Lakers (Unrestricted)
2013 Salary: $854,389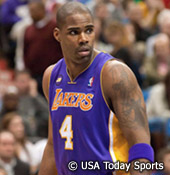 The 15-year vet proved this past season in Los Angeles that he still has enough in the tank to provide a spark for a prospective playoff team. In his first season playing less than 22 minutes a game, the 37-year old led the Lakers in scoring off of the bench.
Although he's firmly in the twilight of his career, Jamison has proved that he can still be a contributor off of the pine for a contending squad. Jamison can still score in a myriad of ways and will be viewed as a player that can help on the offensive end for potential teams this offseason.
4. J.J. Hickson, Portland Trail Blazers (Unrestricted)
2013 Salary: $4 million
Portland's starting center for the majority of the 2012-13 NBA season, Hickson proved in a contract year just how valuable he can be to a prospective NBA team. In just 29 minutes per game, Hickson finished seventh in the NBA in double-doubles this season (40) – ahead of the likes of teammate LaMarcus Aldridge and center Al Jefferson.
Even if the Blazers acquire a legitimate center this offseason, bringing back a key frontcourt player like Hickson to contribute for a paper-thin bench would be a solid option. However, with the way he played in 2013, Hickson may seek greener pastures elsewhere.
3. David West, Indiana Pacers (Unrestricted)
2013 Salary: $10 million
Both as an enforcer and quality all-around player, West will likely be a hot commodity this summer. West shot nearly 50 percent from the floor while averaging 17.1 points and 7.7 rebounds per contest for the 49-32 Pacers.
Over the course of his 10-year career, West has proven to be a four capable of matching up with some of the most capable players at his position. West has given every indication that he wants to return to Indiana and the feeling is mutual.
2. Paul Millsap, Utah Jazz (Unrestricted)
2013 Salary: $8,603,633
Jazz center Al Jefferson is likely all but gone in Utah but power forward Millsap could still be in play for Salt Lake City. The emphasis is on third-year player Derrick Favors to take over either at center or power forward for the Jazz so the likelihood is that Utah tries to keep either Millsap or Jefferson.
Over the course of his seven-year NBA career, Millsap has proved capable of being a quality four that can be a key contributor on a playoff squad. There will be plenty of suitors for Millsap on the market this summer but the smart money says Utah does what it takes to bring him back.
1. Josh Smith, Atlanta Hawks (Unrestricted)
2013 Salary: $13.2 million
Clearly the top option at power forward heading into the summer, Smith will have his fair share of options this offseason. While not in the same category as fellow free agents Chris Paul and Dwight Howard, Smith has the potential to be an All-Star level talent on any potential club.
Over his nine-year NBA career, Smith has posted averages of over 15 points and eight rebounds while maintaining an efficient track record as a quality defender. After both Paul and Howard likely re-sign in LA, Smith emerges as the best free agent in the 2013 draft class. For a team needing a key contributor at either forward position, Smith will be the primary option in a potentially deep power forward free agent class.
Non-Guaranteed, Early Termination Option, Player Option and Team Option Notables:
Carl Landry, Golden State Warriors (Player Option):
2013 Salary: $4 million
Option: $4 million
Landry proved just how valuable of a contributor he can be, even in a bench role for the playoff-surprise Warriors this past season. The 29-year old forward led one of the most potent bench mobs in basketball this past season and will likely get a better deal this offseason.
Charlie Villanueva, Detroit Pistons (Player Option)
2013 Salary: $8,060,000
Option: $8,580,000
Villanueva could opt out of over $8.5 million next season. He has been relegated to bench duty over the majority of his time in Detroit.
Honorable Mention:
Andray Blatche, Brooklyn Nets (Unrestricted)
2013 Salary: $854,389
After a rough few years with the Washington Wizards, Blatche bounced back this past year with the Nets in arguably the most productive season of his career. Blatche featured a career-high Player Efficiency Rating of 21.98 after being amnestied by Washington and, at just 26-years old, could be a hot commodity as a bargain free agent.
Earl Clark, Los Angeles Lakers (Unrestricted)
2013 Salary: $1,240,000
At just 25-years old, Clark has shown flashes of being a solid NBA contributor as he continues to develop his game at the pro level. If the price is right, LA will likely be the first team knocking at his door but the Lakers won't be able to match any extravagant offers for the fourth-year player.
Tyler Hansbrough, Indiana Pacers (Restricted)
2013 Salary: $3,055,259
2014: $4,135,000
A solid role player over the course over his four-year NBA career, Hansbrough makes his living doing all the dirty work on the perennial playoff-bound Pacers. Indiana has plenty of decisions to make this offseason, however, with another power forward – David West – also on the block.
Brandan Wright, Dallas Mavericks (Unrestricted)
2013 Salary: $992,680
The former top-10 overall pick proved this past season that he has all the tools to be a contributor on an NBA team. Despite playing behind former NBA Most Valuable Player Dirk Nowitzki, Wright has been a key asset for Dallas and there will be an emphasis on keeping him this summer.
We Want to Know:
Loading ...
Clippers-Celtics Blockbuster Trade Brewing?
There's been plenty of chatter around the NBA over the past few days about a potential blockbuster trade between the Boston Celtics and Los Angeles Clippers. In the speculated deal, the right to hire Doc Rivers (unofficially) and Kevin Garnett would head to the Clippers while DeAndre Jordan, Eric Bledsoe and two first round picks would return to Boston.
Obviously, Rivers wouldn't technically be a part of the deal but the proposed trade would allow the Clippers to negotiate and hire him despite still being under contract with the Celtics.
"I mean, it's not like that's the only team he's coached," former Celtics sharpshooter and current Miami HEAT guard Ray Allen told USA TODAY Sports. "That's part of sports. You look around the league; some of the best coaches have coached in multiple cities.
"I think just leaving the people, the people you've come to know the many years you've been there," Allen explained. "But once you get down to doing your job, no matter where you play in this league the job is the same. You deal with players, you want to get the best out of them and you want to get the organization on the same page so you can help win. That kind of helps keep everything normal because you know what you're dealing with."
The main hold up in the deal is the inclusion of Bledsoe which, if starter Chris Paul were to bolt, would leave LA point guard-less heading into next season. However, if the Clippers believe Paul will indeed come back, and that Rivers' hiring would lead to him staying, the deal could indeed make sense for the Clippers.
Former Clippers head coach Vinny Del Negro is long gone and it's clear that the Clippers need a coach. Rivers could be just what the doctor ordered for a Clippers team in desperate need of a legitimate head coach. If KG is indeed a cog in that scenario, LA may be in better position come next season.
Giving up talents like Jordan (24-years old) and Bledsoe (23) for the likes of a 37-year old Garnett and an already potential head coach in Rivers could be disastrous. The Clippers must believe that Garnett is the missing piece to a championship if they're willing to give up two key young pieces that helped LA to the best season in franchise history. He would also have to agree to waive his no-trade clause.
Either way, this is a potentially pivotal move for a Clippers' squad looking to bolster its championship pedigree. For the C's, the possible infusion of young talent could put this team over the top for a potential playoff bid in 2014.