Nets, Knicks Unlikely to Make Deals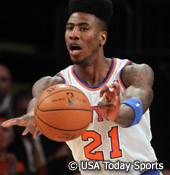 As I've written before, it seems very unlikely that the Nets or the Knicks will be making a move today.
The Brooklyn Nets have seen good things from their bench over the last two games (92 points over the last two contests from the reserves) and any team that really wants rookie point guard Tyshawn Taylor is going to have to aim high. Taylor is an excellent athlete, who might even be a difference maker at some point later on this season. He's already played well in Deron Williams' absence and if the three-time All-Star should suffer another injury, Taylor will be called upon again.
The Knicks, meanwhile, aren't eager to trade Iman Shumpert (understandably) and that's going to cost them at the deadline because other teams aren't interested in anything else general manager Glen Grunwald has to offer.
Unless something dramatic changes in the next two hours, neither the Knicks or the Nets will make a deadline deal.
—Alex Raskin