Nine Trade Exceptions to Expire if Unused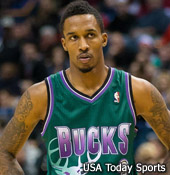 With the February 21 trade deadline less than three hours away, a number of trade exceptions may go unused.
While the actual expiration dates may be later than Thursday, if they expire before the end of the regular season, they become functionally useless.
The following trade exceptions will expire after the deadline if unused:
Denver Nuggets
Nene – $13 million
Milwaukee Bucks
Stephen Jackson – $2.5 million
Brooklyn Nets
Mehmet Okur – $1.39 million
Shawne Williams – $1.38 million
Los Angeles Clippers
Brian Cook – $1.2 million
Memphis Grizzlies
Sam Young – $1.2 million
Los Angeles Lakers
Jason Kapono – $854k
Derek Fisher – $544k
San Antonio Spurs
T.J. Ford – $854k
Additionally, any disabled player exceptions can no longer be used in trade although they can still be used to sign a free agent – including exceptions for the Golden State Warriors' Brandon Rush ($2 million), Lakers' Jordan Hill ($1.78 million), Portland Trail Blazers' Elliot Williams ($721k)  and Minnesota Timberwolves' Malcolm Lee ($381k).
— Eric Pincus