Predicting The Major NBA Awards — Part 2
The NBA offseason is officially over and business has begun for several of the league's teams. It is officially time for the games to begin, though it will be a bit longer before those games actually count.
The Houston Rockets, Indiana Pacers, Los Angeles Lakers, Oklahoma City Thunder, Chicago Bulls and Golden State Warriors have all done their meet-and-greets with the media and the rest of the league will follow suit on September 30.
HOOPSWORLD is following suit as well. In the second part of this two part installment, HOOPSWORLD takes a very early look at some of the candidates that may emerge for this season's Coach of the Year, Executive of the Year and Most Valuable Player Awards, as well as the league's Scoring Leader.
Coach of the Year
Like many of the NBA's postseason awards, predicting a Coach of the Year is quite difficult, mainly because there is no easily discernible metric to determine which coach is "better" than another. In years past, the Coach of the Year Award has been anointed to coaches who have defied expectations, as well as those who have won the most. It is difficult to predict, but there are a few whose odds seem higher than others. There is a reason that this award usually has at least six potential recipients.
3. Mark Jackson (Golden State Warriors): Without lead assistant Mike Malone, coach Jackson will face increased expectations this season with his young Warriors team. With Andre Iguodala added to the team's core and a healthy David Lee returning to action, the Warriors and the Los Angeles Clippers will be the only two teams with a realistic chance of winning the Pacific Division championship. If Jackson continues to inspire and galvanize his young team, there is no reason to believe that the Warriors should not be able to improve upon last season's 47 win total. If that does happen, he would merit serious consideration for the Coach of the Year Award.
2. Frank Vogel (Indiana Pacers): A 49-win season culminated in the Pacers coming within one game of winning the Eastern Conference. Now, with a better reserve unit that should have no problem scoring the basketball, coach Vogel has a complete team that should make noise in the NBA's Central Division. Choosing a winner between the Pacers and the Bulls in the division is a difficult task, because there are still some unanswered questions as to how the young Pacers will respond to having their opposition give them 100 percent effort each night. If the Pacers managed to finish as one of the conference's top two teams this season, Vogel will have a very good chance of being named the Coach of the Year.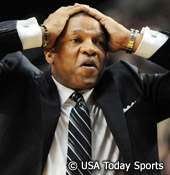 1. Doc Rivers (Los Angeles Clippers): Anyone who has spent time around Doc Rivers knows that he possesses all of the necessary gifts of a talented head coach. Leading the 2008 Boston Celtics to the NBA Championship was no accident. Rivers joins the Clippers and will give them a credibility on the sidelines that the franchise has never had before. Better yet, he has the full support of his star player in Chris Paul, and Paul has a nice collection of teammates which he can gel with. After meshing the collective talents of Rajon Rondo, Ray Allen, Paul Pierce and Kevin Garnett, Rivers should have no problem getting his troops to buy in and successfully challenging Blake Griffin to become a better post player. It is that which will make the Clippers an NBA Finals contender. Rivers is the coach to lead them.
Executive of the Year
With the amount of teams that have improved themselves this past offseason, there will be as many contenders for the NBA's Executive of the Year Award as there will be for the Coach of the Year Award. Honorable mention is due to Dell Demps of the New Orleans Pelicans. The Pelicans have a talented roster with hope for the future but can only get Demps consideration if they battle for a playoff spot. It may be too much to expect that from his young team. The same can be said of Chris Grant of the Cleveland Cavaliers, who led the team's offseason that saw them sign Andrew Bynum, Jarrett Jack and Earl Clark. The Cavs also rehired Mike Brown and are expected to make a playoff return this season. Like Demps, Grant has done an amazing job, but three executives stand above the rest, mainly for turning limited assets and maneuvering abilities into major potential.
3. Neil Olshey (Portland Trailblazers): After missing the playoffs for two straight years, the Trailblazers badly needed an infusion of talent to bolster their underwhelming bench. After adding Mo Williams, Thomas Robinson, Dorell Wright, Earl Watson and Robin Lopez, the Blazers are poised to make a return to the NBA's postseason. Since Olshey was handed the reigns in May, he has assembled a nice cast of supporting players around the team's existing core of Damian Lillard, Wesley Matthews, Nicolas Batum and LaMarcus Aldridge. Last season's 33-win campaign should be a memory by the time April rolls around and Olshey's maneuvering will be the primary catalyst for the Rip City revival.
2. Daryl Morey (Houston Rockets): Morey deserves an immense amount of credit for building the Houston Rockets into a team that many across the Western Conference will fear come playoff time—assuming Dwight Howard remains somewhat healthy. Morey's acquiring of Howard was the culmination of a two-year long process that saw Morey take daring risks in the pursuit of ending the Rockets' perennial love affair with mediocrity. In the end, he succeeded in acquiring Howard and pairing him with James Harden. The supporting cast of Francisco Garcia, Ronnie Brewer, Reggie Williams, Omri Casspi, Aaron Brooks and Marcus Camby should help the existing players from last season's team enter the conversation of contenders this season. Though the Rockets may be a year or two away from winning the conference, they are light years away from where they were before Morey acquired Harden, now more recently, Howard.
1. Billy King (Brooklyn Nets): The Nets willfully traded away an assemblage of future first round draft picks to open up an NBA title window that will stay ajar for three years, at most. The immediate reaction to the blockbuster trade that saw Kevin Garnett, Paul Pierce and Jason Terry move to Brooklyn was mixed, but this award is an annual award. The Nets will have a very realistic shot at winning at Atlantic Division, but will be one of the most feared teams in the league come playoff time. The signing of Andrei Kirilenko and out-of-the-box hiring of Jason Kidd to be the team's head coach are two other moves that helps to solidify King as the most daring—and perhaps intelligent—executives this season. Whether or not the Nets steal the division from the New York Knicks may make the difference here.
Scoring Leader
With Kobe Bryant presumably taking a bit longer to return to form, one of the NBA's top scorers may not be a factor as it relates to winning the scoring title this season. Last season's winner, Carmelo Anthony, may actually be best served by scaling back his scoring and attempting to utilize some of the newfound offensive weapons on his team. It will be interesting to see where Stephen Curry and Brook Lopez end up in the scoring ranks once the season is over. Last season, they finished seventh and 10th, respectively. Aside from them, though, the top scorers in the game will be familiar faces.
3. Carmelo Anthony (SF, New York Knicks): Last season, Anthony became the first Knick to win the NBA scoring title since Hall-of-Famer Bernard King did so in the 1984-85 season where he averaged 32.9 points per game. Although one of the most complete scorers in the league, Anthony would be wise to sacrifice shots and looks to newly acquired teammates Andrea Bargnani, Metta World Peace and even Beno Udrih. All three are productive offensive players in their own right, and if there is one takeaway from the Knicks's second round playoff last to the Indiana Pacers last year was that Anthony, alone, cannot get the Knicks over the hump.
2. James Harden (SG, Houston Rockets): Conventional wisdom would believe that, with the presence of Dwight Howard, Harden's scoring would decrease from the league's fifth-best mark of 25.9 points per game last season. While that seems reasonable enough, Harden will certainly see his efficiency increase. As the number one option in Houston last season, he shot a below-average 43 percent from the field and was the subject of every team's scouting. This season, with opposing defenses unable to focus solely on him, Harden should shoot closer to the 49 percent that he accomplished as a member of the Oklahoma City Thunder during the 2011-12 season. He obviously has the talent to be a prolific scorer. Now, with Howard, his progression is likely to continue.
1. Kevin Durant (SF, Oklahoma City Thunder): The most interesting thing about Durant is that his offensive repertoire is far from complete. At this point, it is fair to say that both LeBron James and Carmelo Anthony have a more extensive array of weapons in their arsenal. Durant's proficiency as a shooter, though, is second to none. The Thunder have lost both James Harden and Kevin Martin, and if they are to remain a contender in the Western Conference, it is Durant who must pick up the majority of the slack. He is quite capable of scoring 35 points per game. Still primarily a perimeter scoring threat, his 51 percent shooting from the field last season was a feat. A hungry superstar who has not hit his ceiling and is being depended upon by his teammates is someone who is poised to win his fourth scoring title in five years.
Most Valuable Player
Derrick Rose, the youngest MVP in NBA history, is set to make his return after missing the entire 2012-13 season. Whether or not he is the same player last seen before tearing his ACL will be one of this season's most intriguing story lines. Rose is the only man not named LeBron James who has been named the league's MVP since 2009. Whether James can continue that type of dominance, though, may largely depend on two of his other peers.
3. Kevin Durant (SF, Oklahoma City Thunder): Fresh off of joining the 50/40/90 club, Durant put together an amazingly impressive season in which he scored 28.1 points, grabbed 7.9 rebounds and dished out 4.6 assists per game. In the playoffs, he upped his assist per game average to 6.3 and is slowly but surely rounding out into one of the most complete players in the NBA. As a rookie, Durant shot just 43 percent from the field and 29 percent from the three-point line. He averaged just 2.4 assists per game. In real life, that was just five years ago, but since then, Durant's game has matured greatly. He will properly be regarded as one of the game's greats if his productivity continues to escalate.
2. LeBron James (SF, Miami HEAT): After winning four MVP Awards in five years, LeBron James has formed a bit of a dynasty. If he managed to win the award this season, it would be the first time since Wilt Chamberlain won his third straight award in 1968 that a player won three consecutive MVP Awards. James would be the first player since Bill Russell to win four MVPs in five years, and the craziest part about it is that nobody would be surprised if he actually managed to do it. James is coming off of what may be the best all-around season of his career, and for someone that quickly entered the conversation of being one of the game's all-time greats, that is saying a lot. Although James' team is facing stiff competition in the Eastern Conference, in all likelihood, the HEAT are headed for a fourth straight conference crown. As usual, he will lead the way for his team and continue to be the game's brightest star. That, though, does not necessarily mean he will have the most inspiring season and earn the balance of MVP votes from those with the power.
1. Chris Paul (PG, Los Angeles Clippers): In 2008, Kobe Bryant was named the NBA's Most Valuable Player. The man who finished second was Paul. Paul led the New Orleans Hornets to a 56-26 record, despite having a relatively weak supporting cast in the tough Western Conference. Since his arrival in Los Angeles, the Clippers have been transformed into a contender and now, this season, with Doc Rivers at the helm and a cast of characters that is as hungry as it is talented, more success awaits. In many ways, picking Paul to win the 2013-14 NBA MVP Award assumes that the Clippers will continue to be one of the more successful teams in the Western Conference and that Paul will rightfully be rewarded for being the catalyst behind his team's success. Unless LeBron James and his HEAT flirt with 30 consecutive wins again, everything seems in line for him to replicate the success he had with the 2008 Hornets and finally capture the MVP Award that barely eluded him many years ago.
With the month of October beginning in just a few days, the tip-off of the 2013-14 NBA season is imminent. LeBron James chases history, Kevin Durant chases immorality and Carmelo Anthony and Derrick Rose chase universal respect.
As always, their respective journeys continue. HOOPSWORLD will be there every step of the way.
Part one of this two-part awards preview was originally published on September 27 and previewed Rookie of the Year, Defensive Player of the Year, Sixth Man of the Year and Most Improved Player. Read Part One here.