Predicting Wins for NBA's Atlantic Division
As we've been doing over the course of the last week with other NBA divisions, we're going to make some predictions about team records in the Atlantic today. So far, we've covered the Central Division, Southeast Division, and Pacific Division, and we'll wrap up the rest of them this week.
We'll start with what should be a pretty interesting divisional rivalry between two New York teams that should be hotter than it's ever been. Here's a look at that and what team records could look like for the Atlantic Division in the upcoming 2013-14 season:
Brooklyn Nets
2012-13 Record: 49-33
Projected 2013-14 Record: 51-31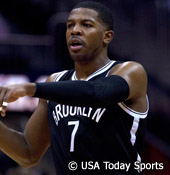 If Brooklyn's starting lineup were Brooklyn's starting lineup five years ago, it probably would've been the best starting lineup in the history of basketball, but a lot of the guys on this roster are veterans on the back nines of their respective careers, which should be an interesting mix with one of the league's youngest head coaches in Jason Kidd at the helm. Deron Williams, Joe Johnson, Paul Pierce, Kevin Garnett, and Brook Lopez represent a whole lot of All-Star firepower (and a whole lot of luxury tax), which makes it very hard to pick any other team to win the division this year.
The schedule is not particularly daunting for the Nets, either, though they open the season against Miami and have four games scheduled against rival New York. There is a six-game road trip in late February, but outside of that they never play more than three away games in a row all season. The 21 back-to-backs aren't fun, and since a majority of them are in the second half of the season it's a fair guess that all these vets will be either banged up or resting for some of them. That's why I've got them at closer to 50 wins next season than 60, but either way, they'll be one of the best teams in the conference, and should have homecourt advantage in the first round of the playoffs.
New York Knicks
2012-13 Record: 54-28
Projected 2013-14 Record: 48-34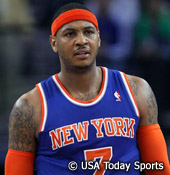 Even though it didn't end in a championship, last season was one of the better ones in New York Knicks franchise history. They won eight of their first nine games and twelve games in a month for the first time since 1994. They also put up a 13-game win streak, the third-longest in team history, and it was their first time winning the Atlantic Division in eighteen years, so they're absolutely building on some serious momentum here. Despite that it won't be easy topping 50 wins and repeating as division champions because 1.) The Brooklyn Nets, and 2.) This isn't the same team as last year.
New additions like Andrea Bargnani, Metta World Peace, and rookies Tim Hardaway, Jr. and C.J. Leslie should keep things interesting, but losing Chris Copeland, Jason Kidd, and a small handful of veteran big men sort of make those acquisitions a wash.
An eight-game home stand about halfway through the season should help New York's cause, but two matchups between the Nets and Knicks in the month of April could decide which of New York state's NBA teams takes the Atlantic Division title.
Toronto Raptors
2012-13 Record: 34-48
Projected 2013-14 Record: 40-42
Under the direction of new GM Masai Ujiri, it's fair to expect pretty major roster changes from the Toronto Raptors over the course of the next few years, starting with this offseason's trade of former #1 overall pick Andrea Bargnani to the New York Knicks. While we can't completely call the move a purge (Toronto did receive Steve Novak and a couple of draft picks for him, after all), it symbolizes the fact that the Raps are ready to dance somewhere in between the playoffs and lottery for the next few years, and that means a whole lot of .500 basketball.
Second-year big man Jonas Valanciunas looks like the real deal, and with Rudy Gay and DeMar DeRozan still employed there is plenty of offensive firepower on this team, but it's hard to consider this group more than a fringe playoff team at this point.
The schedule in 2013 is quite a bit tougher than the schedule in 2014, with a ton of really challenging opponents on deck for the first half of the season. As things thin out in the second half, however, the Raps should creep back closer to .500, and a six-game bump over last year's record seems about right considering the development of J-Val, a healthy Kyle Lowry, and a full year of Rudy Gay.
Boston Celtics
2012-13 Record: 41-40
Projected 2013-14 Record: 29-53
Well, this isn't going to be fun to watch, is it? Paul Pierce, Kevin Garnett, and Jason Terry are all gone, and Kris Humphries, Keith Bogans, and Gerald Wallace don't come anywhere close to replacing their output. Rajon Rondo remains one of the best point guards in the NBA, even without so many of his top scorers, but since he's recovering from ACL surgery back in January, we still don't have any sense of when he may return to the court. One recent report has him out for the first month of the season, which won't do Boston any favors.
The rest of the roster is pretty uninteresting, with the headliners being Jeff Green, Jared Sullinger, Avery Bradley, and rookie Kelly Olynyk. That's not exactly the foundation of a championship team out there in Boston. It will be tough for them to hit 30 wins.
To make things even worse, the team's schedule will be at its toughest while Rondo is out. Boston plays 13 of their first 23 games on the road, which isn't going to make it easy to jump out to a hot start. December gets better, with all but three games taking place at the Garden, but by then it may be too late for them to redeem themselves and make any sort of respectable push towards the postseason.
Philadelphia 76ers
2012-13 Record: 34-48
Projected 2013-14 Record: 18-64
While we're predicting records, he's another prediction, on the house: Philadelphia will be the worst team in the league this year. Every organization in the league won at least 20 games last season, but that's not happening this year with so little talent on this Philly roster. Thaddeus Young and Evan Turner are talented, but if they're your best two players, you're in trouble. Plus, the team's two lottery picks—Michael Carter-Williams and Nerlens Noel—both have their own issue with injuries and inexperience.
This is, quite simply, a roster devoid of talent, which probably is by design so that they can increase their chances of landing Andrew Wiggins next June. In the meantime, though, schedule doesn't really matter in this case; literally every team in the league is better than Philadelphia. It might not be that way forever, especially if they hit home runs with draft picks over the course of the next couple of years, but the short term looks pretty bleak.
Feel differently about any of these predictions? Drop your disagreements in the comments section and add your two cents to the conversation. We'll know how close we got in about eight months, but in the meantime all we can do is guess and then enjoy the process of seeing it all unfold.
Stay tuned to HOOPSWORLD this week for Northwest and Southwest Division predictions.