Predicting Wins for NBA's Northwest Division
Last season the NBA's Northwest Division had two dominant teams in the Oklahoma City Thunder and Denver Nuggets — along with three lottery-bound franchises.
The Thunder should still be the best of the five, but the Portland Trail Blazers and Minnesota Timberwolves may challenge the Nuggets.  Meanwhile, the Utah Jazz are rebuilding.
HOOPSWORLD has covered the Central, Southeast, Atlantic, Pacific and Southwest divisions.  The following is the projected win totals the Northwest for the 2013-14 season:
Oklahoma City Thunder
2012-13 Record: 60-22
Projected 2013-14 Record: 56-26
How much of a factor was Kevin Martin last season on the Thunder?  After trading James Harden to the Houston Rockets last summer for Martin, Oklahoma City won 60 games – looking like the favorite in the Western Conference until Russell Westbrook tore his meniscus in the first round of the playoffs against the same Rockets.
Now Martin is gone and it looks like the Thunder are counting on young players like Reggie Jackson and Jeremy Lamb to carry the load.  Jackson led his summer league squad with 19.5 points a game on 53.8 percent shooting.  Lamb was right behind him at 18.8 a game while converting just 39.1 percent from the field.
The Thunder still need to prove that the Harden gamble was the right move.  If Westbrook returns healthy, Oklahoma City is still the class of the division.
Denver Nuggets
2012-13 Record: 57-25
Projected 2013-14 Record: 46-36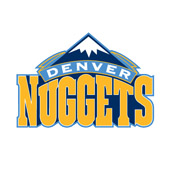 The Nuggets are still going to dominate at home.  That's what they do.
Changing from long-time coach George Karl to Brian Shaw will take a transition period, which will reflect in the win/loss column.  Denver also lost Andre Iguodala — and while Nate Robinson, Randy Foye, J.J. Hickson and Darrell Arthur will help, the team will likely take a step backwards this year.
Danilo Gallinari won't start the season on time with a knee injury, which should give Wilson Chandler the opportunity to be an impact player for the Nuggets.
Last year the Nuggets started slow but were a powerhouse until Gallinari went down — eventually losing in the first round to the Golden State Warriors.
Even healthy, Denver should be even more vulnerable than they were a season ago.
Portland Trail Blazers
2012-13 Record: 33-49
Projected 2013-14 Record: 45-37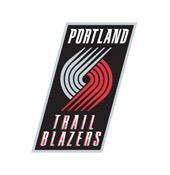 The Blazers had a solid starting group last season but no depth at all.
This summer the team has added on veterans Mo Williams, Robin Lopez, Earl Watson and Dorell Wright along with younger players Thomas Robinson, C.J. McCollum and Allen Crabbe.
Damian Lillard is one of the league's brightest young players at the point guard position and LaMarcus Aldridge may be the top power forward by season's end.
Portland will easily surpass last year's 33-win total, which was skewed by a 13-game losing streak to end (or tank) the season.  The Blazers have a real chance to make the playoffs this year.
Minnesota Timberwolves
2012-13 Record: 31-51
Projected 2013-14 Record: 45-37
The Timberwolves were a good team last year, they were just decimated more than any other by injury.
The team has since re-signed Nikola Pekovic while acquiring Kevin Martin, Corey Brewer, Ronny Turiaf, Shabazz Muhammad and Gorgui Dieng.  If this group stays healthy, they should also compete for a playoff berth.
Only two teams made the postseason in the Northwest last year but it could climb to four this season if the Wolves and Blazers play up to expectations.
It will be interesting to see if Kevin Love can regain his status as All-Star power forward after missing most of last year with injuries.
Utah Jazz
2012-13 Record: 43-39
Projected 2013-14 Record: 23-59
The Jazz are rebuilding and while they have some nice pieces to work with in Derrick Favors, Enes Kanter, Gordon Hayward and Trey Burke, it's going to be a long year.
If Utah is going to lose, this is the year to do it with the talent-rich 2014 NBA Draft.  Gone are Al Jefferson, Paul Millsap and Mo Williams.  Veterans Andris Biedrins and Richard Jefferson were not brought in because of their ability to play – but for the picks that came with them from the Golden State Warriors (along with Brandon Rush, who is talented if he can get return to form after a knee injury).
The Jazz will win some games at home but they'll especially struggle on the road.
Sad to say, but every loss is a win when it comes to counting lottery balls.