Ranking the 2012-13 NBA Small Forwards
Every NBA team seemingly has a "small" and "big" lineup these days, which means small forwards spend nearly as much time at their natural position as they do at power forward or shooting guard.
That would be asking a lot of the following players, but the small forward position happens to feature some of basketball's most versatile athletes. Being a "small forward" can mean just about anything now, which is why ranking the players at the position is more about grading overall impact rather than a specific set of skills.
On Tuesday HOOPSWORLD broke down the NBA's top shooting guards, and today we're moving to the three.
Here are the top small forwards for the 2012-2013 NBA season.
#6 – Luol Deng, Chicago Bulls
16.2 PPG, 6.7 RPG, 2.9 APG, 14.75 PER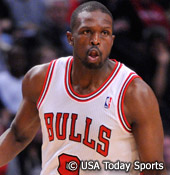 Everyone likes to attribute Deng's success as a defender to his size (6-8) and wingspan, but he's an underrated athlete that actually has the foot speed to keep up with players who are presumed to be more explosive than he is.
And when you look at the rest of the names on this list, it becomes obvious just how valuable Deng is as a defender. Small forward is a big scoring position in the NBA these days and outside of LeBron James and perhaps one or two other players, Deng is one of the position's best defenders.
Offensively, he's still a perfect secondary scorer. Deng is having an off year from 3-point range (30.3 percent entering Tuesday), but he's made over 45 percent of his two-point attempts this season and chances are he'll return to form beyond the arc.
#5 – Paul Pierce, Boston Celtics
18.7 PPG, 6.4 RPG, 4.6 APG, 18.63 PER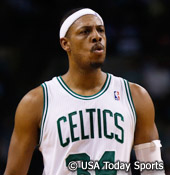 Pierce is undeniably on the way down, but when your plateau was as high as his, the decline is still awfully good.
He can still play defense and is hitting 37.2 percent of his 3-point shots. Pierce's issue this season has been inside the arc, where he's taken only 65.6 percent of his attempts this season (he's hit just north of 47 percent of those shots). In fact, Pierce is averaging career-low 5.2 points per game in the paint, and when you couple that with the fact that he's shooting the fewest amount of free throws per game (5.5) since his rookie year, it seems as though the 14-year-old veteran is settling into a perimeter role.
In any case, the guy still scores, rebounds, dishes and defends. What more can you ask for?
#4 – Paul George, Indiana Pacers
17.6 PPG, 7.8 RPG, 4.0 APG, 17.07 PER
George was good at shooting guard last year, but Danny Granger's injury problems allowed him to move to small forward, where he's far more athletic than the majority of those defending him.
Some may have been surprised to see him selected to this year's All-Star team, which was to be expected. The Pacers are still proving themselves as one of the elite teams in the East and George hasn't played in enough nationally televised games to really have much of a national reputation.
The bottom line is, George can score, defend, handle, pass and rebound and since he's only 22, the 6-9 California native could be doing it for the foreseeable future.
#3 – Carmelo Anthony, New York Knicks
27.9 PPG, 6.2 RPG, 2.7 APG, 22.97 PER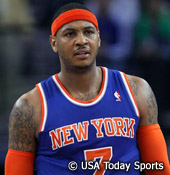 If this article were written at the beginning of the season, we could have included talk of Anthony's improved defense or his unselfishness in switching between small and power forward.
The reality is, Anthony is still a small forward who is a scorer first, second, third and fourth. Yes, he rebounds well, but without a true power forward in the lineup, the Knicks are leaving boards on the table.
At either forward spot, though, Anthony remains one of the toughest covers in the NBA, and that's something you can't take away from him.
#2 – Kevin Durant, Oklahoma City Thunder
28.4 PPG, 7.9 RPG, 4.7 APG, 28.56 PER
If LeBron James is the best player in the world, Durant is the world's best scorer. He's listed at 6-9, but nearly everyone seems to think he's an inch or two taller than that. He's also become a better athlete over the last few years, adding strength and stamina.
This may be Durant's finest season, though. His unblockable 3-point shot has gone in 41.4 percent of the time this season and he's hit 91 percent of his free throws, which is why he's averaging 28.4 points per game. Once again, he's grabbing about eight boards per game, but he's also developing as a passer, averaging a career-best 4.7 assists per game.
If you could choose one player on earth to give the ball to at the end of the game, Durant is as good of an option as you'll find.
#1 – LeBron James, Miami HEAT
26.7 PPG, 8.1 RPG, 7.1 APG, 31.20 PER
Is it possible to be considered the world's greatest player while still being somewhat underrated?
The Kobe-LeBron debate is over, and the only person to really compare James to is Michael Jordan. But what people often overlook about James is that he's arguably the greatest defender in the world. He can defend all five positions, he's strong enough to bang in the paint, he's fast enough to keep up with point guards on the perimeter; and his reputation for chasing down opponents on the fast break is second to none.
There is some debate as to whether or not the HEAT are using him as a small forward this season. He starts at power forward, but that's largely because Miami has gone with a smaller lineup. If Erik Spoelstra had a traditional center to put alongside power forward Chris Bosh, James would be a true small forward.
This season James has finally become an established 3-point shooter, making 40 percent of his attempts through 62 games. His free throw percentage (74.9 percent) could be higher, but that's just nitpicking. James is hitting 55.9 percent of his field goals this season, scoring 26.5 points per game, grabbing 8.1 boards per game and dishing out 7.1 assists per game as well.
And now that he has an NBA Title and a Gold Medal, James doesn't have to hear the word "but" when people describe his accomplishments.
Honorable Mention:
Rudy Gay, Toronto Raptors
17.9 PPG, 6.1 RPG, 2.6 APG, 14.36 PER
Things haven't gone well for Gay this season, but the Raptors show some promise and should be a playoff team next year. The Eastern Conference is in a transitional phase and Raptors could capitalize with Gay leading the way.
Kawhi Leonard, San Antonio Spurs
11.3 PPG, 5.4 RPG, 1.4 APG, 16.04 PER
One of the tougher players to keep out of the top six, Leonard is doing it all for the Spurs. The comparisons to Bruce Bowen are silly because Leonard is an elite athlete. He's already better offensively than Bowen and should eventually become a top defender as well. In fact, he's almost there.
Chandler Parsons, Houston Rockets
15.4 PPG, 5.4 RPG, 3.6 APG, 15.41 PER
Even as a college senior at Florida, Parsons didn't put up numbers like this. A classic late bloomer, Parsons is now a major threat from downtown (39.6 percent accuracy this season) and he's moved his free throw mark to 70.6 percent, which is significantly better than his rookie clip of 55.1 percent. Parsons is also an underrated defender who is adept at turning defense into quick points.
Nicolas Batum, Portland Trail Blazers
15.0 PPG, 5.9 RPG, 4.8 APG, 16.35 PER
The verdict is still out on whether or not Batum is a great defender. The truth is, he's good at a lot of things, but not great at anything. One concern is his turnover rate, which has soared to 13.2 percent this year.
Danilo Gallinari, Denver Nuggets
16.4 PPG, 5.3 RPG, 2.5 APG, 17.13 PER
Gallinari has bounced back from what many would consider an off year in 2011-2012. He's hitting 38.1 percent of his 3-point attempts this year (up from 32.8 percent) and he's still driving to the basket with ease. Like Pierce, Gallinari has the ability to get into the lane without elite athleticism and that bodes well for his future.
Shawn Marion, Dallas Mavericks
11.7 PPG, 7.9 RPG, 2.4 APG, 17.14 PER
Marion's defense isn't what it was a few years ago, but he's still making an impact as a rebounder and occasional scorer. His ability to hit the boards and defend bigger players has made him an excellent companion for Dirk Nowitzki.
Ersan Ilyasova, Milwaukee Bucks
12.1 PPG, 6.5 RPG, 1.7 APG, 17.73 PER
He's hit 43.8 percent of his 3-point attempts this year, and several NBA executives expressed interest in Ilyasova before he re-signed with the Bucks. If he were on the market this summer, it would be very interesting to see what kind of offers Ilyasova would see.
Tayshaun Prince, Memphis Grizzlies
11.0 PPG, 7.9 RPG, 4.7 APG, 12.23 PER
Prince doesn't gamble on defense and he doesn't turn the ball over or take bad shots on offense. Essentially, he's the perfect teammate and at 33, he's still showing signs of life. The shooting-deficient Grizzlies offer a good fit for Prince, who has hit 38.9 percent of his 3-point attempts since the trade.
Evan Turner, Philadelphia 76ers
11.0 PPG, 4.5 RPG, 2.5 APG, 12.18 PER
Turner has quietly hit 37 percent of his 3-point attempts this season, and could continue to improve in that area next year. Defensively, Turner is strong, but not particularly fast, which has been a problem at times. And like departed 76ers swingman Andre Iguodala, Turner is a better passer than he's given credit for.
Danny Granger, Indiana Pacers
5.4 PPG, 1.8 RPG, 0.6 APG, 4.09 PER
He's good, he's hurt; what else can you say? Expect him to move to power forward at some point in his career.
On the Rise: 
Michael Kidd-Gilchrist, Charlotte Bobcats
9.0 PPG, 5.6 RPG, 1.6 APG, 14.23 PER
Charlotte is a good situation for Kidd-Gilchrist because he's been able to play without limitation. He's already a good defender, but any hopes of him developing a perimeter game may be misguided. Bobcats fans should already be recognizing some similarity to Gerald Wallace.
Harrison Barnes, Golden State Warriors
9.0 PPG, 3.9 RPG, 1.3 APG, 10.76 PER
He's been getting valuable minutes on a good team, so Barnes' rookie year has been productive to say the least. The fact that he's defended some of the NBA's elite players is important, even if he hasn't been consistent offensively.
Moe Harkless, Orlando Magic
6.3 PPG, 4.1 RPG, 0.6 APG, 12.54 PER
The time isn't now, but Harkless is an athlete who has the size to be a great defender. Offensively, it's hard to envision what he'll end up being, but that's a problem for another day.
—
Small forwards continue to get bigger and more athletic, which is why this may the the golden age of the position. You won't find Larry Bird or Scottie Pippen, but we're seeing tremendous creativity and versatility from this crop of small forwards, many of whom are under the age of 27. The point is, these players promise to be a great source of entertainment for the foreseeable future.
Cast Your Vote: Click here and
Tweet #players name and the hash tag #dunkuary