Ranking the 2012-13 NBA Point Guards
With only a little over a month remaining in the 2012-13 NBA season, now is a perfectly appropriate time to talk about what has transpired over the course of the year. We here at HOOPSWORLD are going to spend the next week breaking down every major position and ranking the best players at each spot. We'll start today with the league's top point guards and work our way through one position per day until we get to the centers on Friday.
But we are kicking it off with the floor generals, the guys who are responsible not only for scoring points, but for doling at assists, grabbing steals and knocking down threes. These are the quarterbacks of the NBA, and the following six players have been the best of them this season:
#6 – Jrue Holiday, Philadelphia 76ers
18.8 PPG, 8.7 APG, 4.2 RPG, 17.78 PER
It has been an undeniably crummy year for the Philadelphia 76ers, but Holiday really has been their lone bright spot. He was named an All-Star for the first time this winter, due largely to the fact that he's fourth in the league in assists and 14th in the league in scoring, all as a member of one of the least efficient offensive teams in the NBA.
The major hang-up for Holiday, and why he's the only guy in the top six with a PER below 20, is his turnovers. Holiday leads the league in that category with a staggering 4.0 per game, but that's something he can continue to work on. He is only 22 years old, after all, which means he's got plenty of room left to grow. Still, 2012-13 was a breakout season for him, and it's exciting to think that he's only going to get better.
#5 – Stephen Curry, Golden State Warriors
22.0 PPG, 6.8 APG, 4.0 RPG, 20.27 PER
There have been players who have made over 200 three-pointers in a season before (Ray Allen holds the single-season record with 269, for example), but it's rare that guys who drain that high a volume of threes also shoot as high a percentage from out there as Curry has this season. Curry is shooting 44.8 percent from behind the arc, and when you add that to his general scoring abilities, you've got yourself one fine young player. And he doesn't even turn 25 years old until March 14.
That said, he's nowhere near a prototypical point guard. He plays the position because he's too undersized to play the two full time, but his assist numbers are respectable and few perimeter players in the NBA can score the ball like Curry does. We witnessed that very clearly with his 54-point game in Madison Square Garden earlier in the season, and the game before, he hung 38 on the Indiana Pacers. Clearly, this is a young point guard with the ability to score the ball efficiently, and that's what sets him apart from most of his peers.
#4 – Kyrie Irving, Cleveland Cavaliers
23.2 PPG, 5.7 APG, 3.7 RPG, 22.36 PER
Since the moment he set foot on an NBA court, we all had the sense that Irving was something special, but this was the season in which he proved it. Irving surprised some people by winning the three-point contest at All-Star Weekend this past February, but his 41.9 percent shooting from beyond the arc puts him among the league's top fifteen in that category. He's also one of just twelve players this year to shoot 45 percent or better while averaging 15 or more shots per night.
His assist numbers are lower than those of his most reputable counterparts, but he's got the nastiest crossover in the league and is an effective distributor on the drive-and-kick. Let's not underestimate how awful the talent is in Cleveland, too. With better players around him, those assist numbers would almost certainly rise, but even with so little help, Irving has shouldered the load. He's clutch, he's exciting and he's efficient, which is what makes him the fastest-rising star in the NBA right now.
#3 – Russell Westbrook, Oklahoma City Thunder
23.4 PPG, 7.7 APG, 5.2 RPG, 23.83 PER
There are only two players in the NBA averaging at least 20 points, 7 assists, and 5 rebounds, and one of them is LeBron James. That's good company for Westbrook, who seriously improved his assist numbers this season, as a top-tier point guard should. Thunder fans don't buy tickets to games to watch Westbrook pass the ball, however, he's also the top-scoring point guard in the league this year.
He's not always an efficient scorer, but volume shooting for a guy as talented as Westbrook usually means big offensive numbers for the Thunder. There are very, very few players more athletic than him, and if he weren't quite so inconsistent on a personal level, he'd probably leap up a spot on this list. At the end of the day, though, he's the second fiddle for OKC, and the two guys ahead of him here are top dogs. Since the best point guards are the ones that unequivocally lead their team, that's why Westbrook finds himself third on this list.
#2 – Tony Parker, San Antonio Spurs
21.0 PPG, 7.6 APG, 3.1 RPG, 24.39 PER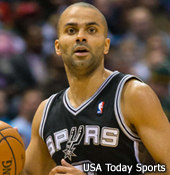 For the second straight year, Parker has quietly put himself into the conversation for MVP, but for the second straight year there's not a prayer he wins the thing. Despite that, Parker has emerged as the Spurs' best player over the last two seasons, and this season in particular has been an especially good one for him.
He's second in the league in field goal percentage (53.3 percent) among players who average 20 or more points per game, 16th in that category overall, and by far the most efficient shooting point guard. The next-best healthy point guard is shooting 5.8 percent worse from the field than him, if that puts things into perspective.
Beyond his shooting, though, Parker has emerged as a brilliant crunch-time decision-maker, and his improved three-point shooting, free-throw shooting and defense have made him one of the league's most well-rounded perimeter players. There's a reason the San Antonio Spurs have the best record in the Western Conference (again), and Parker is it.
#1 – Chris Paul, L.A. Clippers
16.3 PPG, 9.5 APG, 3.6 RPG, 25.99 PER
As easy as it is to gush about Parker, it's even easier to gush about Paul, who earns the top spot on this list primarily because he's turned around the biggest punchline in league history in just two seasons. Vinny Del Negro is the head coach of the Clippers, but Paul does his fair share of coaching on the court, as well, and that veteran leadership and know-how has added a ridiculous amount of value and credibility to a team that, in years past, has been really and truly awful.
It doesn't hurt that he's the league leader in steals (2.4 per game) and assists (with Rajon Rondo out of commission the rest of the year), and that he's the only guard in the league to average 16 or more points per night on 12 or fewer field goal attempts. That all just makes his 2012-13 season all the more incredible.
Whether you're judging him by intangibles or by measurable statistics, Paul is the best point guard in the business.
Honorable Mention:
Deron Williams, Brooklyn Nets
17.8 PPG, 7.5 APG, 3.2 RPG, 18.56 PER
Once among the league's elite, Williams is on the tail end of one of his most disappointing seasons.
Brandon Jennings, Milwaukee Bucks
18.6 PPG, 6.7 APG, 3.3 RPG, 17.10 PER
Jennings has had arguably his best season as a pro in a contract year. Coincidence? Is it ever?
Ty Lawson, Denver Nuggets
17.0 PPG, 7.1 APG, 2.8 RPG, 17.89 PER
One of the quickest players in the league, Lawson is great getting to the bucket at will this season. He made a huge leap this season, and should get even better in 2013-14.
On the Rise:
Damian Lillard, Portland Trail Blazers
18.8 PPG, 6.4 APG, 3.2 RPG, 16.55 PER
Lillard looks like he has Rookie of the Year locked up thanks to clutch shooting, outstanding defense and great maturity as a leader at such a young age.
Jeff Teague, Atlanta Hawks
14.6 PPG, 7.0 APG, 2.3 RPG, 16.58 PER
Atlanta was supposed to be awful this season, but the Hawks have been respectable thanks in large part to their speedy young point guard.
Greivis Vasquez, New Orleans Hornets
13.8 PPG, 9.4 APG, 4.4 RPG, 16.68 PER
No one saw Vasquez as one of the league's top assist men, but he is one of the league's most improved players and should continue to get even better next season.
Kemba Walker, Charlotte Bobcats
17.3 PPG, 5.6 APG, 3.4 RPG, 18.74 PER
After struggling as a rookie, Walker really broke through as the lone bright spot for another frustrating Bobcats team.
Special Mention:
Rajon Rondo, Boston Celtics
13.7 PPG, 11.1 APG, 5.6 RPG
Unquestionably, Rondo is a top-six point guard when healthy, but an ACL tear derailed things for him this year.
Derrick Rose, Chicago Bulls
Ditto for Derrick, except he hasn't even played a single game yet. When healthy, he's one of the best.
There are, of course, several other notable point guards in the NBA, but these are the cream of the crop and the ones worth mentioning as the best in the league this season. Please share your thoughts about these rankings, as well as about which players were left off the list, in the comments section, and make sure you check back on Tuesday for the league's best shooting guards.