The Latest on Iman Shumpert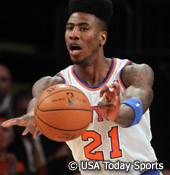 The New York Knicks want to contend for a championship this season. The Knicks have the oldest team in the league, which is why there is a sense of urgency in New York.
That's why Iman Shumpert's name has been surfacing in trade rumors lately. It's not because the Knicks want to get rid of Shumpert; it's because they want to see if there's a deal out there that will get them closer to competing for a title this year. The Knicks have been linked to veterans like J.J. Redick of the Orlando Magic and Jared Dudley of the Phoenix Suns because they are role players who would fit in with New York and have an immediate impact.
Nothing is imminent and it's possible that Shumpert doesn't get moved. However, it's clear that the Knicks are weighing their options.
While Shumpert has played well at times and become a fan favorite in New York, there are some within the organization who believe it would be better to have an experienced veteran in Shumpert's place. There is also some concern that Shumpert may not be 100 percent in time to help the Knicks make the deep postseason run that they're anticipating. Waiting for Shumpert to develop and heal requires patience, which isn't something the Knicks have a lot of right now. Young, rebuilding teams like the Magic and Suns, however, have plenty of time on their hands and would love to have Shumpert.
The Knicks have a tough decision to make. Do they keep Shumpert and develop him over the next few years or do they trade him in for a veteran and go all-in on this season? New York is considering both options right now, which is where the rumors are coming from and which is why they're a team to watch over the next day and a half.
— Alex Kennedy