The Losers of the 2013 NBA Draft
For a draft that generated far less than typical buzz in the days and weeks leading up to it, the 2013 NBA Draft exceeded any and all expectations. There was intrigue and unpredictability right from the very first pick in the first round to the 60th overall selection, with an incredible number of trades sprinkled in just to spice things up a bit more.
And in the immediate aftermath of any draft, we pundits have to preemptively declare winners and losers. Below we examine those teams and players that walked away from last night as the latter.
Cleveland Cavaliers:
Even before David Stern stepped to the podium to announce the Cavs selection, we knew it would be tough for Cleveland to leave the draft with exceedingly high grades.
Some years, winning the lottery nets a franchise-changing superstar like LeBron James or Timmy Duncan. Other years, you end up with Michael Olowokandi or Kwame Brown. The 2013 NBA Draft happened to be one of those lean years where, although there was plenty of depth in the middle, there were no true difference-makers at the top.
The Cavs ended up selecting UNLV's Anthony Bennett. While Bennett is a gifted athlete that possesses undeniable upside, it is difficult to imagine him ever reaching the heights of previous top overall picks. Moreover, power forward (Bennett's natural position) was not a need in Cleveland. They invested a top-four pick on Tristan Thompson just two years ago, and Thompson had begun to shows flashes last season averaging nearly a double-double (11.4 ppg and 9.4 rpg) in just over 31 minutes a night
In addition, if the Cavs were truly enamored with Bennett, could they still have been able to nab him a few spots later if they traded down? A bit of a gamble, and of course they would have needed to find a willing trade partner, but even if they lost out on Bennett, would the drop-off to the next guy on their board have been that steep?
With their second first-rounder, No. 19 overall, the Cavs selected Sergey Karasev out of Russia. Reports on Karasev indicate he is terrific shooter, but may struggle defensively. Cleveland will have plenty of offense, especially with their two new first-rounders running alongside Kyrie Irving, but will they be able to get enough stops?
Nerlens Noel:
Back in January, as the highlights of him sprinting up and down the court at Kentucky played nightly on ESPN, Noel was considered all but a sure-fire lock to go No. 1 overall. Then, even after he tore his ACL, Noel remained near the top of most mock drafts as the big day approached. Most pundits assumed Noel would go No. 1 or, at worst, No. 2.
However, instead of joyful elation to start the night, Noel had to watch with disappointment as five other players got to shake David Stern's hand before he got to strap on his baseball cap and walk across the stage. Then, after learning the New Orleans Pelicans (where he would have been paired alongside fellow Wildcat Anthony Davis) had traded him to the Philadelphia 76ers, Noel, in his interviews with the media, explained how happy he'd be to play alongside a young, stud point guard like Jrue Holiday. Little did he know that Holiday had been shipped south to New Orleans.
Noel will now be saddled with the responsibility of reviving a struggling franchise, after he recovers from ACL surgery (a franchise that dealt with the nightmarish Andrew Bynum knee injury last year).
Philadelphia 76ers:
Here is what we know: Jrue Holiday turned 23 year
s old this month. Last year, as a 22-year-old, he averaged team-highs of 17.7 points and 8.0 assists, and was actually the only player in the entire league to average at least 17 points and 8 dimes. In fact, Jrue was only the second player in 76ers franchise history to average at least 17 and 8 over the course of a full season, joining the immortal Wilt Chamberlain, who matched that feat back in 1967-68.
Here's what we don't know: How good will Nerlens Noel be.
Noel has an enormous upside. As detailed above, he was the presumptive top pick in the (admittedly weak) draft. He was the first collegiate player in 16 years to average 9 boards, 4 blocks, 2 steals and shoot at least 59 percent from the field. However, his offensive game needs a ton of work, and the real question is whether or not his body can withstand the rigors of an 82-game season.
The other huge X-Factor for the 76ers is the first-round pick they plucked from the Pelicans. The 2014 draft will have elite talent at the top, but the selection is top-five protected.
Trading a gifted, young point guard, in a PG-league, is a major gamble by newly installed GM Sam Hinkie. It looks shaky on paper right now, but of course we'll have to check back years down the road in order to pass final judgment.
Charlotte Bobcats: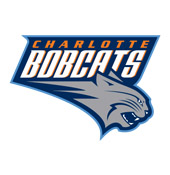 In a draft with very few elite talents, somehow arguably the two most talented players in the draft (Nerlens Noel and Ben McLemore) were still on the board when the Bobcats were on the clock with No. 4 pick.
Instead, Michael Jordan and company selected Indiana's Cody Zeller.
Zeller is a solid prospect who no doubt has a chance to be a good NBA player, but you'd be hard pressed to find a draft analyst who believes his upside is on par with either Noel or McLemore.
Then again, as I tweeted last night: @TommyBeer: If you've seen the jeans Michael Jordan chooses to wear, no decision he makes should be all that shocking….
NBA Fans:
This was David Stern's final draft, as he has only a few months left in his illustrious reign as league commish, which means fans of the NBA are losing one of the greatest commissioners in professional sports history.
Yes, Stern has had his ups and downs (especially in recent years), but the man deserves an immense amount of credit for putting the NBA on the path towards achieving the incredible success and popularity in enjoys today.
Also, jeering Adam Silver on Draft Day won't be nearly as fun as booing Stern…
Iman Shumpert and Norris Cole:
Shump and Cole ranked 1 and 2 in the NBA's Hair Power Rankings all last season.
However, from the looks of it, Nerlens Noel might have topped both of their flat-tops by an inch or two.
And then, Lucas Nogueira got up out of his seat blew everyone out of the water with an afro for the ages…