The NBA Works Hard But Not Smart
It went against everything that was in my nature. The culture I grew up in promised that if a person worked hard, he or she would be rewarded for it.  How could the research be indicating that too much hard work is actually counterproductive?
This protestant work ethic and the stories that drive it are certainly something I have taken to extremes at times in my life only to find out that sometimes the system in which one is working is, for lack of a better way of saying it, rigged. The people at the top are going to get paid while the worker bees do most of the day-to-day work with the promise of a pot of gold at the end of the rainbow. Once those bees get burned out or figure out the jig they are dancing in vain, they are simply replaced by other worker bees who will continue to allow those at the top to get paid.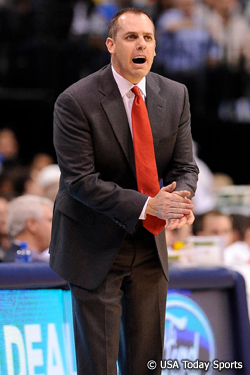 In the NBA, especially in coaching and executive circles, those driving the ship get compensated quite well thus making it hard to call them worker bees. Of course, it's all relative because they aren't making nearly as much as the owners. That said, it's quite common to hear coaches tell stories of 20-hour workdays. A friend of mine who is a recently retired NFL player captured the essence of this perfectly by saying: "If one coach says he works for 20 hours a day, the next coach is going to say he works 21 hours a day and sleeps in his office."
At face value, especially for those of us who were indoctrinated with the aforementioned ideas about what work ethic means, this seems like a good thing. Most of my life I would have looked at coaches who were rumored to sleep in their offices and thought to myself something like, "Wow, those guys are really working hard, and I like that," all while making the inference that such hard work would automatically translate into results.
I am reminded of what a longtime NBA coach and scout that I worked closely with during my tenure in the league used to say about assistant coaches running individual workouts with players prior to the game: "It's all nonsense. You actually think those players are getting better because guys are hitting them with pads while they shoot? What a joke. It's just a way for those coaches to try and justify their existence and all the cash they are being paid."
A popular cliché these days is, "Work smarter, not harder." Though actually putting this into practice will move directly against what most of us were brought up to understand about work and work ethic.
In short, the data tell us that working more than 40 hours a week actually makes us less productive. In addition, it increases burnout, the chances employees will become ill, and negatively impacts social and family life. All of these factors have a negative impact on quality of life and, as quality of life decreases, all of the outcomes that most successful businesses are trying to achieve become less likely.
Today, it has become almost hip to brag about the long hours one works.
"What? You only work 55 hours? Well, I work 60."
No place is this mentality more prevalent than among professional sports executives, scouts and coaches. But why put in all of the extra work if the data indicate it doesn't translate into long-term production?
Perhaps professional sports could learn a thing or two from a company called SAS. The group is based out of North Carolina and creates analytics software. The company also just so happens to own the largest market share of any advanced analytics company in the world. Fair to say it sounds like they are doing okay for themselves.
SAS was also ranked number one on Fortune's Magazine's list of the best companies to work for in both 2010 and 2011 (Google reclaimed the top spot in 2012). So what is it that companies like SAS get right?
To begin, SAS features a 35-hour workweek, which is interestingly the same length it was when the company was founded in 1976. If one is looking at a traditional five-day workweek, that translates into seven hours per day. It also allows employees to work the hours whenever they choose during the day and from home if they so desire. The company also features unlimited sick time, encouraging employees to take care of themselves and their families.
SAS has built onsite workout and health and wellness facilities. In addition, there is onsite daycare so workers can visit their children throughout the day as they please. Finally, there is also a work/life center that can give employees assistance with typical needs such as elder care, parenting or financial and debt management.
Now, for reasons that should be obvious, not every element of what SAS does will directly translate to the NBA or any other professional sport. However, there is a common theme that can be translated to any business: an employee who is well rested, healthy and happy (scores high on measures of well being) is more creative, more productive and more likely to have an overall increase in performance.
The data tell us that having coaches work 20 hours a day isn't good for much of anything in terms of performance and production. Instead, bosses should be encouraging head coaches and their staff to get away from basketball for at least two-thirds of most days. Making sure coaches are sleeping at least seven hours per night, eating well, exercising, engaging in hobbies and spending time with family and friends is crucial.
This sort of wellness plan is really something that all team employees should be doing, but for players, it usually isn't a concern as they have plenty of free time (in truth, maybe a bit too much sometimes causing them to not sleep as much as they should for much different reasons than the coaching staff). It's the coaches and scouts who seem to pride themselves on watching so much film that they can no longer see straight. There is probably nothing worse for cognitive functioning than staring at a screen too long paired with forgoing sleep and exercise.
The goal is to hopefully produce more balanced and healthy people. If this happens, production at any job will follow. Too many coaches and executives in the NBA suffer from what I have coined "corporate anorexia." When most people think of anorexia they think of a form of disordered eating that disproportionately impacts women, and that is absolutely accurate. However, a cardinal feature of anorexia is that a person's sense of self is unduly influenced by body weight, shape and size. With this corporate anorexia, as I have started calling it, a person (who is often male) has his sense of self unduly influenced by what he does for a living.
We live in a culture now that celebrates and reinforces workaholic behavior in men. Fortunately, we have an emerging wave of data that gives us the ammunition to combat strongly held but ultimately false views about performance and productivity. How we get people in professional sports to begin listening could prove to be the true challenge.
Dr. Travis Heath is a psychologist in private practice and an assistant professor of psychology at MSU Denver. He has served as a team consultant in the NBA. He also co-hosts a show on Mile High Sports Radio on Tuesday evenings from 6-7pm. You can follow him on Twitter @DrTravisHeath.