The Truth Behind the Bulls Rumors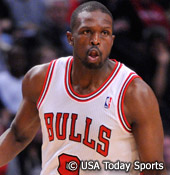 The Chicago Bulls have tried to move up in the 2013 NBA Draft but are finding little interest in a deal that does not include moving a core player. There have been rumors linking Luol Deng to top-tier picks, but Bulls sources flatly deny that a deal involving Deng is in the works.
League sources understand where the denials from Chicago are coming from, but insist that if the right combination of cap clearing and young assets were presented, that Chicago would bite on a deal involving Deng.
The Bulls have a wide range of draft prospects they are interested in. Tim Hardaway Jr. has been locked in to the Bulls at No. 20, however there is a growing belief that Hardaway Jr. might not be there for Chicago and that has prompted them to explore other options including some of the promising bigs on the board.