Top 6 NBA Head Coaches In 2013-14
We ranked the NBA's top point guards, shooting guards, small forwards, power forwards and centers earlier this week. Now, it is time to determine the best head coaches in the league.
Like the players, everyone is sure to believe their own coach deserves recognition. The reality is, while there's no question that each NBA coach understands the game at an extremely high level, there is a significant difference in the way each of them goes about instilling said knowledge into the players. Managing talent, attitude and the tone of the room is also something that clearly goes into working with today's NBA players.
There are some who refuse to place much emphasis on just how important and significant a head coach can be to a team's overall success, or lack thereof. Put simply, there's a reason, well beyond fortune or simple "dumb luck," why men like Phil Jackson and Red Auerbach were able to succeed at such an unparalleled pace. Yes, it helps to have supreme talent at your disposal, but that is far from the end-all, be-all. Certain coaches are able to extract absolutely every ounce of talent from a player through X's and O's, while others are able to press the right button(s) to motivate talent to come together.
It should be noted that coaches like George Karl and Lionel Hollins are currently out of work, otherwise, they may very well have made the list. It also should be noted that we fully expect up-and-coming guys like Monty Williams (New Orleans Pelicans) to make this list in the near future as he continues to experience success with his young, talented Pelicans squad. Intending absolutely no offense to those that are left off, here are our top coaches in the NBA:
Top 6
#6 – Frank Vogel, Indiana Pacers
2012-13 Record – 49-32
Much like his upstart group of players, Frank Vogel flew almost entirely under the radar last season. The longtime assistant for the Boston Celtics, Philadelphia 76ers and Indiana Pacers has improved in each of his three seasons as a head coach. Taking over midway through the 2010-11 season, Vogel has been at the helm of a total resurgence in Pacers basketball. With an improved roster, the Pacers are just at the precipice of success and poised to make a run. They may be the team with the best shot at dethroning the back-to-back NBA Champion Miami HEAT and representing the Eastern Conference in the 2014 Finals.
#5 – Rick Carlisle, Dallas Mavericks
2012-13 Record – 41-41
Even though his Dallas Mavericks failed to qualify for the postseason following an injury-riddled 2012, the former Coach of the Year still deserves some recognition. Several coaches were fortunate enough to have Dirk Nowitzki over the course of his career, but it was Carlisle who found a way win a championship with the 15-year power forward. Following their 2011 NBA title, the Mavericks have experienced their fair share of roster turnover. One thing about Carlisle's teams, even when shorthanded, they are always competitive and the offense is generally above-average.
#4 – Erik Spoelstra, Miami Heat
2012-13 Record – 66-16
"With LeBron James, Dwyane Wade, and Chris Bosh ANYONE can…" Stop me if you've heard this nonsensical, but common narrative during a discussion about Erik Spoelstra in the past. The reality is, while it is certainly easier to win with talent, there are absolutely no guarantees of ultimate success simply based upon names on paper. Phil Jackson dealt with similar criticisms having enjoyed the likes of Michael Jordan, Scottie Pippen, Kobe Bryant and Shaquille O'Neal. While James and the players will reap the lion's share of the credit (as they deserve), Spoelstra has also done a masterful job managing major talent and massive egos to the tune of three-consecutive runs to the Finals with the last two being successful. A job, those that have been there before, will tell you is much more difficult than it appears.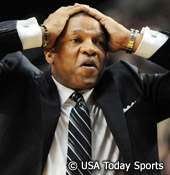 #3 – Doc Rivers, Los Angeles Clippers
2012-13 Record – 41-40 (Boston Celtics)
Doc Rivers went from coast to coast as he leaves the rebuilding Boston Celtics for ironically 'greener' pastures with the Los Angeles Clippers. Rivers has proven he has the ability to motivate players to embrace a team-first mentality. Expect Rivers to bring his brand of misdirection offense full of off-ball screens, backdoor cuts and likely a bit of pick-and-roll to a team oft-criticized for being too predictable and even mundane on that side of the ball in recent years. Clippers fans can only hope Rivers is able to inspire the type of gritty defensive intensity and interior toughness that became his calling-card during his time with the Celtics.
#2 – Tom Thibodeau, Chicago Bulls
2012-13 Record – 45-37
If defensive intensity and toughness are being discussed, then Tom Thiboeau's name, not coincidentally, should be toward the top of the list. In just three years as a head coach, Thibodeau has already amassed 157 regular season victories, at a .683 winning percentage. Impressive, in its own right, but even more significant when you take into consideration the fact that Derrick Rose has missed a combined 109 regular season games over the past two seasons. Regardless of the stakes and circumstances, Thibodeau demands the type of hard-nosed and intense basketball that truly makes the Bulls seem in contention at all times. With a healthy and returning Rose, Thibodeau finally has his floor general back, and the Bulls should once again be considered contenders.
#1 – Gregg Popovich, San Antonio Spurs
2012-13 Record – 58-24
The two-time NBA Coach of the Year may have come up short in the most recent Finals, but is second-to-none in terms of this list. Whether you question his in-game interviews or his decisions to rest his players throughout the regular season, the one thing you cannot question is just how much success Gregg Popovich has enjoyed with the San Antonio Spurs. In fact, outside of his first year as head coach (1996-97) where the injury-plagued team only managed to go 17-47, Popovich has never dipped beneath a .610 (50-32) winning percentage in a single season. With four titles in five runs to the Finals over a 16-year career, Popovich's resume speaks for itself, even if he refuses to.
Honorable Mention:
Mark Jackson, Golden State Warriors
2012-13 Record – 47-35
When the Golden State Warriors decided to hire a first-time head coach in Mark Jackson, it was met with plenty of raised eye brows and questions about the direction the franchise was headed. When the Warriors went just 23-43 in his first season, let's just say, it did very little to silence any of his doubters. After a 47-35 season and just the franchise's second playoff series win in over the last 22 years, the narrative has now shifted to just how good can Jackson's Warriors be? With the recent addition of free agent Andre Iguodala to go along with an incredibly talented young core led by Stephen Curry and Klay Thompson, needless to say, the expectations for Jackson have skyrocketed by comparison to where they once were.
Mike Woodson, New York Knicks
2012-13 Record – 54-28
Over the first four years of Mike Woodson's head coaching career, he compiled a 106-222 win-loss total with the Atlanta Hawks. Over the last four years, two with the Hawks and two with the New York Knicks, Woodson's teams are 172-98. Woodson was also able to guide the Knicks to the second round of the 2013 playoffs, a feat that escaped the seven coaches prior to his hiring. Those seven coaches, by the way, include the likes of Mike D'Antoni, Isiah Thomas, Larry Brown and Lenny Wilkens.
Rick Adelman, Minnesota Timberwolves
2012-13 Record – 31-51
A classic case of not judging a book by its cover. It's very easy to question Adelman's name being listed amongst the NBA's best coaches with a .378 winning percentage at first glance, but if you've followed his career, then you know Adelman has experienced above-average success when he's had the horses to run with. His "Corner" offense, or strong remnants of it, can be seen throughout the league. Ideal for teams with shooters and big men that can pass, opposing teams have been utilizing Adelman's offensive schemes for years. Adelman has also done an incredible job getting everything out of some injury-depleted rosters. It would certainly be nice to see what a healthy Kevin Love and Ricky Rubio could do within his system for a full season.