Top 6 NBA Shooting Guards In 2013-14
Continuing last year's theme, we are ranking the top six players by position, and determining who will be the best at each of them. HOOPSWORLD'S Joel Brigham broke down the point guards on Monday, and today we will be breaking down the league's best shooting guards.
For the record, Andre Iguodala is reportedly moving back to small forward with the Golden State Warriors, even though he played primarily at the shooting guard position for Denver in 2012-13. We're also going to classify Paul George as a small forward until Danny Granger is officially cleared and back on the court. As for the rest of the list, last year's results will be taken into account along with a projection of what to expect for the upcoming season. Narrowing down lists of this nature is nearly impossible, so bear with us. If you'd like to chime in, feel free to drop in a question or comment in our daily chat sessions. Without further ado, here are the Top 6, followed by a few Honorable Mentions:
The Top 6:
#6 – Klay Thompson, Golden State Warriors
2012-13 Stats: 16.6 ppg, 2.2 apg, 3.7 rpg, 12.71 PER
After nearly doubling his rookie-year productivity in his second season, Klay Thompson is poised to potentially take another step forward in the progression of his game. Alongside Steph Curry, Thompson is a part of one of the better three-point shooting backcourts in recent history. Thompson also has a pretty good first step when he decides to attack, but doesn't always finish in traffic. Will elevate himself into "elite level" status if he can continue developing his mid-range and confidence when in traffic. Defensive statistics don't always denote the true impact of a player, as is the case with Thompson. Not only is he a "willing" defender, but he isn't afraid to mix it up with the elite guards of the league. He just does it quietly, and without an overabundance of emotion.
#5 – Joe Johnson, Brooklyn Nets
2012-13 Stats: 16.3 ppg, 3.5 apg, 3.0 rpg, 14.14 PER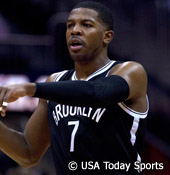 Joe Johnson was less of the "iso-Joe" he was often described as in Atlanta for the Brooklyn Nets in 2012-13. As he ages, he becomes a bit more reliant upon the outside shot. Even though his shooting percentage dipped to its second-lowest point since his sophomore year in the league (.423 percent), with even more talent, not to mention veteran leadership on the current roster in the form of Kevin Garnett and Paul Pierce, Johnson should see a resurgence in his efficiency numbers. First-year head coach Jason Kidd is a none proponent of the Princeton offense, so expect to see more and more of Johnson off backdoor cuts and mid-post screens for open jumpers as Kidd continues to install his preferred offensive sets.
#4 – J.R. Smith, New York Knicks
2012-13 Stats: 18.1 ppg, 2.7 apg, 5.3 rpg, 17.67 PER
Attempt to place aside opinions and/or feelings about pictures of J.R. Smith in the club partying with Rihanna during the postseason when actually judging his game. Smith is always going to be a bit of a free spirit, but he seemed to finally put it all together on the court in 2012-13. Buying into the sixth-man role head coach Woodson asked him to embrace, Smith turned in the finest season of his nine-year career, and did it in a contract year. Cashing in to the amount of a three-year, $18 million contract (initially reported as a four-year, $24.7 million deal), Smith is set to continue blossoming as Carmelo Anthony's scoring wing-man once he returns from knee surgery. Although expected to be out for 3-4 months, barring any setbacks, Smith should return for the start of the season.
#3 – Dwyane Wade, Miami Heat
2012-13 Stats: 21.1 ppg, 5.2 apg, 5.0 rpg, 24.04 PER
Prior to last season, Wade would have still been in the top two players at the position. His slight slippage is absolutely to no fault of his own, as even though his body started breaking down towards the end of the season, Wade still played some excellent ball during the 2012-13 campaign. What may be most impressive about Wade's maintained excellence is the seamless transition he made from being the main contributor, threat, and target to being willingly relegated to a secondary role in support of his teammate LeBron James' greatness. Not only does Wade's willingness to cast aside his ego in favor or success continue to impress, but his ability to find his spots and moments to impose his will and still be productive is pretty inspirational. Once upon a time, Kareem Abdul-Jabbar stepped aside (figuratively) for a budding superstar in Magic Johnson, as did David Robinson for Tim Duncan, just as Duncan did for Tony Parker. Wade's willingness to adapt and desire to succeed helped him remain a champion.
#2 – James Harden, Houston Rockets
2012-13 Stats: 25.9 ppg, 5.8 apg, 4.9 rpg, 23.00 PER
Whether you 'fear the beard' or the faux-hawk fade, if you're a fan of the shooting guard position then you have to appreciate the development of James Harden's game in just four short years in the NBA. Harden was seen as a bit of a "tweener" as he was entering the league, but quickly displayed the type of refined all-around game and playmaking ability that has become an unfortunate rarity in today's NBA. There really aren't any "holes" in Harden's game, as he ranges from good to very good in just about every category. Harden can hit from beyond the arc, has a mid-range game, and actually led the league in free throw attempts in 2012-13 while shooting .851 percent. While several players on this list are on the backside of their careers, Harden will only be 24-years-old when the season begins, and is expected to be at or near the top of rankings of this nature for years to come.
#1 – Kobe Bryant, Los Angeles Lakers
2012-13 Stats: 27.3 ppg, 6.0 apg, 5.6 rpg, 23.10 PER
Every time you want to say, "Kobe Bryant is now entering his __the year and has over 54,000 combined regular season and playoff minutes on his body, surely, he's taken a step back," you run the risk of making yourself look foolish in a basketball discussion. Even as we head into the 2013-14 season with Bryant's physical status unknown as a result of a torn left Achilles he suffered in April of this year, you can only presume Bryant will find a way to return with a vengeance, yet again,  just as he seemingly always has found a way to in the past. While he clearly isn't what he once was from an athleticism standpoint, Bryant prides himself on utilizing external motivators and challenges. It will be interesting to see how this injury impacts his lateral foot-speed, as his one-time world-class defense had already taken a couple understandable steps back.  Bryant's will and grit have generally been enough to earn this top spot, but the added motivation of doubters and a key off-season disappointment will undoubtedly provide the extra motivation he'll need to continue defying the odds, his age, and all forms of common sense.
Honorable Mention:
Monta Ellis, Dallas Mavericks
19.2 ppg, 6.0 apg, 3.9 rpg, 2.1 spg, 16.30 PER
Ellis will never lack confidence, evidenced by not only his playing style, but also his third-person comparison of himself and Dwyane Wade. It will be interesting to see how the new-look Dallas Mavericks put things together, and how Ellis fits in with an aging Dirk Nowitzki.
Eric Gordon, New Orleans Pelicans
17.0 ppg, 3.3 apg, 1.8 rpg, 1.1 spg, 15.43 PER
Very interesting year coming up for Gordon. Looked as though he was in great shape when in attendance at Summer League (Las Vegas), and reported as much as well. He'll be paired in the backcourt with new teammate Jrue Holiday. They could be a very formidable tandem if Gordon can stay healthy, and find a way blend with the addition of Tyreke Evans along the perimeter.
Manu Ginobili, San Antonio Spurs
11.8 ppg, 4.6 apg, 3.4 rpg, 1.3 spg, 19.05 PER
Ginobili may have run himself down, and even admittedly considered retirement by the end of the Finals, but still found a way to play one of the more efficient games at his position in 2012-13. Having just re-signed for another two seasons, coach Popovich is sure to monitor and even limit his minutes over the course of the season. Expect Ginobili to find a way to maintain his all-around contributions at a high level as he enters his 19th season of professional basketball (12 in the NBA).
Jamal Crawford, Los Angeles Clippers
16.5 ppg, 2.5 apg, 1.7 rpg, 1.0 spg, 16.89 PER
The "honorable mention" section is specifically for players that have the ability to go off for 25-30 on a given night, but for various reasons have not been or are no longer able to consistently accomplish the feat at this point. Jamal Crawford's selection may surprise some, but he is definitely still a player that can get hot and put up big numbers from a reserve role.
DeMar DeRozan, Toronto Raptors
18.1 ppg, 2.5 apg, 3.9 rpg, .9 spg, 14.81 PER
DeRozan has morphed into the NBA's version of "out-of-sight, out-of-mind" even as a good, young scorer. Once GM Masai Ujiri is able to find the right mix to surround DeRozan and the team is able to get back to the winning side of things, expect to hear more about and from DeRozan.