Top 6 NBA Small Forwards In 2013-2014
The two best players in the NBA are small forwards, which makes the latest list in our ongoing series of positional kingpins particularly interesting. There is plenty of top-notch talent here, even on the honorable mention list, but that's the kind of thing that makes for some great debate. As always, hit up the comments section with disagreements and disputes, and if you missed them earlier this week, check out our list of the Top 6 Point Guards and Top 6 Shooting Guards.
For today, here are the Top 6 Small Forwards in the NBA: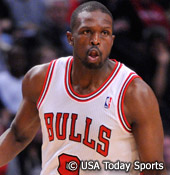 #6 – Luol Deng, Chicago Bulls
2012-2013 Stats: 16.5 ppg, 6.3 rpg, 3.0 apg, 1.1 spg, 15.1 PER
Unless they return some sort of massive haul, the Chicago Bulls are never trading Luol Deng. He's the longest-tenured player on the team, a captain, a defensive anchor and an absolute iron man. He has averaged 39.1, 39.4 and 38.7 minutes per game in the last three seasons since Tom Thibodeau took over as head coach, and for the last two years, that equated to more floor time than anybody else in the league. He's a stellar defender, an excellent teammate and an underrated shooter. It wasn't his best season from a PER standpoint, but he's always one of the steadiest at his position and should be again this coming year.
#5 – Josh Smith, Detroit Pistons
2012-2013 Stats: 17.5 ppg, 8.4 rpg, 4.2 apg, 1.2 spg, 1.8 bpg, 17.7 PER
In Atlanta, Smith played power forward more often than he did small forward, and there's a strong chance that he plays plenty of power forward in Detroit, as well. However, he is the likely starter at small forward for the Pistons this year, which should give them one of the best defensive frontcourts in the NBA. Smith had his lowest PER since 2008-09 last season, which is obviously discouraging, but he very well could be the Pistons' best player next year, giving him a great opportunity to have a more efficient season. Whatever he does offensively, he'll still be among the best defensive players in the game.
#4 – Paul George, Indiana Pacers
2012-2013 Stats: 17.4 ppg, 7.6 rpg, 4.1 apg, 1.8 spg, 16.8 PER
It will be interesting to see how the new, All-Star version of Paul George interacts with Danny Granger, who will return to Indy's starting lineup this year after missing almost all of last season due to injury, but there's really no question at this point that George is the best player on the team. With Granger on the floor, he's going to play a lot of shooting guard, but last year's Most Improved Player has the size and skill set of a three, and he's still young enough and talented enough to improve a whole lot more in the coming years. In the playoffs, he averaged 19.2 points, 7.4 rebounds and 5.1 assists, which shows he's not just good, but good when it matters. There's no way Indy lets him slip away as a restricted free agent next summer since he is the future (and present) of this franchise.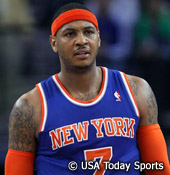 #3 – Carmelo Anthony, New York Knicks
2012-2013 Stats: 28.7 ppg, 6.9 rpg, 2.6 apg, 24.8 PER
The easiest way to summarize Anthony's amazing season last year would be to say that he finished it with a career-high PER (a full 2.5 points better than his previous best four years ago) and that he won the scoring title. Such sober words do nothing, however, to encapsulate the excitement this guy generated by absolutely exploding offensively in April to steal that scoring crown away from Kevin Durant. In his last eight games of the season, Anthony failed to score over 30 points just once, and only had two games with fewer than 36 points. The first three games of that month, Anthony averaged 43.7 points per game. What really pushed Anthony up a level in the NBA's small forward pecking order, though, was his improved defense and reduced turnovers. He'll be right up there with the other big guns again this year.
#2 – Kevin Durant, Oklahoma City Thunder
2012-2013 Stats: 28.1 ppg, 7.9 rpg, 4.6 apg, 1.4 spg, 1.3 bpg, 28.3 PER
We learned two things about Kevin Durant in this last year's playoffs: he has a hard time shouldering the weight of a team without Russell Westbrook, but he's also even more statistically dominant without his point guard on the floor with him. Oklahoma City was booted from the postseason in the second-round without Westbrook, but Durant averaged 30.8 points, 9.0 rebounds and 6.3 assists in his absence. Those all top pretty incredible regular season numbers that helped Durant finish with the second-highest PER in the entire league – thanks in part to career-highs in assists, FG% (.510) and 3PT% (.416) – and they punctuate just how deadly an offensive machine this guy really is. He'll be thrilled to get Westbrook back out there, and he'll maybe even win an MVP trophy and/or a championship someday. There's just one guy standing in his way.
#1 – LeBron James, Miami HEAT
2012-2013 Stats: 26.8 ppg, 8.0 rpg, 7.3 apg, 1.7 spg, 31.6 PER
In the biggest "no duh" that you'll probably experience reading these rankings all week, James takes the top spot among small forwards. Not only is he a reigning two-time NBA champion, Finals MVP and regular season MVP, but his PER was a full three points ahead of the league's second most efficient player (Durant) and five ahead of the third most efficient (Chris Paul). He is, simply put, the most dominant player in the game of basketball today, and literally nobody else could top this list. He's not just the best small forward in game; he's the best player in the game, period.
Honorable Mention:
Paul Pierce, Brooklyn Nets
2012-2013 Stats: 18.6 ppg, 6.3 rpg, 4.8 apg, 1.1 spg, 19.1 PER
Like he has done every year over the course of his long and storied career, Paul Pierce had another great season in 2012-13, leading the Boston Celtics in scoring and helping push an aged roster to the playoffs without Rajon Rondo. In Brooklyn, though, there is a lot more star power and fewer points to go around. Expect a bit of a dip in Pierce's production this coming year.
Shawn Marion, Dallas Mavericks
2012-2013 Stats: 12.1 ppg, 7.8 rpg, 2.4 apg, 1.1 spg, 18.0 PER
Last season, Marion posted his highest PER since 2007-08, but he enjoyed that individual success on a pretty ho-hum Mavs team that didn't even make the playoffs. They've got even less of a chance at postseason glory next spring, and Marion isn't getting any younger.
Danilo Gallinari, Denver Nuggets
2012-2013 Stats: 16.2 ppg, 5.2 rpg, 2.5 apg, 16.7 PER
Before bowing out to injury last season, Gallinari put up career-high per-game averages in points and rebounds, and even posted his best-ever season PER. He's a gem offensively and is better on the defensive end than you might expect, but he's not quite among the league's upper crust at his position just yet. He'll have to get himself fully healthy from that partial ACL tear before he even re-enters the conversation for Top 6.
Andre Iguodala, Golden State Warriors
2012-2013 Stats: 13.0 ppg, 5.3 rpg, 5.4 apg, 1.7 spg, 15.2 PER
For years, Iguodala was the best player in Philadelphia, which allowed him to do a whole lot more statistically than he did with the significantly more talented Denver Nuggets last season. That may help explain why he posted his lowest PER since his second year in the league, but whatever his numbers may be in Golden State, he'll really help that team find a defensive identity.
Nicolas Batum, Portland Trail Blazers
2012-2013 Stats: 14.3 ppg, 5.6 rpg, 4.9 apg, 1.2 spg, 1.1 bpg, 15.7 PER
Last season, Batum's assists skyrocketed; his previous career-high in his first four seasons was 1.5 assists per game, which he more than tripled in 2012-13. That really rounded out his game, making him one of the best up-and-coming small forward prospects in the league.
Kawhi Leonard, San Antonio Spurs
2012-2013 Stats: 11.9 ppg, 6.0 rpg, 1.6 apg, 1.7 spg, 16.4 PER
Another of the best up-and-coming small forward prospects in the league is Leonard, who posted solid regular season numbers but really came out of his shell in the 2013 playoffs, where he averaged 13.5 points and 9.0 rebounds. This coming season will be his third in the league, and that's a great time for a player this good to go from "pretty good" to "borderline All-Star."
Rudy Gay, Toronto Raptors
2012-2013 Stats: 18.2 ppg, 6.1 rpg, 2.7 apg, 1.5 spg, 15.6 PER
Yes, he's overpaid, but the Raptors love him and are going to give him every possible opportunity to prove himself as one of the league's elite scorers. After the trade last year, Gay averaged 2.2 more points and 0.5 more rebounds in two fewer minutes per game. In other words, he got better as soon as he became a Raptor, and Toronto hopes to see more of the same in his first full year with the club.
There are, of course, many more really promising small forwards in the league, but these are the best of the best for the upcoming season. We'll look into power forwards and centers tomorrow and Friday, so stay plugged in for those, and make sure you comment or hit me up on Twitter to continue the debate.