Tyreke Evans and the Big Easy Renaissance
Down in New Orleans, with a roster featuring young studs and hope for the future, the Pelicans hope to soar through the sky and take flight.
Like a phoenix, the franchise hopes to collectively rise from the rubble of dashed opportunities and disappointment left in the wake of Chris Paul's departure.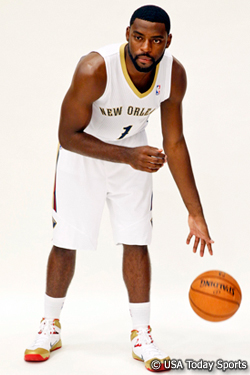 On this stage and under these circumstances, Tyreke Evans is poised for a reemergence.
Though no longer branded the Hornets, a buzz surrounding this team remains. From Baton Rouge all the way to Biloxi, it emanates.
He is a major reason why.
After four mostly uneventful years in Sacramento that were marred by consistent losing and nagging injuries, for the first time in his career, Evans enters the season without the weight of a franchise solely on his shoulders.
He will enter the season merely being asked to be himself and to love the game—two mandates made easier by the fresh air that a move to an exciting new situation creates.
In the Big Easy, Evans hopes for a big revival.
During his introductory press conference back in July, Evans was his normally quiet and soft spoken self, but he could not help but to fidget in his seat, nestled between general manager Dell Demps and his new head coach Monty Williams.
"I'm glad to be here," Evans said with a smile. "It's been a great process for me. I made a new start in my life, a new home, so I'm happy to be here and excited to get started."
And the city of New Orleans is excited to see how it all plays out.
With a quick first-step, the size of a shooting guard, strength of a small forward and ball handling ability of a point guard, he took the NBA by storm back in 2009, winning the Rookie of the Year award after becoming just the fourth freshman in history to average 20 points, five rebounds and five assists per game.
The other three are fully anointed basketball royalty: Oscar Robertson, Michael Jordan and LeBron James.
Whether that was a blessing or a curse is yet to be determined. But at this point, it is fair to question whether that was too much, too soon for the young Evans.
After such an impressive debut, the expectations followed. The Sacramento Kings hoped for their own renaissance, led by Evans, but myriad factors preempted those grand visions.
Now, three years later, after seeing his numbers steadily decline, Evans—along with Milwaukee Bucks guard O.J. Mayo—has become this generation's epitome of the plight of premature expectation.
For Evans, after all those years in Sacramento, all those changes, all the uncertainty, a liberating cross-country move was not only welcomed, but needed.
When Commissioner David Stern called his name on draft night four years ago, there was a fair amount of analysts that expected him to rise up and emerge as the top guard in an impressive class that includes James Harden, Ricky Rubio, Stephen Curry, Ty Lawson and, his new teammate, Jrue Holiday.
After one season, that projection seemed at least reasonable, if not factual.
But things quickly changed.
Since his rookie year, Evans' overall productivity has diminished considerably, as has his perceived value. In the end, unwilling to match the Pelicans' offer of four years and $44 million, the Kings accepted a package built around Greivis Vasquez in return.
For the Kings and their new ownership group, what is next remains to be seen.
But for Evans, a new beginning awaits.
In Sacramento, he never got what a young player needs to excel in the NBA. A non-exhaustive list would include strong leadership from both the front office and the head coach, veteran players to instill good work habits, a vision for the future, optimism that bright days await and a feeling of belonging.
More than anything else, a young player needs a coach who is willing to push him in practice, challenge him and his securities and hold him accountable. In a way, coaches should be parents, not friends. And in today's NBA, where the head coach has become just as disposable as a fast food container, that culture seldom exists.
In Sacramento, Evans was caught up in a whirlwind of factors outside of his control that made it nearly impossible to enjoy sustained success.
Not long after he became a King, the franchise was caught up in the midst of a tumultuous and sometimes contentious ownership struggle between the team's immediately preceding ownership group, the city of Sacramento and, sometimes, the NBA itself.
After hiring Mike Malone this past offseason, the team now has its fourth head coach since drafting Evans back in June 2009. His predecessor, Keith Smart, was a firm believer in DeMarcus Cousins and altered his offensive scheme to utilize the big man more. The emphasis on the mercurial but talented Cousins, along with the head coaching changes, robbed Evans of the luxury of continuity.
Not long thereafter, his shot opportunities decreased.
Throw in a few bouts with the injury bug and, voila, the product is underwhelming results.
Since playing 72 games in his rookie year, Evans has managed to only play 57, 63 and 65 games in the 2010-11, 2011-12 and 2012-13 seasons, respectively. From plantar fasciitis, to ankle and knee issues, Evans seemed a step slow last season and resembled a shell of the rookie that had the Kings believing that the franchise had found its savior.
Now, after four years and at just 24 years old, a fresh start awaits in New Orleans.
With a solid foundation that includes both Eric Gordon and sophomore Anthony Davis, Evans will join Holiday—his draft mate and friend—in forming one of the more impressive four-man cores of sub-25 year olds across the entire league. Although Gordon has been battling his own injury issues since being traded to New Orleans back in 2011, all indications are that he is healthy and able to fully contribute.
The biggest question that will remain unanswered for the foreseeable future is whether or not Holiday, Gordon and Evans can coexist. All three have excelled in the NBA as ball-dominant perimeter players, so adjustments will be necessary all-around.
One question to which the answer is already known, though, is whether or not Evans is better off now.
He certainly is.
With his versatility, whether or not Evans starts is immaterial. He will likely spend time as the team's point guard, shooting guard and small forward, in spurts.
Coach Williams said as much, noting Evans' versatility as one of the main reasons why the Pelicans were immediately smitten with his potential acquisition.
With a four-year deal, a new lease on life and a collection of teammates that Evans himself wanted to unite with, his personal renaissance is set to begin.
"It's always important that we not only bring in talent like Tyreke, but that we have somebody who wants to be here," Williams said on the day Evans was announced as a Pelican. "That's something that's paramount to me as a coach. He's not somebody we have to continue to sell on why to come here, he wants to come here and that spoke volumes to me."
In fact, it speaks volumes to everyone.
With a clean-shaven face, on draft night in 2009, Evans spoke of John Calipari and his development as a prospect while at the University of Memphis.
Now, four years later and fully bearded, next to his new coach in his new home, he appeared and sounded wiser.
"I just want to fit in," Evans said.
Liberated and free.
Ready for a new season. Ready for a new beginning.
Ready for his personal renaissance.