Weekly Salary Cap Update: Market Drying Up
As the list of available, quality free agents dwindles, so too are the number of teams with spending power.  Free agency is a wild ride in the first few days and weeks of July — but as August nears, the action slows to a crawl.
Cap Teams
Philadelphia 76ers – $16.1 million in maximum cap space
Milwaukee Bucks – approximately $8.3 million
Atlanta Hawks – $6.2 million
Utah Jazz – approximately $3 million
Cleveland Cavaliers – $2.5 million
The Philadelphia 76ers are sitting on a ton of space, with no head coach and seemingly no desire to chase free agents.
The Sixers have up to $16 million in space and are $13.2 million under the league minimum salary of $52.8 million.  Once draft picks Nerlens Noel (6th) and Michael Carter-Williams (11th) sign their deals, Philadelphia will still stand about $7.8 million under the floor — suggesting they may be open to taking on other team's salary dumps (in return for draft considerations).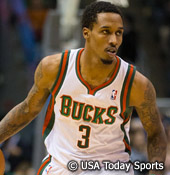 The Milwaukee Bucks just spent on Gary Neal and Miroslav Raduljica.  The numbers haven't come in yet, but the Bucks could have about $8.3 million in space, depending on how much the pair will be paid for the coming season.  That number would drop by $.5 million if Brandon Jennings, arguably the biggest restricted free agent left, signs his qualifying offer.
While the Bucks don't have a lot of committed salary, even without Jennings they'll near the floor once they sign rookie Giannis Antetokounmpo since the amnestied salary of Drew Gooden ($6.7 million) counts towards the league minimum.
The Atlanta Hawks can still spend about $6.2 million.  They've got DeMarre Carroll waiting to sign once the cap is spent, via the team's $2.7 million Room Exception (RE).
The Utah Jazz had $4 mil in space before spending on summer-league standout Ian Clark — leaving in the neighborhood of $3 million in cap room (followed by their RE).
The Cleveland Cavaliers have yet to sign draft picks Anthony Bennett (1st) and Sergey Karasev (19th), taking up the rest of the Cavs space.  Unless Cleveland waives the non-guaranteed salary of C.J. Miles, they're spent — although they still have their RE.
The Charlotte Bobcats have used their space (if they keep Jeff Adrian's non-guaranteed salary).  The used their RE on Josh McRoberts.
The Dallas Mavericks have used their RE on Wayne Ellington and are now over the cap.  Brandan Wright was signed for $5 million for the upcoming season via Early Bird Rights.  His cap hold was just $884,293, enabling the team to sign him for a bigger deal once they used their space.
If the Phoenix Suns keep P.J. Tucker, they're over the cap but still have their RE.  As the Luis Scola deal showed, Phoenix may be willing to send out veterans (Caron Butler, Marcin Gortat, etc.) for picks and/or young players.
The Detroit Pistons, Houston Rockets, New Orleans Pelicans, Portland Trail Blazers and Sacramento Kings have all used their cap space but have their REs available.
Some Spending Power
Oklahoma City Thunder – $5.15 Mid-Level Exception (MLE), $2 million Bi-Annual Exception (BAE)
Memphis Grizzlies – MLE, BAE less Mike Miller and Jamaal Franklin
Orlando Magic – $2.7 million MLE, BAE
Indiana Pacers – $2.2 million MLE
Toronto Raptors – BAE
Minnesota Timberwolves – $650k MLE, $516 BAE
San Antonio Spurs – $650k MLE
The Oklahoma City Thunder have 15 players including three who are non-guaranteed.  At $500k below the luxury tax threshold, it's more than likely the Thunder will stay under.  They can still use some of their primary spending exceptions without hitting the tax, but they would need to cut non-guaranteed players in the process.
The Memphis Grizzlies are expected to sign Mike Miller.  They just inked rookie Jamaal Franklin with part of their MLE.  The exact numbers haven't come in yet, which makes it tricky to gauge if the Grizzlies will come from $69.6 million (before Miller and Franklin) to the $71.75 million luxury tax threshold.
The Orlando Magic spent a portion of their MLE on Jason Maxiell, leaving $2.7 million (and their BAE).  The Magic still have some decisions to make with Hedo Turkoglu and Al Harrington.  Only $6 million of Turkoglu's $12 million is guaranteed.  Harrington can be cut as well with just $3.6 million his $7.1 million guaranteed.
The Indiana Pacers used a portion of their MLE on Chris Copeland, leaving $2.15.  The Pacers used their BAE on C.J. Watson — locking in a hard cap.  Indiana is still about $2.7 million, so there's some room to spend if needed.
The Toronto Raptors have a hard cap but gained flexibility when they amnestied Linas Kleiza and bought out Marcus Camby.  Now if the team spends their BAE, they should still be able to stay out of the tax altogether.
The Minnesota Timberwolves spent on Corey Brewer and Ronny Turiaf but have a tiny bit of spending power with parts of their MLE and BAE still available.  The most the Wolves can do at this point is over-compensate a rookie or two.  Minnesota has a hard cap but should be comfortably under the limit — even after they lock down Nikola Pekovic (one of the few-remaining restricted free agents).
The San Antonio Spurs have 14 players under guaranteed contract and just enough money to overpay a rookie with what's left of their MLE.
Spent, Non-Tax Teams
The Denver Nuggets, Golden State Warriors and Washington Wizards, all with hard caps, have used their free-agent exceptions and appear ready for the season.  Technically the Warriors still have $50k of their MLE and $16k of their BAE remaining.
Tax Teams
Brooklyn Nets – $30.5 million over, $87.2 million tax
New York Knicks – $14.4 million over, tax $27.3 million
Miami HEAT – $9.9 million over, $16.1 million tax, $3.2 million Taxpayer MLE
Chicago Bulls – $7.1 million over, $11.3 million tax
Los Angeles Lakers – $5.7 million over, $8.7 million tax
Boston Celtics – $783k over, $1.2 million tax, $2.7 million MLE, BAE
Los Angeles Clippers – $613k over, $852k tax
The Brooklyn Nets have 15 players and a $189.4 million payroll with tax.  That's impressive.  They're also paying $4 million this year for Travis Outlaw, who is on the Sacramento Kings (amnestied by the Nets).
The New York Knicks used to always be a top payroll team but in recent years.  Gradually they shed bad contracts and got under the cap.  Now they've got the second-highest payroll in the league.  Can they turn that into substantial playoff success?
The Miami HEAT are patiently waiting on their $3.2 million Taxpayer Mid-Level Exception for a quality free agent that will help them compete for a third-straight title.  In the meantime, they're arguably the only team getting their money's worth out of their luxury-tax spending.
Unless the Chicago Bulls are making a big move with Carlos Boozer, Luol Deng or Taj Gibson, they're going to be a tax team this season.  Chicago has used their spending power but can flesh out the end of the roster with minimum contracts.
The Los Angeles Lakers are over the tax by just Lakers over tax by $5.7 million, which is remarkable considering how far the team would be over the tax had they kept Metta World Peace and re-signed Dwight Howard (think Brooklyn Nets).
The Boston Celtics have 15 guaranteed players, which doesn't bode well for Shavlik Randolph who is the 16th (and non-guaranteed).  Assuming he's cut, the Celtics are just slightly over the tax which could mean a player like Fab Melo or Jordan Crawford could be shopped to help Boston get under.
Kris Humphries can probably be had with his team-high $12 million, expiring contract.  Boston has a hard cap but (without Randolph), they have some breathing room.  If they want to spend the $2.7 million left of their MLE (or BAE), they're going to have to start by opening up a roster spot.
The Los Angeles Clippers have never paid the luxury tax before but at about $72.4 million with 13 players, it seems inevitable.  A Willie Green trade to a team with cap space or a trade exception could help get the team under before the end of the season.  If not, the Clippers may finally be a taxpayer.