What Kings Should Do With Seventh Pick
The Sacramento Kings are in the lottery again, but have a new era beginning this offseason. It's now set that the team will remain in Sacramento, so now attention has shifted to improving the roster and giving the people of Sacramento a team they can believe in. HOOPSWORLD asked their writers to debate over who the team should take with the seventh overall pick in the 2013 NBA Draft:
Draft Trey Burke
Burke is one of the better players in this draft class, but there's a strong possibility that he'll be around at No. 7 because most of the teams picking higher than the Kings either have a point guard of the future or bigger needs to fill than the one. If Burke is available when Sacramento is on the clock at seventh overall, he would be the best pick.
The Kings need proven winners, and that's what Burke has been his entire life. Before Burke became a household name at Michigan, he impressed those in basketball circles because he won the 2009 AAU U-16 Championship and the 2009 Division I State Championship in Ohio. After his successful high school career, he made his way to Michigan where he turned the Wolverines into a winner, culminating in the team's trip to the national championship game this past season despite being one of the youngest teams in the country.
Burke is an excellent leader and he makes the players around him better. He also has an unwavering competitive nature. During the draft combine in Chicago, he was asked how he would handle all of the losses that he'd have to experience during his rookie season with a lottery team, but Burke refused to believe that he couldn't turn his team into a winner right away. He had the same attitude as a high school senior when he vowed to become Michigan's starter from day one and fill the shoes of Darius Morris, who had just left for the NBA. He did exactly that and returned the program to prominence.
There are some questions about Burke's size and athleticism, but these are the same criticisms that he has been facing his entire life. There were a lot of college programs that doubted Burke and decided not to make him a scholarship offer, yet Burke had an outstanding collegiate career and made all of those schools pay for overlooking him. Last year, he showed every college what they missed out on by winning every National Player of the Year Award (AP, NABC, Naismith, Robertson, Sports Illustrated, Wooden), the Bob Cousy Award (given to the nation's best point guard), Big Ten Player of the Year Award and NCAA All-Tournament Team honors.
The Kings have Isaiah Thomas, who has exceeded all expectations and outperformed his draft position, but there's some doubt within the organization if he'll be the team's point guard of the future. When the Kings signed Aaron Brooks last offseason, they wanted Brooks to compete for the starting job with Thomas. That obviously didn't work out, but it shows that team is open to making an upgrade at the position.
If Burke falls into the Kings' lap at No. 7, they'll have a hard time saying no to him since he has such an impressive resume and proven track record.
- Alex Kennedy
Draft Anthony Bennett

Led by a new ownership group intent on reinvigorating the franchise, the Sacramento Kings enter the summer of 2013 hoping to change the losing culture surrounding this once prominent team. Sacramento hasn't won more than 34 percent of their contests in a season in over five years and will have plenty of decisions to make in both free agency and the draft this offseason.
First up on the Kings' agenda will be to target the best option at number seven overall in the 2013 NBA Draft. Last year, Sacramento swung and missed with the fifth overall pick in the 2012 Draft, trading away Thomas Robinson just halfway through his rookie year. That deal with the Houston Rockets netted the Kings forward Patrick Patterson but it's still uncertain as to whether he's the answer at the four position.
One possibility at seven, should he slip that far, would be UNLV power forward Anthony Bennett. Labeled by many as the top power forward available in the upcoming draft, Bennett possesses all the physical tools to succeed at the NBA level.
Bennett has the tools offensively to score in myriad ways, whether it's with his back to the basket, facing up on the perimeter or even draining three-pointers from the outside. This versatility on the offensive end would go a long way in opening up his prospective frontcourt partner, center DeMarcus Cousins on the block.
The 6-foot-8 forward could also get a shot at playing the three in the NBA, another area where the Kings need reinforcements with John Salmons entering the twilight of his career. Featuring uncertainty at both forward positions, Bennett's selection would provide Sacramento flexibility moving forward as the team tries to fight its way back to respectability.
- Derek Page
Draft C.J. McCollum
The Sacramento Kings are entering a new era with completely new ownership, management and coaching staff taking over. It's particularly tough to project what they are going to do because there is still no general manager in place or any real feel for what ownership wants to do with the pieces that are already in place.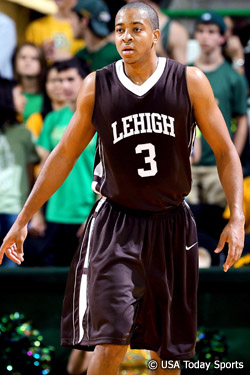 When new management is officially in place, the entire roster will be assessed and the direction they go in the draft will be determined by who they want to pick. If they want to ship off DeMarcus Cousins, then going big makes the most sense. Alex Len or Cody Zeller may not be as physically gifted as Cousins, but they would be decent replacements considering the circumstances.
However, given how rare of a talent Cousins is, I'm going to assume that they hold onto him at least another year and see how he reacts to the new environment forming around him. Tyreke Evans on the other hand, though, could be gone.
With Evans' departure looking probable, combo guard C.J. McCollum would be a great investment for the Kings. McCollum is somewhat of an unknown commodity. He put in three and a half incredible seasons at Lehigh, but when you play on a stage that small the recognition doesn't come at the same rate it would at a high-major program.
The recent success of fellow small school prospects like Stephen Curry, Damian Lillard and Larry Sanders makes drafting McCollum in the top ten really easy despite the fact that he's unproven against elite competition. McCollum would bring great character, versatility and an explosive offensive skill set that the Kings could really use.
The issues that the Kings have had with Evans, who is a tweener in a similar mold to McCollum, should not scare them away because not only is McCollum a different player, but the situation is going to be far different and much more stable.
- Yannis Koutroupis
Draft Shabazz Muhammad
There are more than a few people pining for the Sacramento Kings to jump all over Trey Burke should he still be available when they pick seventh overall in the 2013 NBA Draft, but it's a sad reality that Sacramento already has way more scoring guards than they know what to do with.  Even if Tyreke Evans heads somewhere else as an unrestricted free agent this summer, they're still looking at a backcourt that features Isaiah Thomas, Marcus Thornton, and Jimmer Fredette, so while Burke may be better than the whole lot of them, the bottom line is that they've got a stable of undersized shooters already.
You know what they don't have?  A serviceable small forward.  Shabazz Muhammad would be an ideal addition for a squad that's been looking to add a quality three for a few years now with very little success.
One thing Muhammad can do is score the ball; he averaged 17.9 PPG as a freshman at UCLA last season, and that's definitely his selling point as he goes through his workouts the next few weeks.  That's the thing about Shabazz—the kid can absolutely sell himself, and he carries himself like a star and like a brand better than anybody else in this draft class.  That's the kind of likeable player the Kings need to pair with the often-surly but undeniably talented DeMarcus Cousins. Burke could be a star, too, but it might not happen as quickly with so many players at his position vying for minutes.
Muhammad doesn't exactly have a clear past himself, but he's the kind of likeable star that a franchise can build around.  Sacramento's new ownership needs a winner right off the bat, and Muhammad is about as good a shot as they're going to have at that picking seventh in this draft.
- Joel Brigham