What Timberwolves Should Do With Ninth Pick
Stuck in mediocrity for the last several seasons, being too good to land the top overall pick but not good enough to crack the Western Conference's top eight, the Minnesota Timberwolves brought back the last man to guide them to the playoffs: Flip Saunders. Only this time, he's serving as the general manager rather than the head coach. Poor drafting was the previous regime's undoing, so it's important for Saunders and his crew to select some impact players because patience is wearing thin in Minnesota. With that said, HOOPSWORLD writers debate over who the Timberwolves should take ninth overall in the 2013 NBA Draft:
Draft Cody Zeller
Despite featuring one of the most talented rosters in the NBA this past season, injury issues derailed what could have been a promising season for the Minnesota Timberwolves. Kevin Love was out for most of the year while potential free agent Nicola Pekovic and other key contributors missed time due to injury.
The Timberwolves will almost assuredly extend the over $6 million qualifying offer to Pekovic, thus making him a restricted free agent this offseason. However, another team could swoop in and offer the young center an offer Minnesota simply can't afford to match. Love also has been rumored to be on the move, as the disgruntled All-Star has become frustrated and voiced his displeasure publicly with the Timberwolves' struggles.
If that is indeed the case, the 2013 NBA Draft features one of the deepest center classes in recent memory. The most athletic big man in the 2013 NBA Draft class, Indiana center Cody Zeller, could be the best bet to replace Pek if Minnesota feels retaining the 27-year old is unlikely.
Zeller blew scouts away in athletic drills at the NBA Draft Combine less than a month ago, thus increasing his already lofty draft stock. The 7-foot center broke the record for the highest standing vertical leap at the combine and could be snatched up before the T-Wolves pick at number nine. After averaging 16.5 points and 8.1 rebounds per game for the Hoosiers this past season, Zeller was already expected to be a top draft pick and his stock has only increased over recent months.
Minnesota has plenty of decisions to make in the frontcourt with the futures of both Love and Pekovic uncertain but the selection of Zeller could give the T-Wolves leverage moving forward.
- Derek Page
Draft Shabazz Muhammad
What the Minnesota Timberwolves would love to have out of this draft class is a starting shooting guard who can be groomed to be part of the core group for years to come. Unfortunately, unless they find a way to move into the top five, there won't be a player like that on the board when they pick at nine. With that in mind, Minnesota is more likely to be looking at best available, and the best player likely to be available at nine is UCLA forward Shabazz Mohammed.
There are a lot of questions surrounding Mohammed, and they aren't just about his age. His transition offense was highly suspect at UCLA, where he was in just the 39th percentile this season, and his man-to-man defense ranked in the 50th percentile. That doesn't bode well for his rookie year in the NBA, where he will primarily play man-to-man defense.
It's difficult to assess exactly what the Timberwolves need based on last season because they lost a ridiculous number of games to player injury. They were one of the worst defensive teams in the league, and Mohammed did rank in the 74th percentile while defending in a zone. He was also remarkably efficient in cutting to the basket for easy buckets (88th percentile) and was solid on the offensive glass, ranking in the 62nd percentile in put-backs.
The best-case scenario for Minnesota is to move up and grab the shooting guard they truly need, but if they stand pat at nine it seems likely that they would take a long, hard look at Mohammed. The next three picks are likely to be front court players, and the Timberwolves are set in the front court.
- Bill Ingram
Draft C.J. McCollum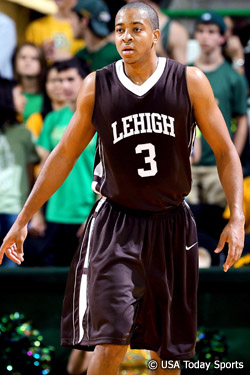 If C.J. McCollum is on the board when the Minnesota Timberwolves make their selection, he would be the no-brainer pick.
McCollum may go higher to a team like the Detroit Pistons at No. 8, but if he's on the board, Minnesota would be getting the best scoring guard in this draft, which is exactly what they need.
Last summer, the Timberwolves were hoping that Brandon Roy could make a successful NBA comeback and be their long-term answer at two-guard. They were hoping that Roy could play in the backcourt alongside Ricky Rubio for years to come. However, we all know how that worked out. Now, Roy has been waived, may retire and Minnesota is once again looking to fill their hole at shooting guard.
McCollum is a bit of a tweener at a little over 6'3, but he would complement Rubio well in the backcourt. While Rubio is more a facilitator who struggles to shoot the ball, McCollum is a terrific scorer with arguably the best shot in this draft class. He can play both guard positions and he could be Minnesota's long-term solution at shooting guard.
The only reason Minnesota should go in another direction is if McCollum is off the board.
- Alex Kennedy
Draft Alex Len
The Timberwolves have two major areas of weakness that they need to address: the shooting guard and center position. This is one of the best center classes to come along in terms of depth in quite some time. As the Timberwovles' luck would have it, the second deepest position is probably shooting guard so regardless of which route they decide to go with their lottery pick, odds are there's going to be a pretty promising prospect available at the position they didn't address with their late first round pick.
According to all reports, the Timberwolves are going into free agency planning to match any offer that restricted free agent Nikola Pekovic receives. Pekovic was one of their best players this season and has the skill set of a upper-tier center, which aren't easy to acquire. So, Minnesota should look to bring him back at almost any cost, but they also should prepare for losing him by drafting Alex Len.
Drafting Len would help ease the loss of Pekovic if he were to get away, but he would also serve as a really quality backup for him. Backing up Pekovic would probably be idea for Len early on as he adjusts to the NBA game and adds the muscle he needs to in order to hold his own against the grown men who patrol the paint in the NBA.
As a true back-to-the-basket scorer, Len could be used in a similar way to Pekovic. In time, some believe he could end up being the best player in this draft class. He does have that kind of potential, we just didn't see him tap into it consistently at Maryland, but that could have had a lot to do with the system he was playing in and the supporting cast he had. With Ricky Rubio setting the table for him and Kevin Love drawing away so much attention, Len will find himself single covered more in the NBA than he did in college basketball last season.
Going big early won't keep the Timberwolves from being able to address their need at shooting guard as well. Late in the first round there will be plenty of fine two guards for them to consider, including Glen Rice Jr., Tim Hardaway Jr. and Ricardo Ledo.
- Yannis Koutroupis