What's Next For the Chicago Bulls?
The Chicago Bulls were never really a serious title contender this year, not without Derrick Rose, who missed the entire season rehabbing a torn ACL. But with Rose back in the fray, and with uber-coach Tom Thibodeau at the helm squeezing every last drop of effort out of every player on his bench, Chicago should be right back among the Eastern Conference's best teams next year.
However, that is not a given, as the Bulls' lineup will undergo some pretty major changes this offseason. As with any team, they'll address their needs through the draft on June 27th, free agency in July and possibly even some trades along the way. Here's a look at what's next for the Chicago Bulls:
The Draft
It seems pretty obvious at this point that Chicago is going to do one of two things with their 20th overall pick in this draft: select either a big man or someone with the ability to knock down outside shots.
The Bulls are not good at scoring in the paint; Carlos Boozer is more of a spot-up four than a banger and the other post players (Joakim Noah, Taj Gibson) are not exactly dominant forces down low.
Meanwhile, Marco Belinelli never quite had the same effect from deep that Kyle Korver once had and Richard Hamilton hasn't been healthy in three years, so perimeter scoring is something the team will need to address this offseason as well.
Knowing that, there are several players the Bulls are likely to target with their pick this month:
Kentavious Caldwell-Pope – More and more often, Caldwell-Pope is mentioned as a borderline lottery selection, but were he to drop to Chicago at pick No. 20 he would definitely give the Bulls some much-needed depth at shooting guard. He's a natural scorer and can hit threes, and outside of Ben McLemore and Victor Oladipo, he's probably the most talented shooting guard potentially available to Chicago in the draft.
Gorgui Dieng – Dieng is a defensive stud, but he's older than a lot of the players in this draft and is still pretty unpolished despite his age. He hasn't done well in workouts and so could slip to Chicago two-thirds of the way through the first round, and that could be the kind of thing that finally helps the Bulls get over losing Omer Asik to free agency a year ago.
Steven Adams – Like Caldwell-Pope, Adams seems to have played himself into the lottery, but should he tumble, he'd be an excellent backup center for Noah. He's a true seven-footer with raw skills but loads of talent on the offensive end of the floor, and he'd have plenty of time to develop behind Noah.
Jeff Withey – Coming out of Kansas, Withey has the pedigree to play for a tough coach like Thibodeau, and he's one of the better defensive centers in the draft. He can rebound well, score reasonably efficiently around the basket and work hard enough to keep his new coach happy. He's not one of the most athletic players available, nor does he have the highest ceiling, but he's a typical Thibodeau player and could really be a good fit.
Tim Hardaway, Jr. – A solid deep threat, Hardaway has been very impressive in workouts and is definitely on the Bulls' radar at this point in the process. He projects to be a better pro than college player, but even at Michigan we saw flashes of a player that could have quite a bit of success at the next level.
Jamaal Franklin – While he isn't a great three-point shooter, Franklin is an instinctive scorer and works his rear end off. He'd be a great fit under Tom Thibodeau and would have no problem finding minutes as rookie for a team that values the kind of work he puts into the game.
There are a lot of options for Chicago at pick No. 20, but one of the above players seems most realistic for the actual selection. Count on it being a big guy or a shooting guard that has what it takes to play his rear end off for Thibodeau.
Free Agency
With the first-round pick (should they keep it) and eight other players under contract next season (Rose, Boozer, Noah, Gibson, Luol Deng, Jimmy Butler, Marquis Teague and Kirk Hinrich), the Bulls already are going to have over $74 million in salary commitments on their books. Knowing that, and knowing that the team begrudgingly paid the luxury tax for the first time in franchise history last season, they aren't going to head into this offseason looking to blow a ton of cash, especially not with a rosy cap outlook for 2014 that would potentially allow them to chase bigger fish when that mammoth of a free agency class becomes available in another 12 months.
That said, the Bulls do have those aforementioned holes at backup center and shooting guard, and whatever they don't address in the draft they'll have to address in free agency. What they address in free agency, however, is probably going to come from the bargain bin. Nate Robinson and Marco Belinelli are likely gone, but those guys are replaceable, even with the limited funds the Bulls will have to replace them.
Because they're in luxury tax territory again next season, the Bulls won't have access to the full midlevel exception, and they used their biannual exception last year to sign Belinelli. That means the best they'll be able to offer a free agent this summer is the $3 million mini midlevel exception available to tax-paying teams, and the number of top-tier free agents willing to take that kind of cash is pretty minute.
But that doesn't mean the Bulls won't have options with that kind of money to spend. They'll almost certainly be priced out of players like O.J. Mayo and Tony Allen, but someone like Chase Budinger or even Kyle Korver could potentially be had in that price range. Both players are excellent three-point threats, and Korver in particular is ideal because he already knows the system and the organization having played there only a year ago.
Big men should be available for $3 million or less, too, as long as the Bulls don't mind bringing aboard older players. As they proved with Nazr Mohammed last season, they're absolutely not afraid of doing precisely that.
Jermaine O'Neal had a respectable season in Phoenix this year, but that's because their training staff is the best in the league. Under Thibodeau's grueling demands and Chicago team doctors that push injured players to play through the pain, he might not make it through a full season. Samuel Dalembert may be a better option with his defense and rebounding, but both players are reasonable options for Chicago to consider since they'll need three to six more players to round out their roster.
Possible Trades
Of all the ways in which Chicago could potentially improve this offseason, trades are the least likely route they'll go about it. The fact of the matter is that the Bulls' best trade assets are not available for anything but All-Star talent, and their other trade assets simply aren't anything other teams are all that interested in acquiring.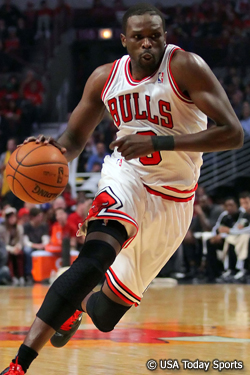 The aforementioned "best" trade assets would include the draft rights to Spanish League MVP Nikola Mirotic, as well as a potential future lottery pick owed by the Charlotte Bobcats, and Deng's expiring contract, but Chicago isn't exactly itching to move any of those pieces. They value Deng very, very highly, and considering he's led the league in minutes for two years in a row, Thibodeau seems to value him quite a bit as well. He anchors Chicago's defense, has been named to the All-Star team two years running and along with Rose is one of the most important leaders on this team. Worst-case scenario, he's an expiring contract that gives them cap flexibility in 2014, so moving him would have to return a big-name talent a la Kevin Love. Anything short of that, and Chicago isn't moving Deng. The same can be said for Mirotic (whom they have huge plans for), that Bobcats pick, and probably Butler, as well.
Teague could be had, as could Gibson for the right offer, but nobody wants anything to do with Boozer's contract, and he's really the player the team would most like to offload. Anyway, what would these players realistically return from other teams? None have value high enough to dramatically improve the Bulls via trade, which is why it seems more likely than not that Chicago just keeps them all and hopes for the best in 2013-14.
If we're being completely realistic, Chicago's situation right now isn't all that bad even if they don't do anything dramatic this offseason. Chicago was a five-seed last season and won their first-round playoff matchup with the Brooklyn Nets, all without Rose. Getting him back is a major offseason acquisition in its own right, and a starting lineup featuring him, Butler, Deng, Boozer and Noah is definitely one of the best in the conference. Bringing Hinrich, Gibson and a first-round pick off the bench isn't bad, either.
Knowing they're already in pretty good shape, it seems most likely that Chicago looks at this season as an opportunity to grow from within, not from without. They'll make their draft pick and sign enough players to fill out the roster, but if they end up with more wins this year than last, it will be because of Rose.
If they fall short again next postseason, then it will be time to start evaluating more dramatic changes, and 2014's free agency crop will make that an ideal time to consider bigger moves. For now, though, what you see is what you get, and that's more than enough to get excited about the Bulls in 2013-14.