Where Do the Knicks Go From Here?
In many respects, the 2012-13 campaign represented a significant step forward for the Knicks franchise. They captured the Atlantic Division crown for the first time since 1994; they notched over 50 wins for the first time since 1997; and won a postseason series for the first time this century. With momentum on their side, and an optimistic, energized city cheering them on, the Knickerbockers marched into the playoffs with substantial expectations.
However, the Knicks were swatted back down to earth by Roy Hibbert and the Indiana Pacers in the Eastern Conference Semifinals. The Pacers series exposed a number of fatal flaws that had been bubbling beneath the surface for some time. After the final buzzer ended a bitterly disappointing defeat in Game 6 at Indiana, the hand-wringing began in earnest in NYC.
What's next for the Knicks?
The good news for New York is that they proved they are likely only a few small pieces away from being legitimate contenders.
The bad news for the New York is they far above the salary cap, which greatly hinders their ability to acquire the pieces they need.
Players Under Contract
The Knicks have nearly $74 million in salary committed to eight players next season. The majority of that sum is allotted to Amar'e Stoudemire ($21.7 million), Carmelo Anthony ($21.5 MM), and Tyson Chandler ($14.1). After those three, four other veterans (Jason Kidd, Raymond Felton, Steve Novak, and Marcus Camby) are all set to earn between $3.1 and 4.3 million next season.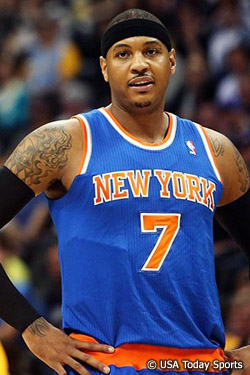 Thus, the Knicks will be well above the salary cap before they even consider signing (or re-signing) any free agents. Furthermore, if they bring back J.R. Smith – likely in the neighborhood of $5 million (we'll get into that later) – they will likely exceed the tax "apron," which will further limit GM Glen Grunwald's ability to make moves. Per the new CBA, teams above the apron can not bring in players via sign-and-trades (which was how Grunwald was able to circumvent the cap issues last season, obtaining both Raymond Felton and Marcus Camby in sign-and-trade deals).
Essentially, the only means by which Grunwald can sign any player to more than a minimum-level contract is via the tax-payers mid-level exception (the so called "mini-MLE" will likely land around $3.8 million), and Grunwald has hinted he may use that exception to re-sign Chris Copeland and Pablo Prigioni.
The most depressing and distressing aspect of the Knicks many cap concerns is the amount of money they have tied up in injured and/or ineffective players. Consider this: Kidd, Camby, Novak, and Stoudemire are owed more than $65 million dollars combined over the next two seasons; and each of these four players averaged fewer than four points per game during the 2013 playoffs.
Significantly improving the roster through a standard trade is also unlikely because the only players under contract that have genuine league-wide value right now are Carmelo Anthony, Iman Shumpert, and Tyson Chandler.
Melo isn't going anywhere, and trading Shumpert would be the equivalent of robbing Peter to pay Paul. Shumpert was inconsistent at times coming back from knee surgery, but showed flashes of incredible brilliance in the postseason; in fact, he was the best player on the floor at times. He was also the only player on the playoff roster under the age of 27. Shump is a player Grunwald and company would like to build around, not trade away.
Tyson Chandler, who was awarded the Defensive Player of the Year in 2011-12 and was just recently named to the 2012-13 and First Team All-Defense, would undoubtedly draw interest if the Knicks put him on the market. However, Chandler was shockingly and thoroughly dominated by Roy Hibbert in the conference semifinals. Consequently, if the Knicks attempted to trade Chandler now, they would be selling dangerously low. When healthy, Chandler is an incredible defensive force, and was arguably the Knicks MVP during his first year in New York. The Knicks finished last season ranked third in the NBA in Offensive Efficiency (behind only the Miami HEAT and OKC Thunder); however, New York was below average defensively. It is difficult to picture a scenario where trading away (especially at a discount) one of the league's best low-post defenders would improve the team's chances of winning a championship.
Free Agents
The upcoming J.R. Smith saga won't produce anything approaching the intrigue and attention that Jeremy Lin garnered last summer as a restricted free agent – whom the Knicks shockingly decided to not re-sign despite the fact that they would have been able to retain him without negatively impacting their cap room. However, the way the Smith situation plays out will, in large part, shape the rest of the Knicks summer plans…
Even after factoring in the horrendous shooting slump that gravely injured the Knicks chances of advancing past Indiana, taken as a whole, Smith (signed last summer for just $2.8 million) vastly exceeded expectations and was a terrific value for the Knicks. Not only did he score over 18 points per game, he also was often more focused an effective at both ends of the floor. Coming into this season, Smith had never averaged more than 4.1 rebounds per contest, but he pulled down 5.3 rebounds a night in 2012-13. He's also dished out a career-best 2.7 assists per game. Smith finished the season as one of just six NBA players to average at least 17 points, five rebounds and 1.3 steals (Kobe Bryant, Russell Westbrook, LeBron James, Rudy Gay and Kevin Durant were the other five).
This summer, Smith has a player option he can exercise which would pay him $2.9 million. Or he can choose to opt out and become a free agent, which he is almost certain to do.
Although the Knicks are over the cap, they do possess "Early Bird Rights" on Smith. This means that New York can offer Smith a contract starting at 175% of his previous salary or 104.5% of the previous season's average salary, whichever is greater. The NBA won't release full financials until next month, so we don't have the exact figures, but using safe parameters, the Knicks will likely be able to offer Smith a contract starting at approximately $5.1 million, with an allowable 7.5% increase each year of the deal.
The question then becomes: Would another team, with the requisite cap space, be willing to trump New York's offer?
Over the final six weeks of the 2012-13 regular season, Smith played the basketball of his NBA career. From March 20th through April 12th, a span of 14 games, Smith averaged 24.4 ppg and 6.4 rebounds, while shooting a scorching 51% from the floor and 38.7% from three-point territory. The Knicks won 13 of those 14 games. His performance down the homestretch of the season helped him secure the NBA's Sixth Man of the Year Award. At that time, in the days leading up to the start of the postseason, there was a lot written about Smith's presumptive value on the free agent market. Some pundits suggested he had played himself out of New York, as some team (the Charlotte Bobcats maybe?) with cap space to burn would be willing to offer him a contract starting at upwards of $7 million per season.
Then, just as quickly as Smith's stock skyrocketed, it bottomed out.
Smith will still see a significant raise this summer, but those dreams of breaking the bank with a $35-$40 million contract evaporated as his shooting percentage plummeted in the postseason. The red flags surrounding Smith last summer – which resulted in the Knicks being able to retain his services at a less than $3 million – all resurfaced in late April and into May.
The Knicks approach to Smith will likely be uncomplicated. As explained above, because New York is capped out, they won't be able sign attractive free agents. However, they can still bring back the NBA's best sixth man, without impacting their ability to bring in other players. Yes, Smith rubbed many Knicks fans the wrong way over the past month, but it is difficult to envision Glen Grunwald letting J.R. walk with nothing to show for it.
It also seems unlikely that another team would be willing to pay much more than approximately $22 million over four years to secure Smith's services. Furthermore, Smith clearly loves all that New York has to offer (not always a good thing) and has a close relationship with Coach Mike Woodson. J.R. has often proclaimed his love for NYC, and after the season plainly stated his preference would be to "retire as a Knick."
The Knicks could play hardball and offer him less then maximum allowable amount, but that might be a risky, and somewhat unnecessary, gamble. Any money saved on the Smith contract would really only impact owner Jim Dolan's wallet (particularly via the luxury tax – where Dolan would take a major hit). Because the Knicks are over the cap, they wouldn't be able to spend any money not spent on Smith on other players. (Unless we are looking a few years into the future, after the Carmelo, Stoudemire, Chandler, et al contracts come off the books; but as we know, the Knicks window to win won't be open for long.)
More importantly, where would Woodson find 18 points a night during the regular season if he lost J.R. Smith?
Smith, with all his warts, is a fine complimentary piece. When the Knicks offense is overly reliant on Smith, that's when the Knicks find themselves in trouble. But that is a problem to be addressed down the road.
The Knicks would also love to bring back Chris Copeland and Pablo Prigioni, but money will be an issue there as well. Copeland was phenomenal when finally given an opportunity to play late in the Indiana series. Prigioni was inserted into the Knicks starting lineup in mid-March, and the team abruptly reeled off 13 straight wins. In the process, Prigioni would become the first rookie in over 20 years (since Boston's Danny Ainge) to win each of his first 13 career NBA starts. In the postseason, Pablo continued his stellar play. His steady hand on offense and pesky defense keyed countless Knicks runs. His plus/minus numbers in the playoff were staggering. New York was clearly a better team with him on the floor.
Glen Grunwald may be forced to spend his mid-level exception in order to bring both Cope and Pablo back to the Big Apple.
Either way, Grunwald will have to flesh out the rest of the roster with players willing to settle for veterans minimum contracts. Fortunately, Grunwald has excelled in his area. He picked Novak and Lin off the scrap heap in his first full month on the job back in December of 2011. Last season, he brought Prigioni over from Spain and unearthed Copeland. Then he inked the previously unwanted Kenyon Martin to a 10-day contact, and K-Mart would go on to play immensely important minutes in both the regular season and the playoffs.
Affordable, reliable vets, such as Jared Jefferies, will be targeted this summer. And Grunwald would love to add young, athletic bodies, but the issue will be finding those guys on the cheap…
The Draft
Free agency, trades, and the draft… Those are the three principal ways teams can improve tier roster in the offseason. We've detailed why Knicks fans should not expect much from the first two routes, which places added emphasis on the draft. New York possesses the 24th pick this year.
In addition, the Knicks need to nail this first round pick because they have so few such selections. New York traded away their 2012 first rounder. And they also traded next years first round pick as well. And it's not just first-rounders they shipped off. New York has traded their second round pick in 2013, 2014, 2015 and 2016. Not an ideal scenario for a team desperate for an infusion of youth.
They are owed a couple of second rounders from other teams over the next few years, but clearly the draft will not be a wellspring of talent for the Knicks franchise.
2013-14 Team Outlook

The Knicks clearly have flaws, but not a clear path to resolving them.
Might the Knicks get lucky and strike it rich with another Linsanity? Probably not…
Could they hit a grand slam in the draft and find a valuable contributor late in the first round? Possible, but certainly not likely…
Taking a realistic look at the big picture, in order for the Knicks to improve next season and advance beyond the second round, New York will need improved performance from players than let them down this past postseason.
Amar'e will need to get closer to full health and Woodson will have to figure out a way implement the 100 million-dollar man into the rotation without upsetting the applecart.
J Kidd will have to give them something, anything, late in the year.
The Knicks desperately need Marcus Camby, who led the entire league in rebound rate in the each of the three seasons prior to his nightmarish 2012-13 campaign with the Knicks, to bounce back. Camby got off on the wrong foot with Woodson, then injured his foot (plantar fasciitis), and the season ended as an unmitigated disaster. Does Camby have anything left in the tank? We shall see…
Novak's shooting stroke abandoned him at some point in the second half of the season. Can he recapture the magic that spawned dozens of Discount Triple Checks?
Tyson Chandler plays with more pride than just about anyone in the NBA. Will he will be back with a vengeance next year? New York needs it.
Will J.R. Smith return? If so, which J.R. Smith will show up when it matters most?
Can Iman Shumpert blossom into the elite two-way player he showed flashes of in the postseason? If so, New York has an incredibly exciting compliment to Carmelo, and cornerstone of the future.
The answer to these many questions may very well determine the fate of the 2013-14 New York Knicks.