Wolters, Carmichael, Rice Jr. Still Climbing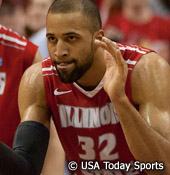 There are three players who are expected to go significantly higher than many initially projected.
The first is former South Dakota State point guard Nate Wolters. The high scoring Wolters has done well in the workout process and teams seem to be buying his stock, making him a real possibility late in the first round.
There may be something of a bidding war brewing for former Illinois State forward Jackie Carmichael. It is unlikely that Carmichael sneaks into the first round, but it is very possible that he goes in the mid 30s, which would be a big leap for a player most had projected in the 40s and 50s.
Glen Rice Jr, seems to have some late brewing buzz. There has been talk that the NBA's lone D-League draft prospect could sneak into the first round again. For most of May, Rice was pegged as a first-round talent and then other players started to knock him down. As the draft approaches, teams seem to be a little higher on Rice, mainly because he has proven himself at a higher level. It is still unclear where Rice lands, but some say the Brooklyn Nets are interested as are the New York Knicks. If the late buzz is true, Rice could find himself in the late part of the first round and that would be a nice rebound for a player whose stock seemed to be going the other way.